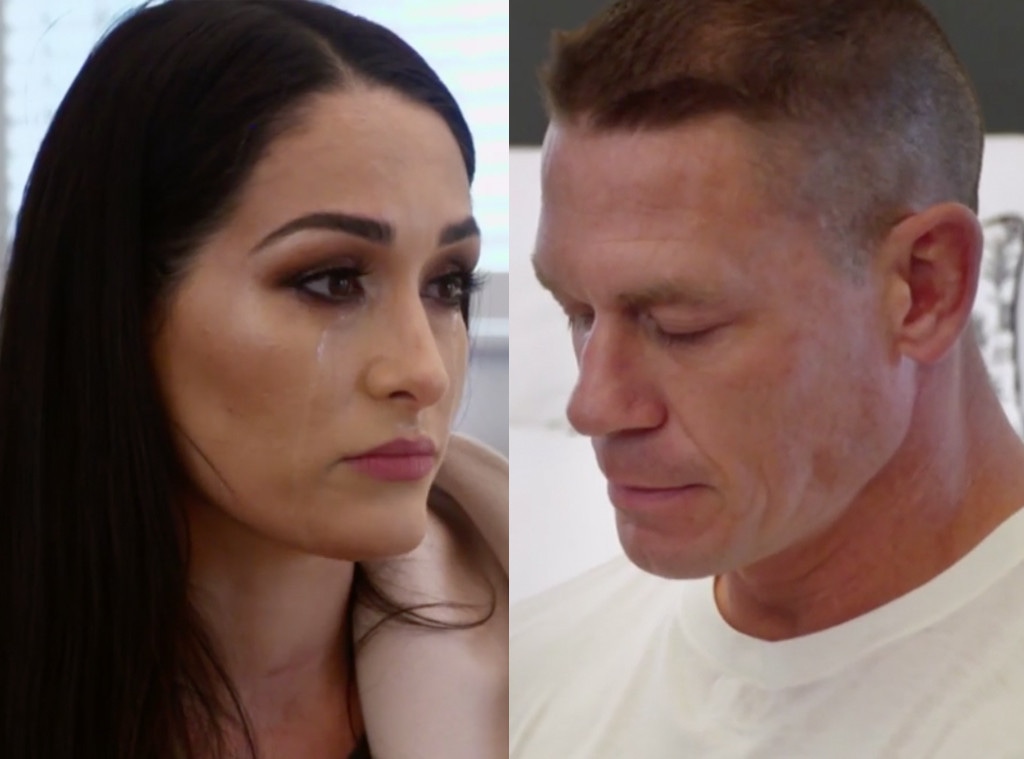 E!
Nikki Bella may just be holding a master class on how to handle a public breakup.
Hitting the press circuit to promote season three of her reality show Total Bellas in the wake of her canceled May 5 vows to John Cena, she hasn't shied away from answering questions about the split. After all, viewers will be able to watch it all play out on television. 
"It's going to be definitely difficult to relive," she admitted to E! News at the 2018 NBCUniversal Upfront May 14. "I've already seen some of the episodes and it's crazy because I just kind of see myself falling apart. And I think when you look at yourself as such a strong woman, you think, like, 'I don't have these down days.' Or, 'There's no way I could have a breakdown.' And, yes, you can. And that's just, that's life. And so I'm even learning from myself as I'm watching myself."
Amid her grief, she's also pulled out a lesson for others. Though it could hardly have been easy to initiate a separation mere weeks before her wedding, she's certain it was the right move. Noting she hopes her actions give others the "courage and bravery to speak up," she told E! News, "I think sometimes we go through things because we're like, 'OK, this is what we need to do. It's too late.' It's never too late to make a decision." 
Nor is it too late, apparently, to have a change of heart. Outlets speculated about the demise of WWE's power couple (one report speculated Cena simply became overwhelmed by the size and scope of their Mexican vows). But by all accounts their main issue was the one that had been plaguing them throughout their six-year relationship: Cena simply had no interest in being a father.
And as the 34-year-old tearfully relayed to the 13-time WWE Champion, 41, in a Total Bellas preview, she truly thought she was able to sacrifice motherhood to be with the man she once told E! News she couldn't imagine her life without. But then she got a front row seat twin and costar Brie Bella's life with 12-month-old daughter Birdie. And as the calendar crept toward May, Bella realized abandoning her dreams of becoming a mom was just too much. 
Now it seems the Bumblebee actor may be the one initiating a compromise. During an interview with Hoda Kotb and Kathie Lee Gifford on Today's fourth hour May 14, he laid out his stance: "I love her, I want to be with her, I want to make her my wife, I want to be the father of her children. I just want us to work."
So problem solved, then? 
Cena certainly presented a convincing argument. Revealing he was blindsided by Bella's decision, he said it forced him to do a bit of reflecting and to be honest, he said, he didn't love what he saw. "If you look at me five years ago, stubborn, selfish, self-focused, life had always been about me," he told Kotb and Gifford. "And then slowly over time this woman waltzes in and just steals my heart. And whether I want to realize it or not, she becomes my number one. So I'm willing to go back on all of these things that I say."
Besides, he conceded, when he really thought about it, his arguments that he was too busy or ill-prepared were flawed. "A lot of them I was hanging onto just of stubbornness: I won't have kids," he noted. "And it took a very strong look in the mirror for me to be like, 'Why? This person is my number one. And it's something that is very valuable to her.' And of course we can do this. And I think it would be wonderful."
There's just no guarantee it will come to fruition. Two days later, Bella and her sister took their place opposite Kotb and Gifford on Today. Naturally, the first question was about Cena's emotionally charged overture. And her response indicated his change of heart may have come too late. 
"I was so shocked," said Bella. "I literally was in the middle of the red carpet for the NBCUniversal upfront and got the breaking news." And though she called her onetime fiancé "an amazing man" and a "sweetheart" and insisted, "I truly love him so much," she stopped well short of saying she was ready to tie the knot. "I think a lot of us who go through the wedding planning process are forced to face these issues that we have hiding deep down inside," she explained. "I just know that a healthy me will be a healthy us. I do have hope for our future, but I know right now, I need to work on me. Before I do say those vows and walk down that aisle, I just do not want to be hesitant. I do not want to be regretful."
In other words, she just needs a little bit of space. 
When you think about it, though her back-and-forth is playing across television screens nationwide, her hesitations are so garden variety that a term has already been coined for it. "I truly believe that when you are going through wedding planning, all of that, cold feet does exist," her sister Brie insisted during the twins' May 16 appearance on E!'s Daily Pop. "You start really looking at the rest of your life and seeing, 'Can I deal with this? Can I deal with these sacrifices and these?'"
For Bella, such examination led her to realize just how many concessions she'd been making to maintain her romance. "When you sacrifice for so long and it's, like, you can give so much and then you kind of get tired of giving," she explained on Today. "And then someone wants to give it back and you just already feel exhausted."  
Perhaps a bit confused as well. An insider tells E! News the Birdiebee confounder and her friends "were really surprised by what John was saying on the Today show. He was definitely trying to get her back, but someone people feel like he put Nikki in a bad spot. She felt kind of forced to respond in a copacetic way for the show." 
And with time to collect her thoughts. Told about the clip by Extra on the carpet, she replied, "Wow...I'm speechless," before explaining she simply felt she needed a few months to work on herself. "I just want John and I both to live happily every after whether it's together or separate and I just don't want us to go down the road in life and have regrets of like, 'I did this for you,' or 'You did this for me,'" she said. "So I think it's okay in relationships to take that moment."  
Craig Sjodin via Getty Images
Pals credit her newfound reflectiveness to her stint on Dancing With the Stars last fall. Calling the weeks-long competition "a bit of a catalyst" for the split, the insider, tells E! News, "Doing the show helped her rediscover her own identity. She realized how much of herself she lost throughout her relationship and it made her think about what she really wants, as much as she loves John and wants to be with him, she knows in her heart she wants a family and that's what it came down to." 
Now that Cena—who told Rolling Stone in 2016, "I know I cannot handle raising a child"—is saying he wants that too, Bella isn't entirely sure what to think. "People who know John, know he never does stuff like that, he's private and it was really uncharacteristic of him to reveal so much in that interview the way he did," says the insider. "It's hard to say if Jon is really changing his tune on wanting kids or if he is just playing it up for the sake of his image." 
FeatureflashSHM/REX/Shutterstock
Of course, Cena has already proven that his absolutes are somewhat pliable. From the time the WWE Superstars—longtime associates on the circuit—took their first tentative steps into more-than-friends territory (when he asked her on the initial dinner date, a bashful Bella admits, "I couldn't even say a word to him,") Cena was clear. When it came to marriage, he was one and done. With his three-year union to high school sweetheart Elizabeth Huberdeau ending poorly, the Massachusetts native said he simply wasn't willing to give matrimony another go. 
"A lot of that was because of my inability to be a good husband," he explained to Rolling Stone, "but then Nicole strolled into my life, and that did it."
A short four-and-a-half years later, he was getting down on one knee after the pair's victorious bout at April 2017's WrestleMania33 and telling the Today show he simply found the woman that made him want to commit to forever. "I found a strong person that I consider an inspiration. An equal," he said. "Someone when I'm down, can pick me up. It took a person that strong to change my life."
Still, even as they selected flower girls and perfected the moves for their first dance, he remained firm on his other non-negotiable. Babies were simply a bridge too far. And while Bella told E! News she sometimes prayed for him to change his mind, she didn't have a whole lot of faith. "John had mentioned this a long time ago when he wanted to get married, he said, 'I just don't want you to ever think that if I want to marry you and I marry you that means that I want to be a father,'" Bella explained. "And I told him, 'I 100 percent agree. I know that no matter what, you don't want to be a dad.'"
She underestimated, though, just how strong her desire was to be a mom. In a Total Bellas preview, the San Diego native admitted it was tough to watch both Brie and husband Daniel Bryan and their brother JJ Garcia and wife Lauren form their own families. 
Particularly when Cena's WWE and acting commitments—he has two films and two TV series slated for release this year—often keep him from their homes in Tampa, Florida and San Diego. "What people don't realize about my relationship is I'm alone a lot," she shared. "And I'm alone in these big beautiful homes which you're like, 'Gosh, these homes are unreal.' But to be honest, since we've gotten engaged, John and I have probably shared our bed together maybe 30 days total out of like six months." 
With so many solo nights, she said, it was tough to listen to her siblings talk about their bustling households: "Hearing Brie and Lauren and JJ and Bryan all talk about their family stuff and their kids, it makes it like just sink in a little bit more of how lonely it will be and how lonely it gets."
Now Cena is experiencing that isolation. "Nicole knows I love her and I miss her," he told E! News at Las Vegas CinemaCon Apr. 25, just days after they called things off.
And while they're finally on the same page about parenting, it remains to be seen if their story will have a happy ending. 
Evan Agostini/Invision/AP
"John is the love of my life. He is absolutely an amazing man," Bella affirmed to E! News May 14. "I was so lucky to have these amazing six years with him. And there are some of us, that we hope in the end it can work out." 
First, though, she said, it's crucial that they spend at least a few months on their own. "I just think the most important part is you want to make sure you live the rest of your life happy," she said. "You don't want people to force things or have to change themselves so much. And so those are the things we're just stepping away and seeing what we both really want out of life. And when we come back together, will it make us happy for the rest of our life? We both don't want to live in regret."
Watch the season 3 premiere of Total Bellas this Sunday at 9 p.m., only on E!