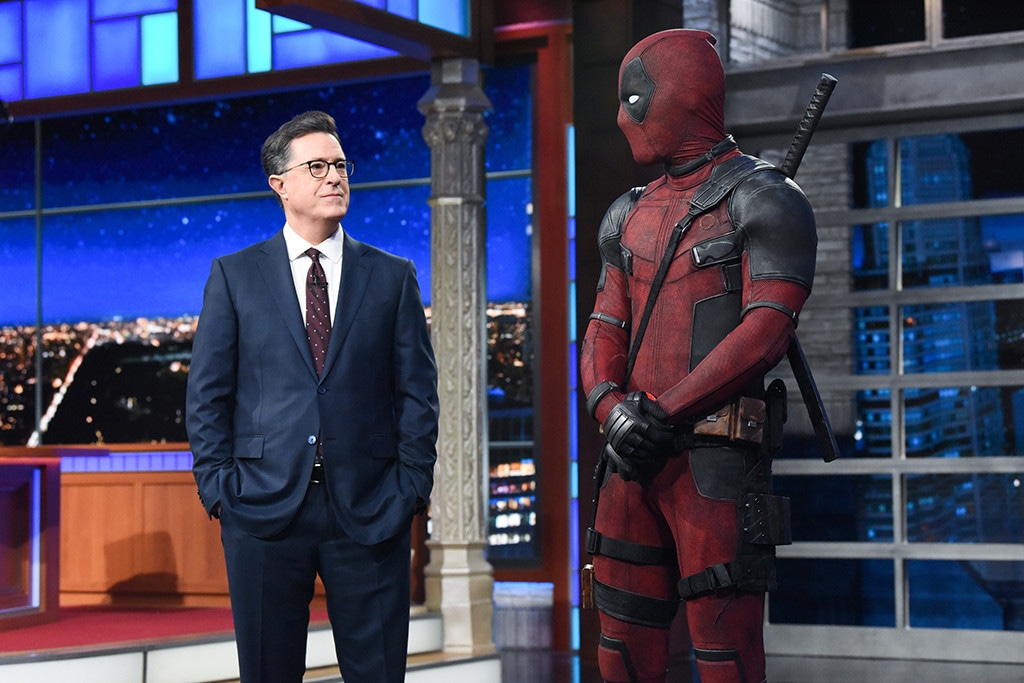 Scott Kowalchyk/CBS ©2018 CBS Broadcasting Inc. All Rights Reserved.
Ryan Reynolds took over Stephen Colbert's hosting duties on Tuesday when he crashed The Late Show star's opening monologue dressed as Deadpool.
"Please guys, no one stand up," the actor said in character. "It's CBS. I know how old your audience is."
After Colbert pointed out that he was in the middle of his routine, Reynolds refused to stand down.
"Don't be disgusting, Stephen," Reynolds added. "This is a great opportunity for me to promote my new movie Deadpool 2 (in theaters Friday). And yes, I would love to be your guest tonight—thank you for asking." 
However, Colbert already had a guest for that evening's show: Jamie Foxx.
"I see. Well, he's got boyish charm for days. I, for one, loved his work in Back to the Future," the Wade Wilson character said, mistakenly referencing Michael J. Fox.
Although, there was one celebrity guest the superhero did not want on Colbert's show.
"I'll tell you who should not be on your show: Ryan Reynolds. No, no, no—huge asshole," Reynolds joked. "He's like the poor man's version of Ryan Reynolds and like the rich man's version of my most recent turd."
Eventually, Colbert asked the alter ego to leave.
"You're absolutely right, Jimmy," he said, jokingly referencing late-night hosts Jimmy Kimmel or Jimmy Fallon. "I should go. I should go ahead and read the rest of your monologue."
Colbert protested by suggesting that reading the jokes from the teleprompter wasn't as easy as it looked.
"You know, in our own way, we late-night hosts are basically superheroes," he said.
"Because you're all mostly white men?" Reynolds fired back.
Still, Reynolds decided to give the opening monologue an honest try and read a few jokes about President Donald Trump. 
However, Colbert eventually got the Deadpool star to leave. Channeling the powers of Thanos from Avengers: Infinity War, Colbert caused Reynolds to dissipate.
"F--k! Thanos?" Renyolds replied. "You don't have the budget for this, Colbert!"
Watch the video to see Deadpool take over Colbert's show.