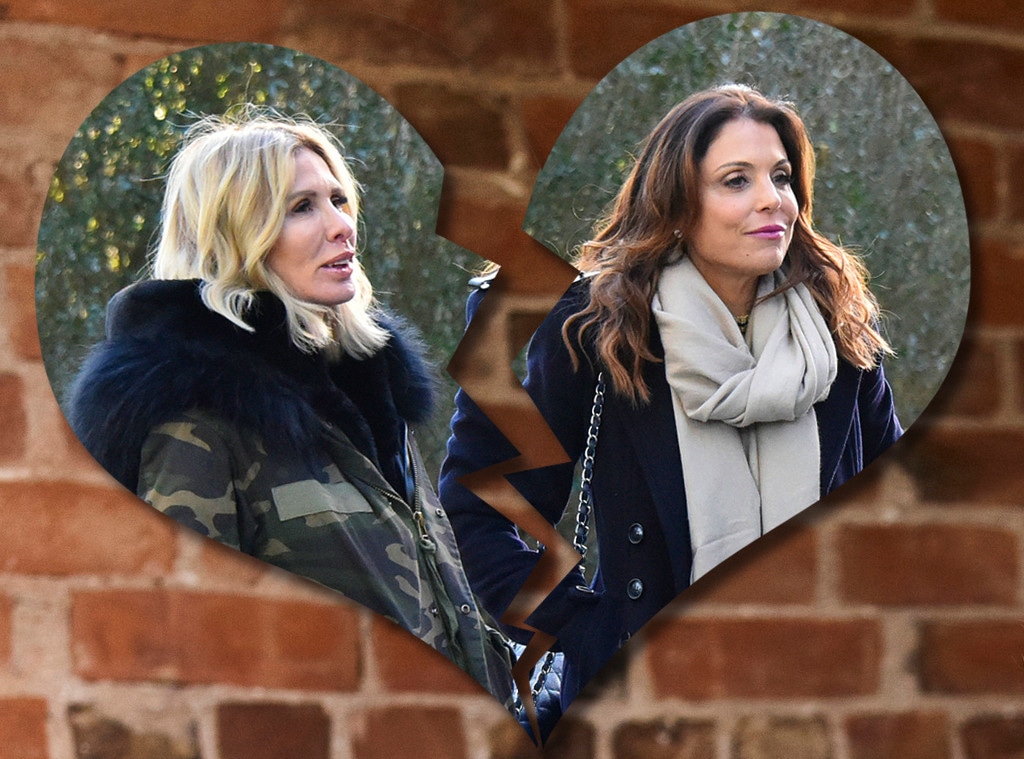 Eugene Gologursky/Bravo
Making friends as an adult is hard.
While common schedules, interests and close proximity tend to cement fast and fierce friendships in elementary school through college, maintaining a close personal connection once you enter the "real world" requires effort and attention, which is why so many people experience huge changes in their friend group throughout their twenties. At least that's what I noticed, and have gone through myself.
Maybe that's why I have been spending more time thinking about the falling out between Bethenny Frankel and Carole Radziwill, The Real Housewives of New York City's once most-solid friendship, than I have about my cousin's upcoming wedding. (Sorry, Quinn. You'll still get the check. Don't worry.)
I can already hear eyeballs rolling out of sockets over a 29-year-old TV editor lamenting the "break-up" of two reality stars, and usually I'd be right there with you, snarky tweet at the ready complete with a .GIF of Ramona Singer yelling " TAKE A XANAX, CALM DOWN!"
But Bethenny and Carole's fractured friendship left a surprisingly sizable indent in my brain when it was teased in the season 10 trailer. And as the season has progressed, it's clear this these two women have had some sort of falling out that viewers will most likely never be privy to. You know, like a friendship IRL, not manufactured by Bravo. 
And maybe that's why I am so invested: this felt like (and was) a real, genuine friendship that would've happened even if the two women hadn't met on a reality show in 2015. I mean, I met one of my now-closest friends on a set visit to Bachelor in Paradise in Mexico. Friendships have formed in stranger places.
Both Bethenny, 47, and Carole, 54, are strong, smart, single women who have been through some intense personal life experiences on and off-camera, and watching them come together after Bethenny returned to the franchise in season seven was like a chess game, with two of the franchise's most distinguished women sizing each other up in the beginning, eventually leading to a mutual respect and admiration. By season nine, the two had become inseparable, with the other cast members commenting on their closeness and Andy Cohen even calling them "mean girls."
Defending herself and Bethenny against the accusations, Carole tweeted after the season eight reunion that the other women "don't understand friendship only alliances...." See, this is why I bought the genuineness of their friendship. They didn't need each other for storylines or ammunition against their co-stars, they just liked each other's company.
In fact, Carole even wrote this of their friendship in a 2016 blog post. "We inherit the family we're born into and create the family we need. We have family and we have framily. Bethenny and I are framily, and I couldn't be more proud of her if I were her real sister."
And she continued to say that it was because of their age that they were able to skip all the dramatics and just act like grown-ass women who support each other.
"We might have been passively cruel and competitive with each other. But we skipped all that childhood dysfunction and landed right where we are now: 'Hey, you've done something interesting with your life. So have I. We share the same values, work ethic, and shoe size. Let's be friends.'"
Do you see why I was lulled into a false sense of security, why I found their friendship so aspirational? Never having a single argument on the show, Bethenny and Carole's bond seemed smoother than a glass of Skinnygirl chardonnay, which is why their co-stars seem all too delighted by their falling out. 
"I think what's going to be epic about the Berkshires is when you see Bethenny and Carole having their argument," Sonja Morgan delightfully dished to E! News recently, while Ramona Singer has almost been salivating over the tension between the former BFFs in scenes.
So my favorite duo became the ultimate fodder for one of RH's most standard tropes I sincerely believed they were above: women supporting other women fighting with other women.
As someone who had a difficult time navigating my post-college friendships, perhaps expecting too much from my core group in Los Angeles as I had grown accustomed to daily in-person interactions with my hometown friends on Long Island, seeing Bethenny and Carole form such a tight bond inspired me, gave me hope that forming important relationships with other women as an adult was attainable. 
Ah, to be naive and believe in the longevity of a Real Housewives-forged friendship.
Of course, working at E! News, I want the details, mundane and all, about their falling out. We've received crumbs on the show (Carole didn't express a lot of interest in Bethenny's Puerto Rico relief efforts, Bethenny didn't show up to support Carole as she ran in the New York City marathon, etc.), but I want the whole cookie and I fear the root of the rift will remain
a franchise mystery
.
Watch:
Carole Radziwill: Longtime "Housewives" Feelings Will Surface
Both women have sort of addressed their falling out in interviews, with Carole cryptically telling E! News, "It was a bunch of things. It just felt like suddenly it was very gossip-y and mean and unnecessary, and I was just like, that's not the person I knew."
Gee, can you vague that up for me, Radzi?!
As for Bethenny, she addressed it, in her own Bethenny way, on Watch What Happens Live.
"When you come on to a show and you have so many people involved in it, it becomes bigger," she said of the friendship's shift. "And the thing is, I wanted to sort of just dissolve and it got more intense…It gets more intense and I think the way you react to something is as important as the initial something. So we had a shift that I don't think was that big of a deal."
Not that big of a deal?! Well, Bethenny, I thought you, me and Carole were closer than that.
The Real Housewives of New York City airs Wednesdays at 9 p.m. on Bravo.
(E! and Bravo are both part of the NBCUniversal family.)