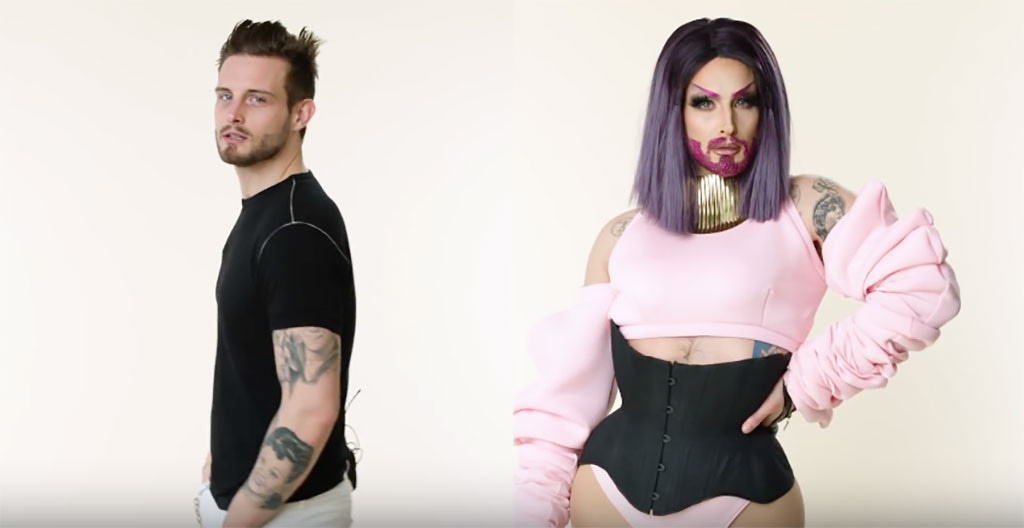 YouTube
"I'm here to make up a man."
And so Nico Tortorella's drag transformation began. The Younger star joined forces with RuPaul's Drag Race Season 9 star Trinity Taylor for a makeover organized by Them. 
"I just want to go like big and colorful and poppy Trinity-esque," Tortorella requested for his look. Taylor followed suit with slanted brows, bold lashes, a glitter beard and corseted ensemble. 
The two walked viewers through each step of the process in achieving the ultimate look, including applying glue to the actor's actual brows as a barrier between his hair and the makeup, highlighting the high points of his face and gluing the lashes on at an angle. Then, it was time for The Tuck. 
"This is looking like a diaper," Trinity joked of Tortorella's creation using a paper towel and duck tape. 
Next, the star padded his body to create the appearance of curves, put on several pairs of tights and layered on the rest of the outfit, including a wig, gloves and jewelry. 
While the final look was entirely fierce, the makeover also gave the two an opportunity to discuss an array of personal topics in between blending and highlighting, including gender identity and sobriety.
"This isn't actually anything that I've really talked about on a public level quite yet, but I just pretty recently have just come to terms with the fact that maybe I am not fully cisgender," Tortorella told Taylor. "I think the vocabulary for that is so wide right now and it's like picking which word fits best—I'm not quite at that stage yet, but I don't feel one way or the other."
"I am a guy, that's what I say, but most people think when they look at me from the back that I'm a woman," Taylor said. "I'll answer to ma'am."
On the topic of sobriety, Tortorella revealed what exactly made him stop drinking. As he candidly said, "I was just hurting myself."
Check out the full makeover in the video above!