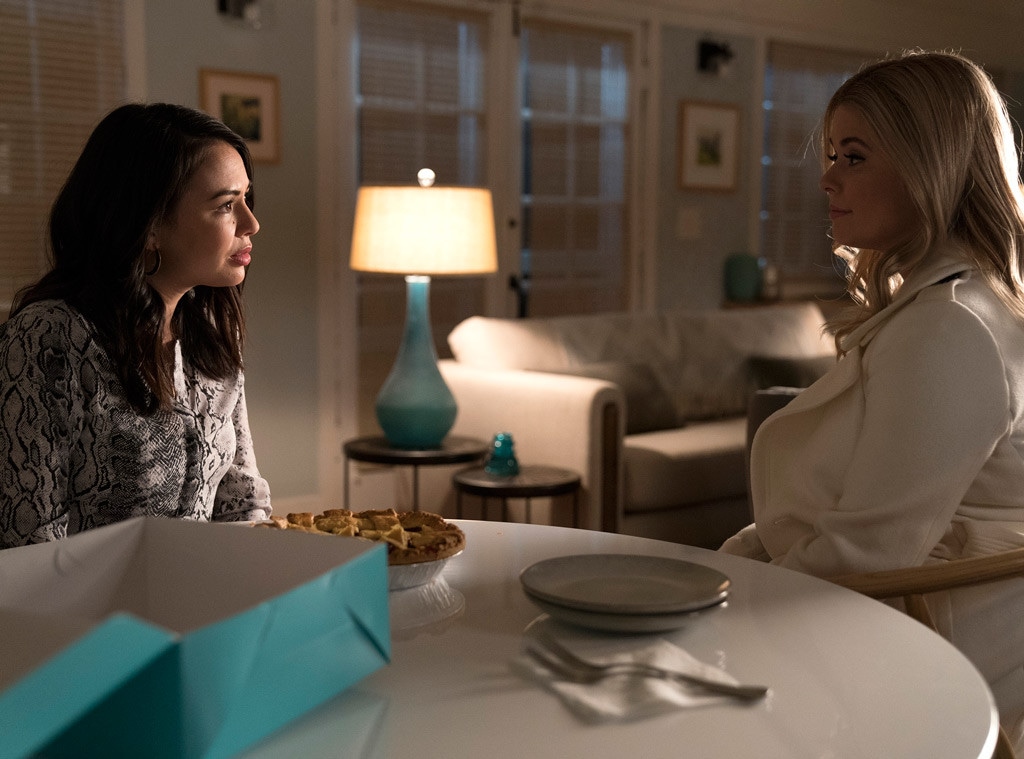 Freeform
The Pretty Little Liars' spinoff is officially coming to Freeform which means more Mona Vanderwaal (Janel Parrish) and Alison DiLaurentis (Sasha Pieterse)!
On May 14, E! News confirmed that Freeform had picked up Pretty Little Liars: The Perfectionists for a 10-episode season. For fans, this great news has been made better as both Parrish and Pieterse are set to reprise their roles from the original series. Plus, with I. Marlene King still at the helm, what really could go wrong?
While we patiently wait until 2019—the spinoff is expected to air midseason in the 2018-2019 TV lineup—for fresh episodes, we thought we'd take a trip down PLL lane with a look back at the most memorable moments from the show's two most mischievous characters.
Mona:
When She Was Unmasked in Season Two
Mona was the original A. She turned to the dark side after she was continually berated by Alison and then pushed out of being friends with Hanna (Ashley Benson) when the liars returned. It was a twist only some of us could've predicted and the reveal gave us chills.
All Her BFF Moments With Hanna
Sure, Mona was crazy at times—like when she ran Hanna over—but she did care about her. She was almost too loyal, which helped bring out her multiple and sometimes mischievous, personalities  In the end, she just wanted to get back to the friendship she and Hanna once had.
Every Witty Moment She Ever Had
The real reason we love Mona, is her sassy quotes. In season five, she once said, "What's the point of breaking your shell if you turn into a dull omelet?" Or the time in season two when she said, "Honey, you can't be a shark if you're toothless." 
When She Ultimately Won the End Game
Mona had a lot of ups and downs on PLL, but in the end, she won it all. She proved to the liars that she was their ally and figured out who A.D. was once and for all. And she created that creepy dollhouse, because sometimes karma is a real B.
Alison:
She's Back
In season four, we finally see Alison alive again—well the liars finally see her—and it's creepy to say the least. "Did you miss me?" she said. We don't know if miss is the right word, A!
Light-Hearted Quotes
Throughout the series, Alison seemed to be in the worst position, but she still laughed it off. In fact, she was oftentimes the funniest in the group. Take this hilarious line from season two for example, "Do you think I'm photogenic? My grandmother was a sweater model."
All the Times She Helped the Liars While "Dead"
Alison was "dead" for a few seasons, yet she managed to save her friends on more than one occasion. She sent them clues, came to them as a ghost-like figure—remember at the hospital when she was a candy striper?—and she did it all without being caught. Pretty impressive.
Every Emison Moment We Witnessed
There were a lot of great power couples on PLL—like Hanna and Caleb (Tyler Blackburn)—but Alison and Emily (Shay Mitchell) had to be the relationship we stanned the most. Their romance was so different and sometimes shocking, but the end, their happily ever after made us smile.
All these Pretty Little Liars moments have us ready for the spinoff to start right now! Yes, the wait is long, but with Mona and Alison back in the PLL universe, we can only hope there are plenty more memorable moments to come and maybe a few PLL cameos too!