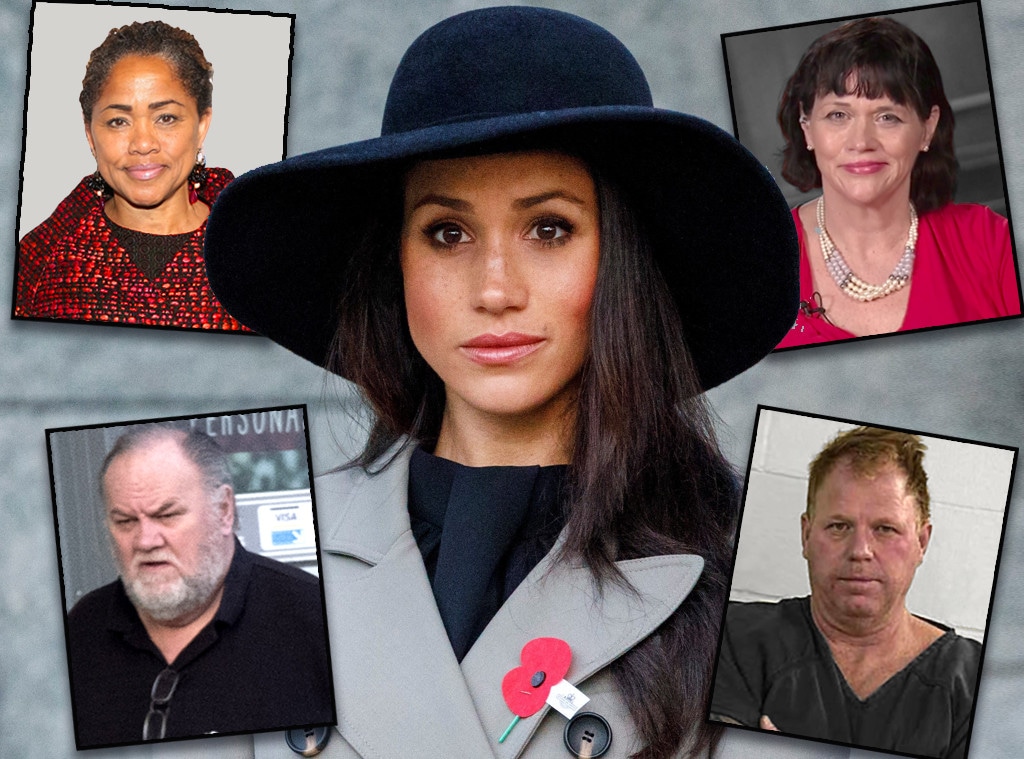 E! Illustration
In just a few short days, Meghan Markle will officially become part of the British royal family when she and Prince Harry finally tie the knot in St George's Chapel in Windsor Castle. And while we know plenty about the very famous family she's being welcomed into, we're all still getting to know the Americans that Prince Harry will soon be referring to as his in-laws.
So just who are the Markles? They've been hounded by the media in the build-up to the big day, and the family tree certainly is a bit complicated, so before we see them in action at the wedding (or, in some cases, wonder why they're not there), here's your primer on the former Suits star's relatives.
Sylvain Gaboury/Patrick McMullan via Getty Images
Doria Ragland, Mother
Of all her family members, it's mom who Meghan has the closest relationship with. Doria was born to an antique dealer father and nurse mother and raises in Los Angeles, where she attended Fairfax High School. After graduating, she began working in the entertainment industry and, while working as a temp in the studio where General Hospital filmed, she met lighting director Thomas Markle, a single father 12 years her senior. The couple wed in 1979 and welcomed Meghan into the world two years later.
Doria and Thomas separated when Meghan was only two, and divorced when she was six. Following the split, Meghan lived full-time with her mother, which fostered the close relationship between the two that's just as strong today. "My mom's a yoga instructor, but she does social work as well, and she works specifically with the geriatric community," Meghan wrote last year in Glamour. "For me to watch this level of life-long sensitivity to nurturing and caregiving, but at the same time my mom has always been a free spirit. She's got dread locks and a nose ring. She just ran the L.A. Marathon. We can just have so much fun together, and yet, I'll still find so much solace in her support. That duality coexists the same way it would in a best friend."
Meghan attributes her humanitarian spirit to her mother's influence and their international travel while she was still young. "My mother raised me to be a global citizen, with eyes open to sometimes harsh realities. I must have been about 10 years old when we visited the slums of Jamaica," she wrote on her now-defunct blog The Tig in 2016. "I had never seen poverty at that level and it registered in my glazed brown eyes. 'Don't look scared, Flower,' she said. 'Be aware, but don't be afraid.'"
Doria's already begun developing a relationship with her soon-to-be son-in-law, meeting Prince Harry two months before he proposed to her daughter as she attended closing night ceremonies at last fall's Invictus Games, a Paralympic event created by His Royal Highness, in Toronto.
With less than a week to go before the big day, E! News confirmed that Doria had left her job at Didi Hirsch Mental Health Services, a mental health facility in Los Angeles, where she worked as a social worker specializing in the geriatric community. According to Us Weekly, who broke the news, the change of employment was Doria's decision, with a source noting that she's talked about starting her own private practice, focusing on elderly patients.
Thomas Markle, Father
Born to little in a small Pennsylvania town, Thomas eventually made his way to Hollywood, where he began a career as a TV lighting director. When he met Doria on the set of General Hospital, a gig that earned him nine Daytime Emmy nominations and two wins, he had already been married once. He met first wife Roslyn Loveless when he was 19 and she was 18. They married a year later, and welcomed two children into the world, Yvonne (who now goes by Samantha) and Thomas Jr.
Thomas gave his daughter her first exposure to the entertainment industry, as she frequently traveled with him to the sets of GH and Married... with Children. "There I was, behind the scenes of a glossy soap opera and a TV sitcom, surrounded by famous actors and their glam teams, multi-million dollar budgets, and crew lunches that always included filet mignon and enough sweets to make you think you were at Willy Wonka's Chocolate Factory," she wrote on her blog.
Despite the divorce, she remained close with her father, praising his dedication to her dream of becoming an actress for her success. As Meghan struggled with her mixed race identity growing up, her father helped her navigate the confusing moments, including the time in seventh grade when she was made to fill out a mandatory census in English class and didn't know which box to mark for her ethnicity. "You could only choose one, but that would be to choose one parent over the other – and one half of myself over the other," Meghan wrote in Elle UK in 2015. "My teacher told me to check the box for Caucasian. 'Because that's how you look, Meghan,' she said. I put down my pen. Not as an act of defiance, but rather a symptom of my confusion."
"When I went home that night, I told my dad what had happened," she continued. "He said the words that have always stayed with me: 'If that happens again, you draw your own box.'"
Upon retirement, Thomas moved to Rosarito, Mexico, where he currently resides. He filed for bankruptcy in 2016. While Thomas had yet to meet Prince Harry, he has spoken to him on the phone, giving his blessing for his future son-in-law to ask for his daughter's hand in marriage. Thomas was due to walk his daughter down the aisle on the big day, but after a handful of supposedly candid paparazzi photos were revealed to have been staged, Thomas told TMZ he would opt out of attending the ceremony to avoid embarrassing Meghan or the Royal Family. He also revealed that he'd suffered a heart attack only six days prior, checking himself out of the hospital in order to travel overseas. As of press time, it remains unclear who will step in to fulfill his duties in his absence.
Samantha Grant, Half-Sister
17 years older than Meghan, Samantha is Thomas' eldest child. She's also been the most vocally critical of the future princess. She made her first media appearance in 2016, shortly after Meghan and Harry began dating, calling her half-sister a "shallow social climber." The twice-divorced mother of three, who lives in Florida and, like her father, has filed for bankruptcy, was diagnosed with multiple sclerosis in 2008 and has been wheelchair-bound ever since. As she tells it, the diagnosis was when she and Meghan became estranged. "I didn't feel a separation from her until I was in the wheelchair," she has said, according to The Sun. However, a source told E! News that the two women grew up living completely separate lives. 
"Samantha Grant doesn't have a relationship with Meghan Markle and she never has," our source explained. "As they were 17 years apart, they were never raised in the same house. Meghan was raised an only child by her loving parents."
Samantha, who is planning to write a tell-all book about her life with Meghan entitled The Diary of Princess Pushy's Sister, is estranged from both her mother and her brother. Her own daughter Noel Rasmussen has warned against talking her mother's words about Meghan at face value, telling Daily Mail, "You can essentially write a book full of lies but it's not a tell all. It's literally just going to be her versions, her ramblings, of things that have happened. None of it is going to be true."
After her father's paparazzi photos were revealed to have been staged, Samantha took the blame for arranging the photo shoots. "I have to say, I am entirely the culprit," she announced on the ITV talk show Loose Women on Monday, May14. "As we know the media can take very unflattering photographs of people on their casual days and blow it way out of proportion. I said, 'You know, the world has no idea you're getting in shape, doing healthy things. They don't photograph you buying vegetables and PH water. They photograph you as unflattering ways as they can.' I said, 'Really, you need to show the world that you're getting in shape and doing great healthy things.' So, I suggested it." 
She has criticized the fact that a majority of the Markles were not invited to Meghan and Prince Harry's lavish wedding, tweeting in April, "Out of respect and humanitarianism, the Markles should be invited if 2,000 complete strangers are. Our uncle, brother, me, best friend of 30 years, nephews. Our issue is not a matter of closeness. Family is family." She later deleted her account completely.
Donaldson Collection/Michael Ochs Archives/Getty Images
Thomas Markle, Jr., Half-Brother
Like Samantha, Thomas Jr. is considerably older than Meghan, as he was 14 when she was born. Currently living in Oregon working as a window-fitter, the divorced father of two sons hasn't seen his half-sister since her grandmother's funeral in 2011. In January of this year, he was arrested and charged with menacing, pointing a firearm at another person, and unlawful use of a weapon after holding a gun to girlfriend Darlene Blount's head. He and Darlene are reportedly now engaged.
In early May, In Touch published a letter addressed to Prince Harry, handwritten by Thomas Jr. In the message, he warned the prince that his half-sister was "obviously not the right woman" for him. "As more time passes to your royal wedding, it became very clear that this is the biggest mistake in royal wedding history," he continued, trashing Meghan for two full pages for letting her "tiny bit of Hollywood fame" go to her head, causing her to "not invite her family."