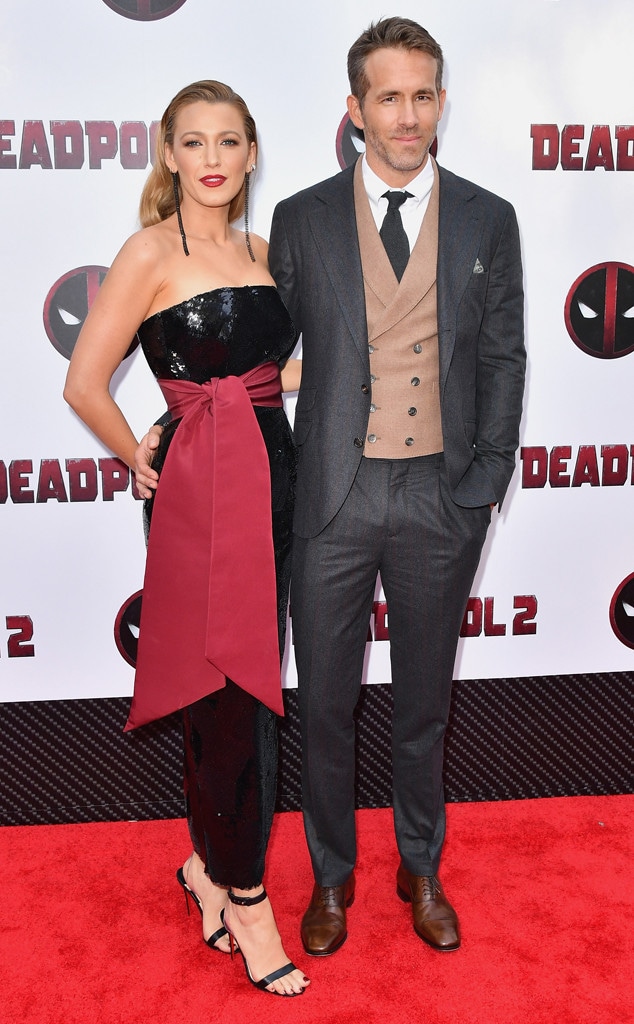 Michael Loccisano/Getty Images
She may not have brought him to the 2018 Met Gala last week, but Ryan Reynolds is a smart man and knew to have his lady love, actress Blake Lively, by his side for the premiere of Deadpool 2 at AMC Loews Lincoln Square in New York City. 
The couple, who have daughters Ines and James together, took a break from parenting duties to hit up the film's New York City event.
For the red carpet premiere, the fashionista donned glittering black jumpsuit with Jonatina sandals by Christian Louboutin. Meanwhile, the film's lead opted for a grey suit with pink waistcoat and Cousin Greg lace-ups, also by Christian Louboutin.
The two, who love to joke around with each other on social media, have been lighting up red carpets around the world with their love for years. After dating for a year, Blake and Ryan were wed on Sept. 9, 2012 at Boone's Hall Plantation in Charleston, South Carolina.
Blake may certainly get a kick out of her hubby's movie, especially given the fact that the latest trailer ended with a meta joke involving one of actress' first films.
In the trailer, Deadpool says, "Doing the right thing is messy, but if you want to fight for what's right, sometimes you have to fight dirty," he says. "That's why Sisterhood of the Traveling Pants is pure pornography."
Deadpool's marketing campaign has been particularly noteworthy. On YouTube, 20th Century FOX's official logline for the film is about irreverent as it gets: "After surviving a near fatal bovine attack, a disfigured cafeteria chef (Wade Wilson) struggles to fulfill his dream of becoming Mayberry's hottest bartender while also learning to cope with his lost sense of taste. Searching to regain his spice for life, as well as a flux capacitor, Wade must battle ninjas, the yakuza, and a pack of sexually aggressive canines, as he journeys around the world to discover the importance of family, friendship, and flavor—finding a new taste for adventure and earning the coveted coffee mug title of World's Best Lover." 
And while that may not have actually informed fans about the film's true plot, it certainly served to give viewers a taste of the movie's tone.
For those who are interested in the sequel's premise, here's what it's really about: mutant mercenary Wade Wilson, AKA Deadpool (Reynolds), brings together a team of fellow mutant rogues, Bedlam (Terry Crews), Shatterstar (Lewis Tran) and Domino (Zazie Beetz), to protect a young boy with supernatural abilities from time-traveling mutant, Cable (Josh Brolin).
Directed by David Leitch, Deadpool 2 smashes into theaters on May 18. In addition to Beetz, Brolin, Miller and Reynolds, the film stars Morena Baccarin, Brianna Hildebrand, Stefan Kapičić, Jack Kesy, Shioli Kutsuna, Eddie Marsan, Karan Soni, Leslie Uggams and others.