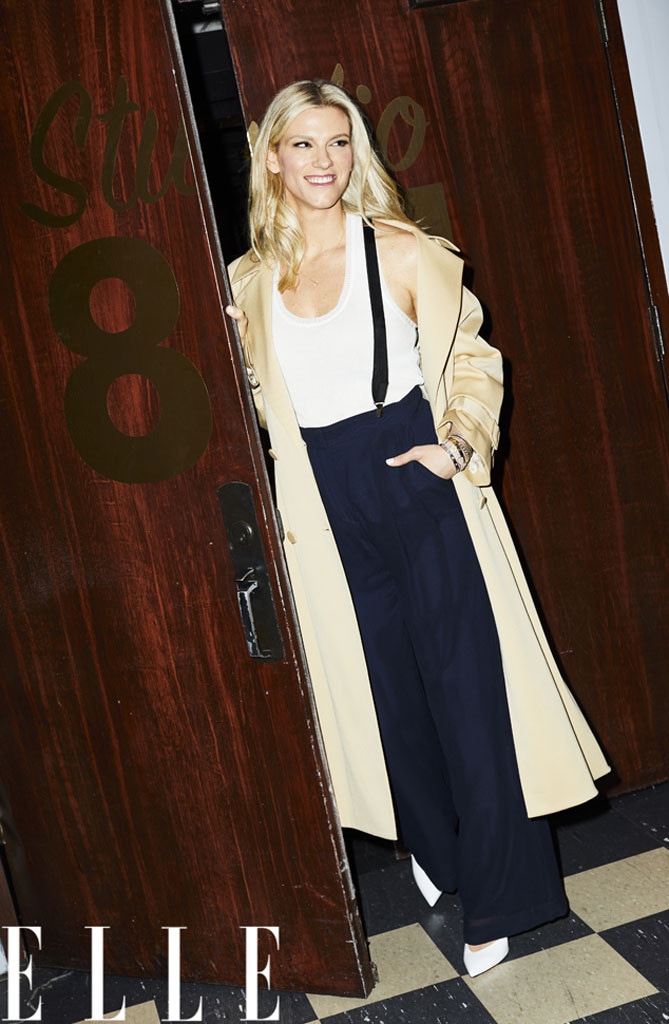 Allie Holloway/ Courtesy of Elle
She's more than just someone's girlfriend...
In a rare new interview with Elle, Saturday Night Live producer Lindsay Shookus is opening up about what it's like to find herself in the limelight, be a working mom and what it's like to date that famous guy, Ben Affleck. 
Lindsay, who has spotted then-up-and-comers Sam Smith and Kristen Wiig, has been at SNL since she was 22 and worked her way up in the ranks eventually garnering the top producing job after the departure of her mentor Marci Klein (Calvin's daughter). She most certainly wasn't handed anything on a silver platter. 
In the interview, Lindsay, who first stepped out with the Oscar winner on July 6, 2017, divulged the reality of suddenly being the topic of paparazzi fodder.
"My entire career has been behind the camera, and that's definitely where I'm most comfortable. I'm a producer, I'm a mom, a friend," she said. "Being considered a public figure honestly makes me laugh."
She also says she fell in love with the entertainment business during a film internship the summer after her junior year at University of North Carolina, Chapel Hill, "That's when I got the bug. I realized you could have an actual career in entertainment. And I just had no reason to think I couldn't do it."
As for when she finally landed a job as Marci's assistant. "I was the first one in; I was the last one out," Shookus said. "I was always like, 'I'll go! Send me to the shoot. I'll stay till midnight, it's okay.' That's the glorious thing about being 22—you have the energy. I lived on 50th Street. I worked on 50th Street. I walked the same four blocks every day."
She also explains that having a knack with people helped her career gain new heights.
"Very early on, Marci let me interact with talent and take over more responsibilities," Shookus said. "She just really liked me and she thought I was good. I think I came at the right moment at SNL. There was a space for me, and I was good at it."
Then in 2012, Klein left SNL and amazingly enough at the age of 32 Shookus became one of only two female head producers on the show.
In the article, Wiig, who has become a close friend of Shookus, talked about the pair's friendship.
"Auditioning for SNL is a very nerve-racking experience, and Lindsay and I clicked. She kind of talked me down a little bit—I was very nervous. She was with me through the whole process; I'll never forget that."
"Lindsay is fun to get a drink with and is also one of the better dancers I know," confessed the funny lady who was on the show seven seasons.
While she was quite tight-lipped about her high-profile, but low-key relationship with the superstar actor, she did admit she's been through quite a transition recently.
"I've gone through a lot of change recently and I've gone through some really hard times, but I believe in who I am more, and I wouldn't give that up for anything," she said.
The June issue of Elle is on newsstands May 22.