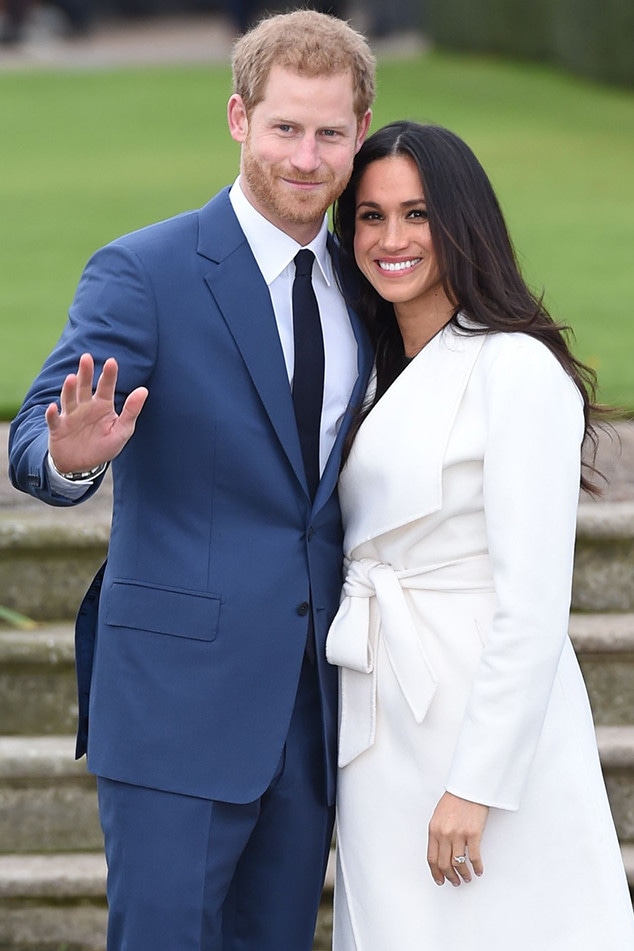 Eddie Mulholland/Daily Telegraph/PA Wire
Ready, set, royal wedding! 
Six months after announcing their engagement, Prince Harry and Meghan Markle are finally just days away from becoming husband and wife. What may have felt like a marathon's worth of planning comes down to one walk down the aisle, two simple "I do's" and a (albeit highly orchestrated) carriage procession into the sunset.
Of course, it's far more complex to pull off such an event—especially one as highly-anticipated as Harry and Meghan's. That's where this royal wedding cheat sheet comes in handy! From the dress to the guest list, here's everything you need to know about the biggest wedding of the year. 
All About the Venue: On Saturday, May 19, Prince Harry and Meghan will wed at St. George's Chapel on the Windsor Castle grounds, where Queen Elizabeth II resides. The location holds special meaning to the redheaded royal, who was baptized there in 1984. The chapel will be decked out in shades of pink and white, with floral designer Philippa Craddock choosing locally-grown white garden roses, foxgloves and peonies for the occasion. 
Jam-Packed Itinerary: Here's where a pen and pad of paper might come in handy! The festivities will begin at 9 a.m. local time when the estimated 2,640 members of the public invited onto the Windsor Castle property begin arriving, followed by official wedding guests and members of the royal family. Prince Harry and his best man, Prince William, will make their way to the chapel ahead of the 12 p.m. ceremony start time. The public will be able to spot Markle for the first time when she travels by car to St. George's Chapel. After the hour-long wedding ceremony, the newly minted husband and wife will begin their 2-mile carriage procession through the town of Windsor. Queen Elizabeth will host the lunchtime reception at St. George's Hall in Windsor Castle. Only about 200 friends and family will then attend a more exclusive evening reception, which starts at 5:30 and will be hosted by Prince Charles at Frogmore House.
Nitty-Gritty on the Ceremony: Both the bride and groom's loved ones will play a special part in the ceremony, with Meghan's mother, Doria Ragland, set to accompany her as she arrives to St. George's Chapel. As for father Thomas Markle, he was supposed to walk Meghan down the aisle, but has opted out of attending over a paparazzi scandal and recent heart surgery. Prince Charles will instead escort his future daughter-in-law in his place. The three siblings of the late Princess Diana are set to attend, and older sister Lady Jane Fellowes will deliver a reading. Meanwhile, Meghan decided to forgo a maid of honor, though her bridal party is expected to include Princess Charlotte and Prince George. The Dean of Windsor, the Rt. Rev. David Conner, and the Archbishop of Canterbury, Justin Welby (who baptized Markle in March) will officiate the ceremony. Kensington Palace said the couple took "a great deal of interest and care" in choosing the music for the service, which will include a number of well-known hymns and choral works from the choir of St. George's Chapel, Christian gospel group The Kingdom Choir and 19-year-old cellist Sheku Kanneh-Mason. Additionally, as a nod to Harry's time in the army, more than 250 British Armed Forces members will will provide ceremonial support during the wedding and carriage procession. 
Victoria Jones/PA Wire, Getty Images
Who RSVP'D?: Prince Harry and Meghan invited approximately 600 guests to their wedding, a source told E! News, significantly smaller than Prince William and Kate Middleton's 1,900-guest headcount. While an official list of attendees won't be released, royal watchers can expect plenty of familiar faces in the pews. Meghan's close friend and fellow actress Priyanka Chopra has confirmed her attendance, with some reports indicating that Serena Williams and the bride's Suits co-stars will also make the trip across the pond. Kensington Palace previously announced that the couple did not invite political leaders, including President Donald Trump, First Lady Melania Trump and Prime Minister Theresa May. Despite his close friendship with Prince Harry, Barack Obama is not thought to attend. 
Performances, Presents & Banana Cake: Any evening entertainment is purely speculative at this point, as Kensington Palace has not announced Prince Harry and Meghan's reception performers. Rumored artists include the Spice Girls (though Mel C  is quick to deny the possibility of a reunion), Elton John, Ed Sheeran, Sam Smith, U.K. rapper Stormzy and others. In lieu of traditional gifts, the royal couple-to-be has requested charitable donations be made to "personally selected" organizations benefitting causes like women's empowerment, the environment, homelessness, HIV and the military. As for the evening's menu, London-based baker Claire Ptak was chosen to create a lemon elderflower cake covered with buttercream and fresh flowers. Yum! 
Dressed to Impress: Who could forget the Duchess of Cambridge's Alexander McQueen bridal gown, with its luxurious train and estimated $434,000 price tag? There's no doubt Meghan is hoping to make a similar fashion statement on her own wedding day, and British design duo Ralph & Russo might be helping her make that happen. Despite having officially selected the designer in early 2018, the actress-philanthropist has not revealed their identity—and likely won't until May 19. But according to The Daily Mail, the first of Meghan's two bridal looks will be created by the haute couture fashion house. She wore a sheer gown from Ralph & Russo's 2016/2017 collection for their official engagement portraits, leading many to believe she'll continue the pattern. 
Set Your Alarms!: It's going to be an early morning if you're hoping to catch the royal wedding as it goes down in real time. NBC's Today co-hosts Savannah Guthrie and Hoda Kotb will start broadcasting from Windsor Castle at 4:30 a.m. ET.
(This story was originally published Tuesday, May 15, 2018 at 5:00 a.m.)