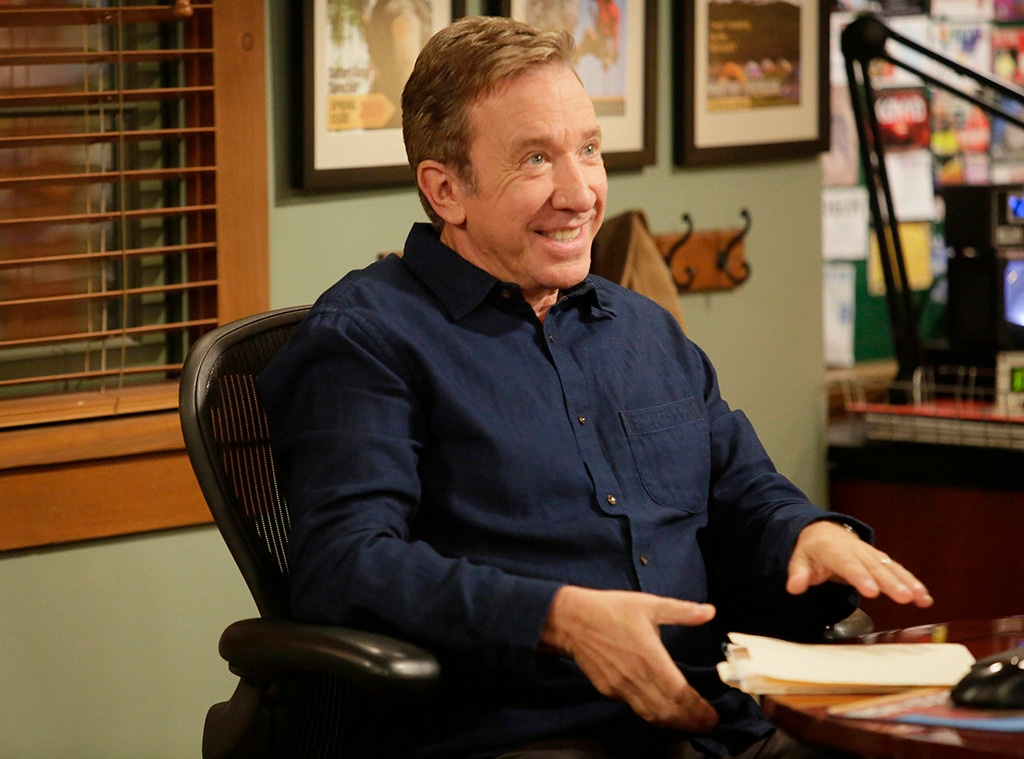 Fox
Fox has a new man.
After canceling Brooklyn Nine-Nine (only to have NBC save it), Fox decided to bring back Tim Allen's Last Man Standing, which originally aired on ABC, with the show set to air Fridays at 8 p.m., the network announced on Monday. 
Describing Last Man Standing as "a proven hit," Fox exec Michael Thorn said it's a show "tailor-made for the NFL audience," as the network is now airing Thursday Night Football. 
And yes, Fox also credited the success of ABC's revival of Roseanne for Last Man Standing's return.
"Obviously, everyone took a good hard look at the performance of Roseanne, it did so well. It certainly did remind us that we have a huge iconic comedy star in our Fox family in Tim Allen," Fox exec Dana Walden told reporters on a conference call.
But she noted that the network was actually interested in bringing Last Man Standing over to Fox last year when ABC canceled it, but couldn't find the right show to pair it with at that time.
"It's a really funny show. It had nothing to do with Roseanne that we were interested in the show in the first place," she said, but later noted the network was "emboldened" by Roseanne's success.
After ABC canceled the show, Allen gave an interview where he started, "There is nothing more dangerous, especially in this climate, than a funny, likable conservative character." Fans believed the show's conservative viewpoints lead to the show's cancellation.
But Newman said be believed that ABC's decision to cancel the sitcom had nothing to do with Allen's personal politics, noting ABC didn't own the show (20th Century Fox does), and said Fox has no issues with the star's political views as they don't impact storylines. 
"We've been in business with Tim for five years, Tim's personal politics really aren't a big feature of the show," he explained, "and I think that if you were to talk to Tim and our showrunners they would saw Mike Baxter is a centrist, he doesn't have extreme political views. We just think it's a really funny show that the audience responded to." 
But with the cancellation of Brooklyn Nine-Nine, Last Man on Earth and The Mick and the pick-up of Last Man Standing and new comedy The Cool Kids, which is a bout a rag-tag group of friends living in a retirement community, it seems like Fox is trying to appeal to a broader audience with their comedies.
Gary Newman denied the network intended "a tonal shift," with Walden adding, "It just didn't seem like the right strategic move on Friday to have highly serialized comedies that would have a barrier or entry for a lot of new viewers" who would be tuning into football on Thursday nights. 
As for the decision to cancel B99, Walden explained, "I think it was based on variety of factors. we loved the show...we ordered it throughout five seasons, which is a great length of time for a single-cam comedy. Ultimately, we felt like we didn't have the right place to schedule it this year."
Addressing the show's move to NBC, Walden said, "We are really happy though it found a new home. We assumed it would...I'm really happy for that whole team." 
Here is Fox's fall line-up. (Note: new shows are bolded.)
MONDAY
8 p.m. The Resident
9 p.m. 9-1-1
TUESDAY
8 p.m. The Gifted
9 p.m. Lethal Weapon
WEDNESDAY
8 p.m. Empire
9 p.m. Star
THURSDAY
7:30 p.m. Thursday Night Football Pregame Show
8 p.m. Thursday Night Football
FRIDAY
8 p.m. Last Man Standing
8:30 p.m. The Cool Kids
9 p.m. Hell's Kitchen
SATURDAY
7 p.m. Fox Sports Saturday: Fox College Football
SUNDAY
7 p.m. NFL on Fox
7:30 p.m. The OT/ Fox Encores
8 p.m. The Simpsons
8:30 p.m. Bob's Burgers
9 p.m. Family Guy
9:30 p.m. Rel
MIDSEASON: Returning at midseason for its final season is Gotham, along with The Orville and new series Proven Innocent and The Passage. Plus, Beat Shazam, The Four: Battle for Stardom, Love Connection, Masterchef, Mastercher Junior, Showtime at the Apollo, So You Think You Can Dance, Cosmos: Possible Worlds, and the network's next live musical event Rent, which will air on Sunday, Jan. 29.