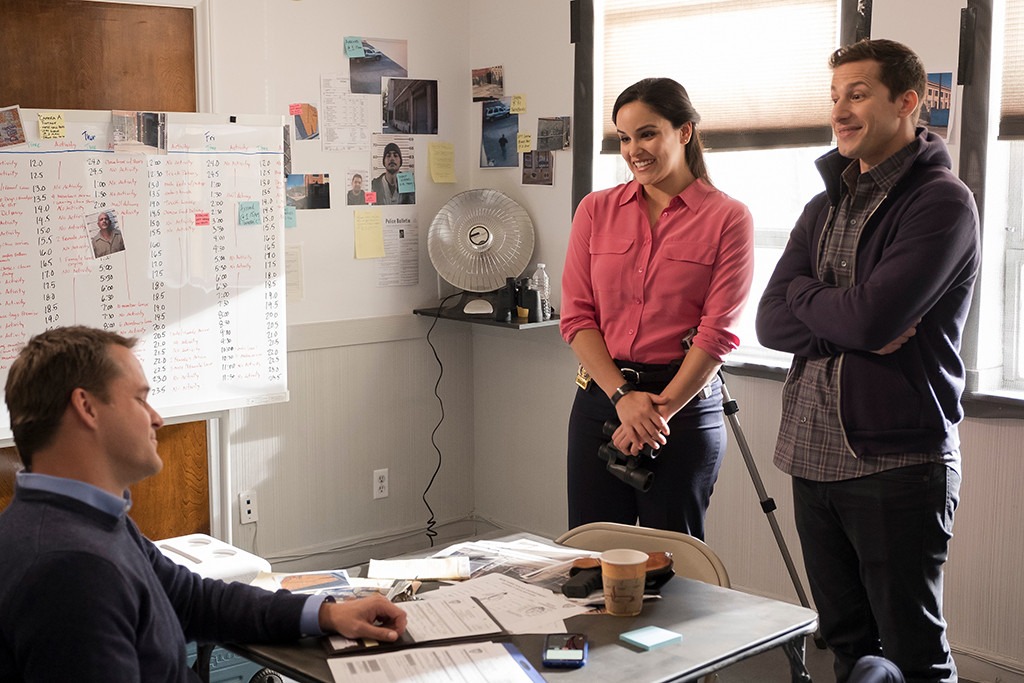 Fox
 Brooklyn Nine-Nine is coming home in 2019.
After being cancelled by Fox last week, NBC swiftly swooped in to save the beloved sitcom from Mike Schur and Dan Goor. And according to NBC' Entertainment Chairman Robert Greenblatt, it was a long time coming for the 99th precinct to relocate to the peacock network, where it will return at midseason.
Noting that Universal TV is the studio behind the show, Greenblatt admitted on a conference call with reports on Sunday that NBC regretted letting the show go to Fox after learning that Andy Samberg signed on to be the lead.
"We've been watching it closely ever since," he said, "If I knew Andy Samberg was going to be cast on that show we probably never would've sold it to Fox. We thought it was a missed opportunity since the beginning." 
After Fox canceled Brooklyn Nine-Nine, much to Twitter's dismay, Greenblatt said, "We jumped on it really quickly and we're thrilled to have it. We think it fits into our brand of comedies better, in a way, than it ever did on [Fox]."
Describing the network's comedy line-up, A.P. Bio, Will & Grace, Superstore and The Good Place, as a jig-saw puzzle that almost felt incomplete, including, Greenblatt said of B99, "We found that piece." 
But is NBC looking at it sixth season as its final one or is the network hoping for the show to run for several more years?
Greenblatt was cautiously optimistic about B99's future, saying, "We'd love to see it continue...it's really hard to predict. We're just thrilled to have it and we want to see what our audience will do with it and creatively where they go...There's lots of business reasons for the show to continue, but too early to tell."
After its cancellation, Brooklyn Nine-Nine was the No. 1 trending topic on Twitter for six hours, and Greenblatt definitely was aware of the public outcry. "We love the fans and we love when they're vocal...we love even more when they watch the show. We hope it translates to more and more viewing!"
On the conference call, Greenblatt also unveiled NBC's line-up for the 2018 fall TV season, with premiere dates to be announced later this summer. (Note: new shows are bolded.)
MONDAY
8 p.m. The Voice
10 p.m. Manifest
TUESDAY
8 p.m. The Voice
9 p.m. This Is Us
10 p.m. New Amsterdam
WEDNESDAY
8 p.m. Chicago Med
9 p.m. Chicago Fire
10 p.m. Chicago P.D.
THURSDAY
8 p.m. Superstore
8:30 p.m. The Good Place
9 p.m. Will & Grace
9:30 p.m. I Feel Bad
10 p.m. Law & Order: SVU
FRIDAY 
8 p.m. Blindspot
9 p.m. Midnight, Texas
10 p.m. Dateline NBC
SUNDAY
8-11 p.m.: NFL Football
MIDSEASON: Along with the saved Brooklyn Nine-Nine, returning comedy  A.P. Bio and new sitcom Abby's will debut at midseason, along with two returning dramas: The Blacklist and Good Girls. Plus, three new dramas will also premiere in 2019: The Village, The InBetween and The Enemy Within. Alternative series World of Dance, Ellen's Game of Games, The Wall and America's Got Talent's new spinoff will debut at midseason as well, along with Dwayne "The Rock" Johnson's new reality competition show, The Titan Games.
(E! and NBC are both part of the NBCUniversal family.)