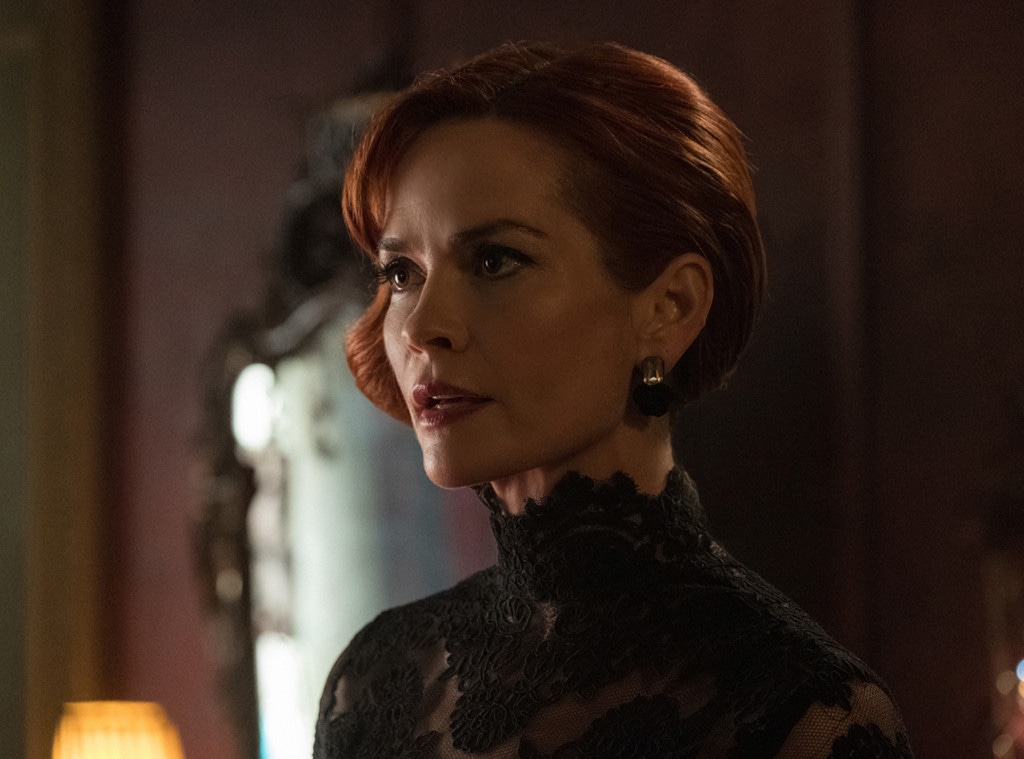 The CW
If you ask Nathalie Boltt, her Riverdale character recovered from her season two injuries way too quickly.
Penelope Blossom was hospitalized back at the beginning of the season after her murderer husband hung himself and her angry daughter Cheryl burned the house down, and while Pen was back up on her feet and starting her own business as a prostitute while emotionally torturing her daughter in no time, Boltt wishes the healing process had been longer and a little less successful.
"In my view, I recovered a little quickly from the burns. I would have liked to be like Hound on Game of Thrones, like if half my face really had just been left burned and melted. That would be so cool," the actress tells E! News, painting quite the picture of the way she thinks of the widow Blossom.
If Boltt had her way, Penelope would also have "one of those weird hairstyles where you're trying to cover your half-melted face with a really long bang on one side," which would get flicked too far to make people scream and children cry, as well as a couple of other important villain accessories.
"All I need is a white Persian cat to stroke and it would all be in line. I also need a really long cigarette and I've been pushing for that, but you know, TV says no." 
All of the Riverdale moms took a full 180 in season two, from Hermione (Marisol Nichols) fully embracing the life of a mob wife to Alice (Madchen Amick) becoming complicit in a murder alongside her secretly-a-serial-killer husband, but no transformation was quite as vivid as Penelope's. It also didn't make as much sense, if you ask Boltt. 
"I always said hey listen, Penelope has got no qualifications, so the only thing she can really do is, you know, the oldest career in the world, which is selling herself. So I always had that grand plan, 'cause it's awesome," she says. "As for the other moms, they're just bats--t crazy. It's not something we discussed, but clearly they have just shown their true colors." 
"Penelope is the only sane one, and she is just doing what any woman would do to earn a little cash and make a plan and get back on her feet whilst dressing beautifully, and whilst wearing really hot outfits," Boltt says (though she also admits that it's the children who are actually the most sane, and the show is "art reflecting life"). 
The Blossom family was at the center of season one, with Penelope's son having been murdered and her husband having done the murdering, but she's taken on a slightly quieter role in season two. She's a woman who's lost everything: a husband, a son, a house, her money, the respect of the town, any control she thought she had over a daughter who's no longer willing to take her crap—which, we must say, is a lot of crap. 
"People always ask, is it terrible to say such awful things? Don't you feel bad? And I don't feel bad at all," Boltt says. "It's wonderful. I get to say all the things that I think with no consequences—well, outside of a couple of sort of haters on my social." 
Despite all of her losses, Penelope has done pretty well for herself, finding a new partner in crime (her dead husband's twin brother Claudius—more on him later), a new career, and a new chance to keep up whatever kind of appearances she can. 
"It's so fun, because it seems like as the real kind of socialite wife, I was just having a terrible time in my marriage and had lost my child and was all despaired," Boltt recalls. "But through the whole brothel development idea and her being a courtesan and basically her existing to embarrass Cheryl, I think Penelope's really found her feet. She's found a new freedom. She doesn't care. I mean, she's got nowhere to go but up and that's a good position to be in." 
Of course, it's Mother's Day, so we're here to celebrate Penelope as a mother, even if she can be a pretty terrible one. Currently, Cheryl (Madelaine Petsch) is seeking emancipation after her mother sent her to an evil convent for gay conversion, so, you know, things aren't going so well for the mother/daughter duo.
"Cheryl did steal my house, so that was a victory for her, but she's gonna come crawling back," Boltt says (as Penelope?). "That's the thing with mothers and daughters. Like as much as we hate each other, there's always some kind of weird little umbilical connection where they come back and beg for forgiveness, so I'm ready. I think she owes it to me. I mean, after all, I kept her alive this long." 
Not only does Penelope (who is "wrong in every way") object to Cheryl being gay ("She is not a liberal thinker."), but she's also not happy about this new person in Cheryl's life who "waltzed in" to become her new focus, and who also happens to be a Southside Serpent.
"Having Toni [Vanessa Morgan] walking around and not being intimidated by Penelope, that is just not in the cards," she says, but leaves it up to Mrs. Blossom to fix things. "Penelope's going to have to do something, maybe a little groveling. She'll have to be weak for a while and then she'll be back on top." 
Meanwhile, while Cheryl has abandoned her (for good reason), Penelope is not all by her lonesome. She's got Claudius, her dead ex-husband's identical twin brother there for support, even if she also doesn't know why exactly he's there.
"It is so strange. As Penelope, I lie there at night in my four poster bed with my glove on an dI just think, what is up with Claudius? Like who is he really? And I still haven't gotten around to asking him that, and whether he was really a sailor who went to the island of Lesbos. It's just too many questions to fit into one conversation, so at this point I'm just happy that Claudius is helping me with my evil schemes. And I think there's going to be a lot revealed in season three about the two of us and what really happened to Clifford. We'll find out what really happened to Clifford, because it was all a little...convenient that he just hung himself." 
While we wait for that reveal and for the finale this week, we can be sure that whatever is happening, Penelope is somewhere being both fabulous and very evil at the same time.
"I mean, as Penelope, I dress well, and even the most tumbled down of cottages are looked after and the food always looks fantastic and I eat my strawberries as if I was eating someone's liver. That's always a positive quality! I read books and I attend my daughter's school shows sometimes and make fun of them, but still, and I take care of her wellbeing. I mean, I say to her, you can't be in the musical, and look how that turned out! Saved her life! No matter what I do at every turn, I'm lookin' out for someone."
Now, we'll just leave you with this, Penelope's message to mothers on Mother's Day. 
"Hey moms, don't take crap from your kids. Love, Pen." 
Riverdale's season two finale airs Wednesday at 8 p.m. on the CW.