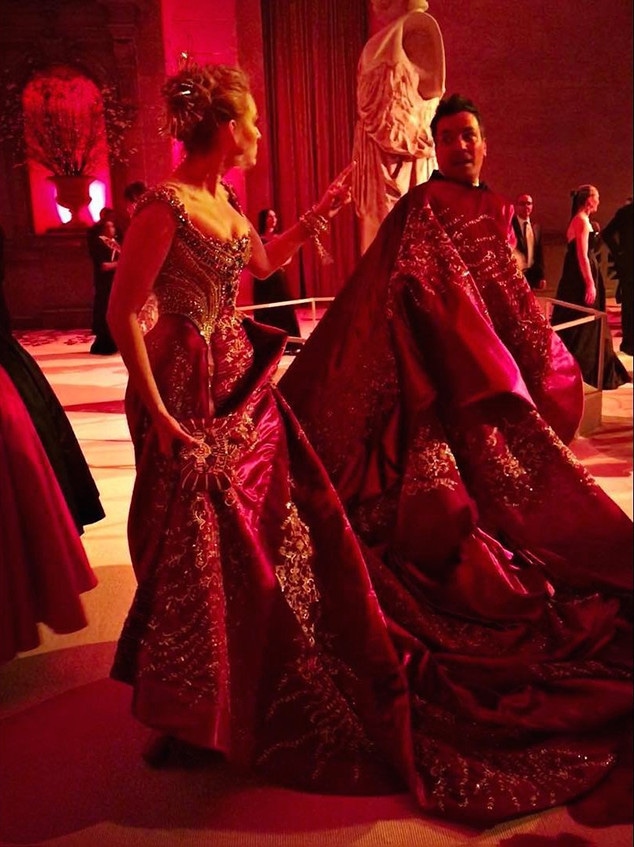 Instagram
Who wore it best: Blake Lively or Jimmy Fallon?
Three days after the 2018 Met Gala, Lively shared a funny photo from inside the event, where the Tonight Show host wrapped himself in the train of her dress. "So pissed," Lively joked in her Instagram caption. "@jimmyfallon and I wore the SAME outfit to the Met." Supermodel Martha Hunt told her, "You wore it better," while singer Rachel Platten joked, "Super embarrassing..." Jessica Alba, Anna Faris, Vanessa Lachey, Ryan Reynolds and Emma Roberts liked Lively's post.
Fallon actually wore a Ralph Lauren Purple Label tuxedo, while Lively modeled a custom Versace dress that took more than 600 hours to make. She completed her look with custom Christian Louboutin heels, a custom Judith Lieber bag (with her family members' initials) and Lorraine Schwartz jewelry. "It's an amazing thing, 'cause I'm so fortunate to get to wear such beautiful work. It's art that I get to wear on my body," the star of A Simple Favor told Vanity Fair a few days after the annual gala. "So the collection of dresses that I have is just so special."
Lively said director Baz Luhrmann's oeuvre was one of the inspirations for her look. "What he did with Shakespeare and love and religion and passion and danger and all of that... 'What would Baz do with the theme?' was sort of our vibe," Lively said. "I saw Baz and Catherine Martin that night, and I was so excited to show them. 'Look at the bag! And look at the dress!'"
Later, she shared a photo of billionaire couple Salma Hayek and François-Henri Pinault. "When @salmahayek and @francoishenripinault are carrying your train...this is when you know you've made it," she joked on Instagram. "(And also that you're an egomaniacal a hole who must be stopped before you try to take Kings Landing. Cersei doesn't stand a chance. GAH! There I go again!!)" In her Vanity Fair interview, she described the gala's décor as "very Game of Thrones." As luck would have it, "I saw the Mother of Dragons," Lively revealed, referring to the "great" Emilia Clarke. "I kept wanting to go back and ask to take a picture with her, but I was too shy."