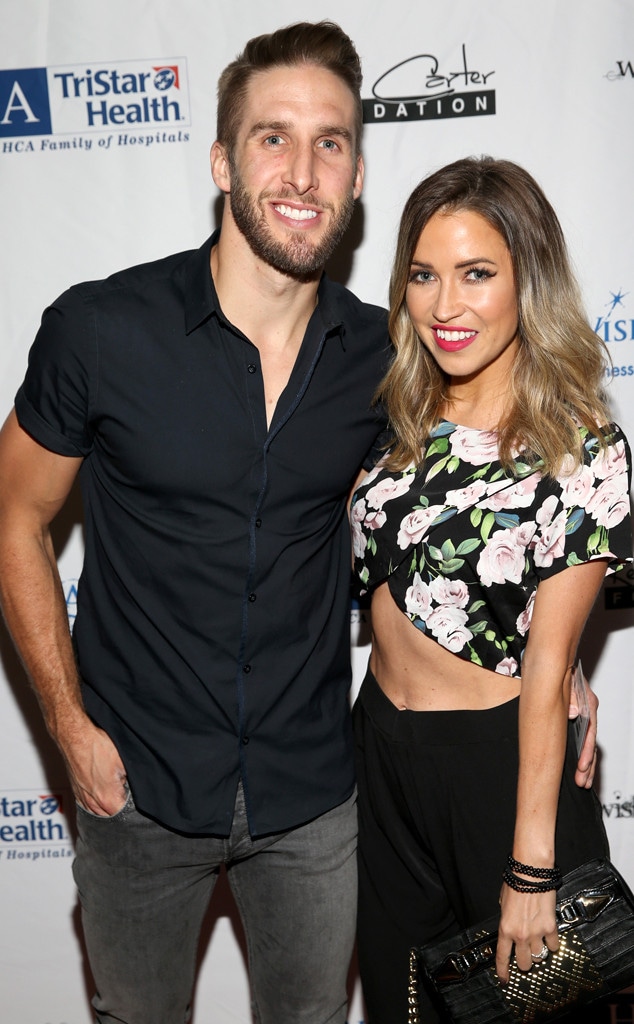 Terry Wyatt/Getty Images for The Kevin Carter Foundation
Time flies when you're madly in love!
Bachelor Nation fans had a big reason to celebrate this week as Kaitlyn Bristowe and Shawn Booth celebrated a major anniversary. Believe it or not, it's been three years since the couple got engaged on The Bachelorette.
While the franchise may have experienced a few public breakups in recent months, these two are proving lasting relationships can be built once cameras stop rolling. In fact, the couple is more excited than ever before about their future together.
"We don't even know where we see ourselves next week," Kaitlyn joked to E! News exclusively after marking the special day. "We just hope we are healthy and happy. Maybe married. Maybe babies? Ok I'll calm down."
While the pair admitted to not having a wedding date set just yet, Kaitlyn has participated in a few wedding dress shoots. And yes, both the bride and groom-to-be have some predictions about what their special day will include.
"We just want all of our closest friends and family there. All you ever hear from people who got married is how stressful planning is and how fast the day goes. We don't wanna get caught up in the colors, flowers, all that stuff. We wanna be laid back and enjoy it for what weddings are supposed to be about: Celebrating our love in front of loved ones," Kaitlyn explained to us. "We would 110% write our own vows. It means so much to hear what the other person feels in that moment—in their words."
As followers of the couple know, Kaitlyn and Shawn are both close to fellow Bachelor Nation members Carly Waddell and Evan Bass. After the pair welcomed their first child together, we just had to ask if baby fever has spread.
"How soon are we talking? If soon is in the next three years than yes. They make cute babies that's for sure. We're having fun being the crazy aunt and uncle for now," Kaitlyn shared. "Shawn will definitely be more protective. You should see him with our dog. We will try our best to take turns with being the bad cop."
Babies aside, Kaitlyn continues working on her podcast titled Off the Vine that features new episodes every Tuesday with Podcast One. Shawn also remains passionate about fitness and has an app appropriately titled Booth Camp.
And as the countdown begins for a new season of The Bachelorette where Becca Kufrin receives a second chance at love, both Shawn and Kaitlyn have some advice on finding a special someone for the long haul.
"Don't hold back and wear your heart on your sleeve. This is to find the love of your life, don't care what viewers will think," Shawn shared with E! News. "Care what your heart feels."
Kaitlyn added, "I think a lot of other couples decide it's not best for them, but we know we are best for each other. We got to do things as a couple after the show and now our career paths have taken us our own ways. And we support each other through it."