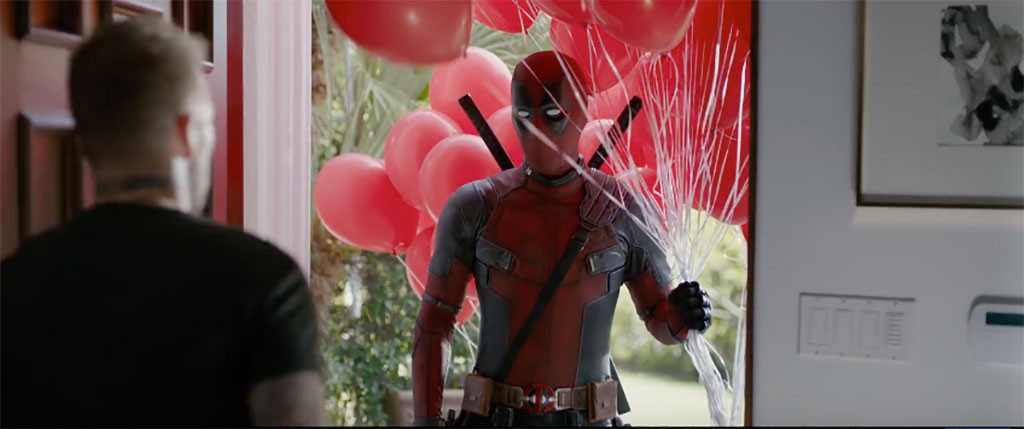 YouTube
Deadpool is saying sorry in true Deadpool fashion. 
Fans of the first film may remember the beloved antihero making fun of soccer star David Beckham's voice. "Ever heard David Beckham speak?" he asked back in 2016. "It's like he mouthsexed a can of helium."
Well, Beckham caught wind of the insult and Deadpool is feeling awful about it. So awful, in fact, that he's gone to extravagant lengths to apologize. 
He began with texts saying sorry along with a kiss emoji. When that didn't seem to do the trick, Deadpool showed up at Beckham's door with milk and cookies. Next, a handful of balloons and a helium voice of his own. "Too soon?" he quipped as Beckham shut the door. 
He also brought a mariachi band to sing "Lo siento" to the athlete, but no luck. Finally, Deadpool offered the ultimate consolation: tickets to the World Cup. 
"I can't stay mad at you," Beckham said as he embraced Deadpool in a hug and accepted his gift. 
"That feels so good," Reynolds' character retorted. "You smell amazing—like cinnamon and man hug. Let's never let go."
However, as it turned out, Beckham didn't know why he was apologizing. When Reynolds brought up the voice bit in the movie, the star said it didn't ring a bell. 
"What did you think I was apologizing for?" Deadpool asked back. 
"I mean, there's a list. Green Lantern. R.I.P.D. Self/less. Blade Trinity. Boltneck,"  the athlete retorted, listing off some of Reynolds' films. Ouch!
Check out the hilarious clip below!
Deadpool 2 hits theaters May 18.