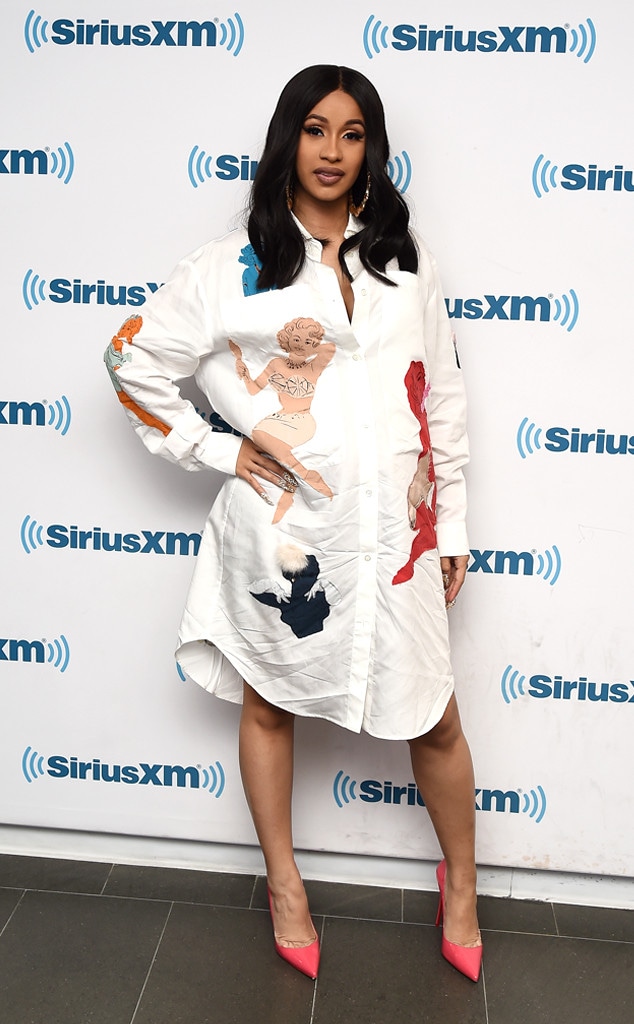 Ilya S. Savenok/Getty Images
Okurrrr!!!!!!
Cardi B hit up SiriusXM in NYC for a revealing and fun-filled chat with Howard Stern on his hit radio show The Howard Stern Show on Wednesday.
Cardi, who wore Moschino for the SiriusXM appearance, got candid about on lot of topics, including stripping, butt injections, how it felt to beat Taylor Swift on the charts, her relationship with fiancé Offset and of course her baby.
When the shock jock asked if if she knows the sex of her baby, the rapper confirmed what had been speculated in the media.
"I'm having a girl," said the "Bodak Yellow" rapper.
Howard said, "You got a name picked out?"
Carbi revealed, "Ya know what I didn't pick the name but if you interview my dude, he'll tell you."
Check out 10 other surprising things that Cardi opened up about...
Neil Rasmus/BFA/REX/Shutterstock
1. Money Moves, But Cardi Knows Better: When asked if she has someone handling her money, Cardi said to Howard, "Yes."
"Even if I didn't have nobody advising me and stuff—I know better," she elaborated. "I am always checking my bank account. I know better. I know what's going to come in."
2. Cardi and Offset "Clock" Each Other's Spending Habits: When asked about whether or not the engaged couple will be signing a prenup, Cardi says that she's going to keep her money separate, but that the two have eyes on each other.
"Me and my dude, we be clocking each other," said
Howard didn't understand and she elaborated saying that two both point out the other's big purchases or extravagant spending.
"We really clock each other. It's more than a relationship. We are planning on building a really big future."
3. Cardi Just Says No to Mary Jane: Howard brought up the fact that Cardi doesn't smoke pot. She explained that she didn't stop because she had a bun in the oven—she put down the reefer two years ago because it made her "dumber."
The impassioned star said, "I felt like weed really gets you tired and sleepy...and paranoid. I hate when people say that weed doesn't affect your brain...Yes it does."
"Every time I smoked weed in my teenage years and I just felt dumber, dumber, dumber, dumber, dumber, dumber, dumber, dumber and dumber," said the rapper.
4. Cardi's In No Rush to Get Married: Howard brought up the big marriage question to Cardi, who said the musical duo were in no hurry to get hitched given the fact that she's pregnant.
"People that don't have this job wouldn't understand...truth of the mater is that's it's hard to plan a wedding right now," said the chart-topper.
The always candid personality said, "First I am not having a wedding pregnant. I want to wear my dream dress and I want to get drunk on my wedding and I want to go on a honeymoon and I want to be drunk for a whole week."
But it's all in the timing. "I know for a fact though next spring we are planning our wedding. but it has to be planned at to a point where there's no worries."
5. Being a Stripper "Saved Her: On the topic of her stripper past, Cardi said, "You wanna know something? I feel like a lot of people want me to lie and be like 'I hated it, I went through so much things, I don't recommend it.'"
She continued, "I don't tell girls to go do it but I am not going to front—it really saved me. It really saved me. Before I was at the strip club I was a cashier at [a] market."
6. She Was Scared to Audition: "You have to audition and then on top of that I was really scared because I don't know the type of things that go down in there," confessed the now-25-year-old. 
At the time she thought, "I'm really young and everyone down shames stripping a lot. I was ashamed that I was dancing naked...with bottoms on. I felt so ashamed for the first couple of months. I used to cry after work because all I used to think about how embarrassed my parents would be."
7. Cardi B the Babysitter?: When Howard asked what she told her parents about all the money she was making, Cardi said, "I told my parents I was babysitting some really rich white folks' kids."
8. She's Got Insecurities Just Like the Rest of Us: When asked about why she got breast implants and butt injections back in the day, Cardi admitted that being around the different strip clubs got to her. "I think this is what guys what. Boom! I got boobs," said 
"I felt like my body was perfect but...it wasn't good enough. It wasn't making me enough money," said the star.
9. She Got Butt Injections to Keep Her Cheating Boyfriend: Cardi revealed that it wasn't being around the big-bootied ladies at the strip club that brought her to a point where she was getting illegal butt injections from a woman who was doing illegal butt injections in her apartment basement, but a cheating boyfriend.
"It's sad for me to say I had so much low self-esteem that I went to that type of measure because it wasn't even that I saw that girls with bigger butts were making more money," said Cardi. "The guy I was dating he used to cheat on me with girls with that type of body...I know he was going to want me more."
John Shearer/Getty Images for The Hollywood Reporter
10: She's a Rihanna Fan: Of the 2018 Met Gala debut, Cardi, who was outfitted in a pearl-encrusted Moschino look by Jeremy Scott, told Howard she usually doesn't go up to other celebs at events like that because she's "shy," but there was one star she couldn't help but chat up at the glittering gala—Rihanna.
"I don't like going up to people because I'm very shy. But I went up to Rihanna and told her I love her because I really like her and I really feel like she's very genuine. ...I really like her," said Cardi. "I really feel in my heart that she want me to win."
Hey Cardi, we all what you to win!