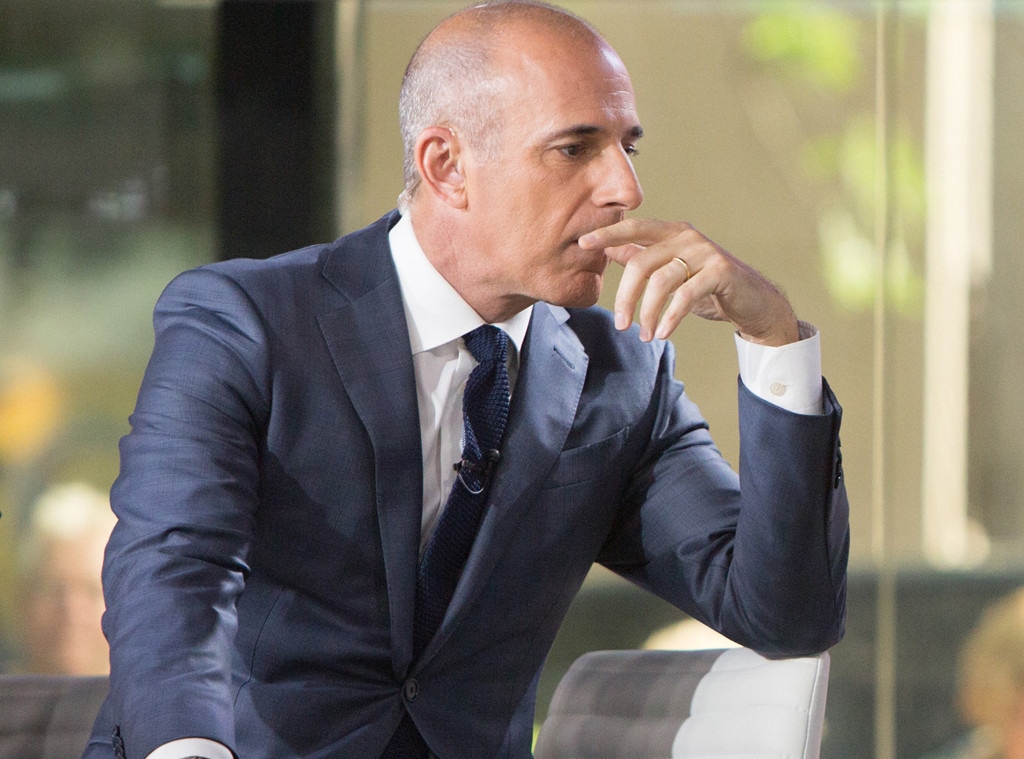 Nathan Congleton/NBC
Just over five months after Matt Lauer was fired from NBC News over inappropriate sexual behavior, an NBC investigation has concluded that management did not know about accusations made by four women against the former Today anchor.
"We found no evidence indicating that any NBC News or Today Show leadership, News HR or others in positions of authority in the News Division received any complaints about Lauer's workplace behavior prior to November 27, 2017," the report reads. "All four women who came forward confirmed that they did not tell their direct manager or anyone else in a position of authority about their sexual encounters with Lauer. Current and former members of NBC News and Today Show leadership, as well as News HR, stated that they had never received a complaint about inappropriate workplace behavior by Lauer, and we did not find any contrary evidence."
NBCUniversal also said in a separate statement, "NBCUniversal's investigation was thorough, objective and conducted at the corporate level, outside the News division. Kim Harris, the company's General Counsel, led this process with a team of legal and HR professionals who are independent of News. In addition, we consulted with two prominent outside law firms–Proskauer Rose and Davis Polk–both of whom validated the investigation's methodology, findings, conclusions and recommended next steps."
The internal, five-month investigation was led by Kim Harris, general counsel of NBCUniversal, and two outside law firms.
And while the report states that "most" of the 68 witnesses interviewed had "positive things to say" about Lauer's workplace demeanor, it also says that a "number of individuals interviewed said that Lauer could be flirtatious, would frequently make jokes, some with sexual overtones, and would openly engage in sexually-oriented banter in the workplace."
"Several women also credibly described to the investigation team being the subject of what they believed was a sexual overture from Lauer in which he complimented them on their appearance in sexually suggestive ways," the report states. "According to these women, Lauer did not pursue them further when they deflected or ignored the overture, and they did not experience any retaliation. All these women stated that they did not report this behavior to anyone in a position of authority."
Elder Ordonez / Splash News
In response to the report, Lauer release a statement saying, "There are aspects of the NBC report with which I clearly disagree. However, I spent 25 wonderful years at the network, 20 of those at Today, and I'm extremely proud of what we accomplished as a team. On November 29, 2017, I was terminated by NBC after admitting to past relationships with co-workers. A day later I took responsibility for those relationships, apologized to the people I hurt and promised to begin the process of repairing the damage I had caused my family. I have worked every day since then to honor that promise."
On Nov. 29, Savannah Guthrie announced Lauer's firing on Today, reading an email sent to NBC News staffers by chairman Andy Lack shortly before going on air.
"Dear colleagues, on Monday night, we received a detailed complaint from a colleague about inappropriate sexual behavior in the workplace by Matt Lauer," the email began. "It represented, after serious review, a clear violation of our company's standards. As a result, we've decided to terminate his employment. While it is the first complaint about his behavior in the over 20 years he's been at NBC News, we were also presented with reason to believe this may not have been an isolated incident."
(E! and NBC are both members of the NBCUniversal family.)