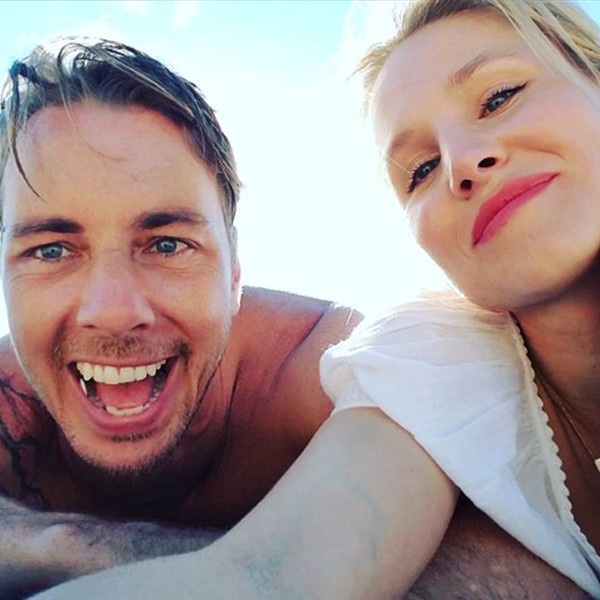 Instagram
Dax Shepard is not one to shy from speaking his mind—even when it can get pretty embarrassing.
Whether it be talking about sex, drugs or hair loss, the actor has said it all. And if he hasn't said it, then his wife Kristen Bell has probably said it for him.
Most recently, Shepard got up close and personal, like real personal, when he was a guest on Anna Faris' podcast, Anna Faris is Unqualified. The two discussed their sex lives (or lack thereof), how they lost their virginities and which surprising celebrity men happen to be on Bell's hall pass list.
So in light of his most recent comments, we decided to take a look back at the funniest, most TMI moments that Dax has gifted us. Who's ready to have some fun? 
1. Umm, That Was Awkward...
When Faris was a guest on Shepard's podcast, "The Armchair Expert," the father-of-two confessed that he once had the hots for the actress back in the day. "I saw Just Friends and was like, 'You are so talented' and you and I sat next to each other during a premiere." He recalled feeling like the two were hitting it off, but that he got the vibe that "the door was shut."
Those suspicions were definitely right too considering the fact that the House Bunny actress was married at the time… and her husband, Ben Indra, was sitting right next to them. Awk!
"I got a bunch of grief later," she remembered.
Both podcasters are in committed relationships, but that didn't stop the twice-married actress from remarking how attractive Shepard is. "Can I be obnoxious? You have always been a very handsome man. You are just one of those guys that gets more handsome as they age, and it's not just the Red Bull talking."
2. Alopecia and Ashton Kutcher
On another episode of Armchair Expert, Shepard and Ashton Kutcher bonded over their mutual hair loss and the lengths they went to save their flowing locks.
"I had heard that there was this doctor that would give you hair as thick as Brad Pitt's, and I was going to this guy and I was doing it for two years and I was like, 'What am I doing?' I think we both went to this doctor," Shepard laughed.
And not only did the two stars, who met on MTV's Punk'd, talk about hair loss, but also about how they are ready for the day when sex robots are a normal thing. Shepard has no problem with his wife having sex with a robot, saying, "Kristen can have a f--king robot boyfriend, that's so easy for me to answer."
Jason Merritt/Getty Images
3. That One Time Dax Had to Breastfeed
Okay, admittedly, Shepard didn't spill the beans about this one. It was Bell who revealed on her web series, "Momsplaining," that she once had her husband 'nurse' on her breasts because of complications with Mastitis. She had just stopped breastfeeding and build-up in her milk ducts caused painful inflammation, but unfortunately the couple had limited options. "So I said to my husband, 'I really need you to suck this out. We could talk about it, we could be weird about it, or you could just go ahead and nurse.'"
And like any good husband would, Shepard helped his wife in a big way. Bell described the relief and joy she felt in that moment, "He was pulling out and spitting into this cup, and I've never been more in love. In my life."
4. The Birds, the Bees and the Kids
The CHiPs actor once told Jimmy Kimmel that it is pretty difficult to find time for him and the Frozen star to have some "afternoon delight" when there are two kids in the house and how it has led to some funny conversations. "We were just under the sheets and they walked in. It was more just explaining why we were taking a nap in the afternoon while they were on the loose."
"It wasn't 'full court-us interuptus,' but it was," the comedian trailed off. "Suffice to say, I couldn't have gotten out of bed at that point."
As awkward as his story was, it did clear up the air after his wife made it out to seem like his kiddos walked in "while I was, like, pounding mom."
5. His Love for Brad Pitt
Brad Pitt seems to be a common theme among the funny guy's hilarious stories.
During an uncomfortable—but oddly funny—conversation with Faris, the actor said that if "Brad Pitt made me a soup of himself, I would be like, 'okay.'" Not to say that he'd enjoy it, but that "it would be tolerable."
"I am so attracted to him that I feel like if I had to pick someone at gun point," he revealed.
He then proceeded to list off the diverse actors that his wife would use her hall pass on. Among the actors Bell is attracted to, are Vincent D'Onofrio, Riz Ahmed, Peter Dinklage (who happens to be #1 on her list) and the rapper T.I.
And besides Pitt, Shepard is attracted to any Brazilian or girl that is "five-foot-tall, (with a) humongous butt."
What is your favorite Dax Shepard moment? Let us know in the comments below!