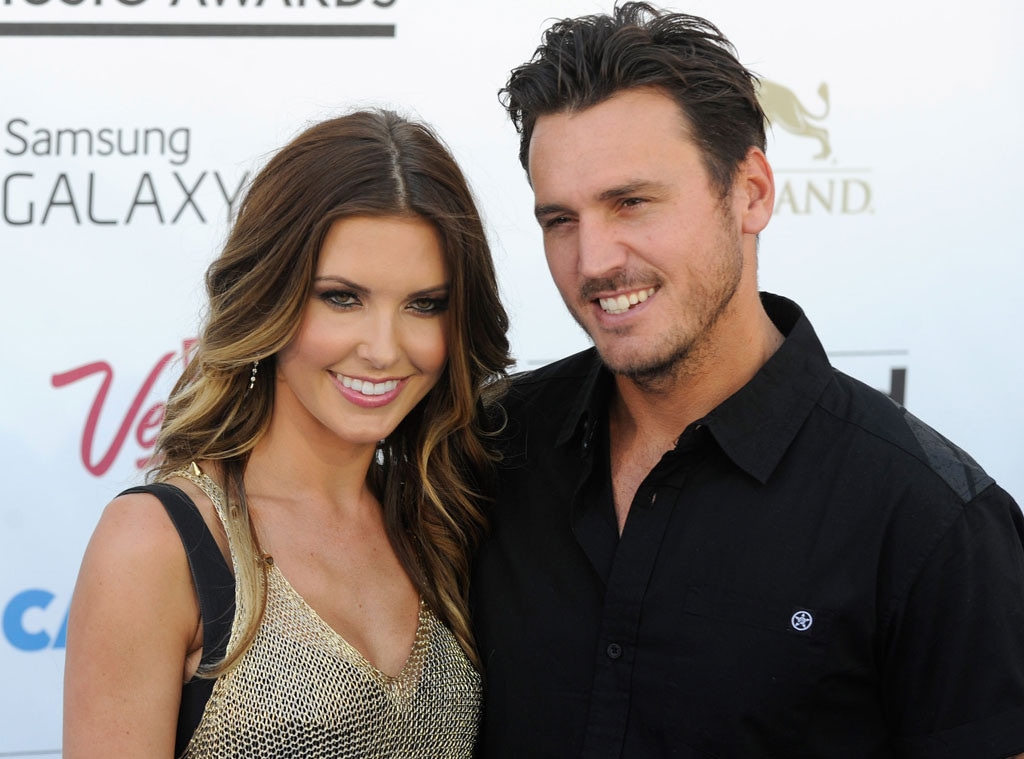 David Becker/Getty Images
At first the pair were tentative. As they took to the fields of Indio, California's Stagecoach Festival Apr. 28 surrounded by pals, Audrina Patridge and Ryan Cabrera refrained from any physical contact.
"They were acting super low-key," said a fellow attendee of the Boots on Stage third annual shindig, In the Desert Presented by Chevrolet. "Not really showing any PDA." But as the night wore on—and the couple sipped from their boot-shaped mugs—they grew more comfortable. They held hands, stole kisses and, at one point, says the concertgoer, "He grabbed her butt a couple of times while they were walking." Adds another onlooker, "They were very couple-y. They had a really good time."
Few people need an evening of levity more than Patridge. For the past eight months, the former Hills star has been locked in a messy divorce with estranged husband Corey Bohan, 36, that's included restraining orders and a Mar. 7 request to have his visitations with their 23-month-old daughter Kirra stripped, because, she declared, "I am more afraid of him now than ever." (His attorneys asked for her request to be denied.)
Now, as the Prey Swim creative director marks her 33rd birthday, she's found a little something to celebrate. Eight years after she ended her five-month union with pop-rock musician Cabrera, musing on the MTV series that it was "too much too soon," they're easing back into a romance. Since Patridge and the "On the Way Down" singer, 35, remained friends, "It was all very comfortable right from the beginning," an insider tells E! News. "Audrina feels very lucky to be dating Ryan again. He is extremely kind and supportive of everything she does. He treats her very well and it's a nice feeling for her."
Lester Cohen/Getty Images
To hear Patridge tell it, being doted on is a welcome change of pace. When she and pro BMX rider Bohan chose to end their 10-month marriage last September, neither offered up the usual platitudes. Rather than claim there was still love between them and they planned to remain friends, she requested a temporary restraining order, seeking protection for both her and Kirra and filed an abuse claim. (The district attorney declined to press charges, stating there wasn't enough evidence; Bohan responded to Patridge's filing requesting spousal support and joint legal and physical custody.)
In her documents she stated Bohan had become "increasingly, possessive, angry, agitated and jealous," when she'd have to travel for work commitments. Noting his "aggressive behavior usually escalates" when she's focusing her attention on her career rather than him, she added, "When we are apart, he texts me obsessively, rattling my nerves and making it difficult for me to concentrate on my work commitments."
Jason Kempin/Getty Images
Though, to be fair, the situation wasn't much improved when they were together. In her papers, Patridge revealed she decided to separate from the Brisbane, Australia native because she was fearful of his temper: "He cannot control his swearing and personal attacks on me, even when in the presence of our young daughter."
The accusations she laid out were disturbing. In July, just eight months after they wed in a Hawaii beach wedding she deemed "magical", a jealous Bohan, "accused me of partying and cheating on him and threatened to kill himself." The texts she received while out with friends shook her to the core, she said, "mostly because Kirra was with him."
The next month, she claimed, he "ransacked" her belongings in their Irvine, Calif. home and scrolled through her Google search history. Then, she said, "I looked in his suitcase and found our marriage certificate and Kirra's birth certificate. I confronted him about this and he laughed at me."
Things escalated during another incident when Patridge mentioned to Bohan that someone had told her he had cheated. As he became "very aggressive," she said, allegedly pushing her aside at one point, "I begged him to please let me go and take Kirra somewhere else," she wrote. "I didn't want her around all this. He then picked up my backpack and purse and threw everything on the floor. He started punching and hitting himself on the head. Then he punched a hole in our bedroom door. I was very frightened and started screaming and covered Kirra's eyes and ears, but she started crying and screaming."
At that point, she claimed, he let her run past him, but then "grabbed a big metal canister, saying if I left right now, he was going to bash his head in with the canister right in front of us—or better yet he would do it in the street so everyone could hear that it was all my fault."
As terrifying as that sounds, the turning point for Patridge came after another alleged argument just days before her Sept. 20 filing. As Kirra looked on, says Patridge in her court filing, Bohan confronted her saying "how f--ked I am from my childhood." Patridge picked up her phone to record the rest of his rant, she said, capturing what happened next: "He then said he was waiting for me to 'grow some balls and pull the trigger and file for divorce because once I do he is ready and has his documents all ready' and I'm 'going to be f--ked.'"
Patridge said Bohan deleted the recording, but she still called his bluff. She promptly phoned the police, took Kirra to her parents for the night and put divorce proceedings in motion.
While the allegations she shared were shocking, the actual filing didn't surprise pals. One source close to Patridge told E! News the pair, who split at least three times in the lead up to their November 2016 vows, have always had a "messy relationship." During the low points of their rollercoaster romance, the reality star would confide to friends that Bohan was controlling and had a massive temper. With their union so unstable, adds the source, the pair "never should have gotten married."
But at one point, Patridge found Bohan's tough exterior endearing, almost comforting. Referring to Bohan as the love of her life in a 2013 interview with Us Weekly, Patridge said he provided her with a sense of security. "With other guys in the past I dated, I never felt safe," said the star, once linked to Chris Pine and onetime MTV costar Justin "Bobby" Brescia. "We'd go out and I felt like I had to defend them, and so with Corey I feel like I'm safe — he's a guy's guy. He's not afraid to get dirty and that's what I like about him. He's not super metro."
That appeal had worn thin by last fall, some nine years after the duo's initial date. Still, a second Patridge insider told E! News at the time, the separation was "upsetting to her—she has a child. That's what she cares about right now, and that will remain her first priority."
In that vein, the aspiring actress gave her best performance when she and Bohan would meet up to exchange Kirra outside California's Irvine Police Department. But a source says being forced to face her ex multiple times a week was tough. "To be clear, the handoff of the child is happening at a police station and that's for Audrina and Kirra's protection from any kind of contact," the source told E! News. "Audrina is putting on a brave face for her daughter because she is sensitive to Mommy's emotions. Audrina is trying to make Kirra feel as comfortable as possible."
Within a month of Patridge's filing, it seemed the estranged couple just might reach a détente. In an Orange County, Calif. courtroom Oct. 6, Bohan agreed to vacate their Balinese-style spread with Patridge ponying up $35,000 to help with the move. Five days later, E! News obtained documents showing Patridge received full legal and physical custody with Bohan granted visitation every Monday, Wednesday and Sunday. Even so, a source cautioned to E! News at the time, "There is still a lot to be determined."
A bit more drama to endure as well. On Mar. 5, Patridge whipped out her phone once again to capture another exchange with Bohan—this time outside the police station. "Corey threatened me," she wrote of the encounter in a court filing two days later, "saying, 'You better start f--king playing nice. I'm f--king warning you,' pointing at me while he spoke." The conflict, she said, combined with another moment she claimed Bohan swerved his car "dangerously close" to her sister, left her shaken: "I am frightened by Corey's escalation of his anger and threats."
And she wasn't afraid to make a few demands of her own. In the Mar. 7 filing she, once again, sought a restraining order against Bohan and requested his visitation rights be stripped, claiming he was being "angry, rude and emotionally abusive" to Kirra. He, in turn, responded by asking the court to deny her request, citing the papers as Patridge's way of "purposely sabotaging" his time with Kirra.
Courtesy MJ Photos/Variety/REX/Shutterstock
As the couple continues to have it out through the court system, it seems likely their war could rage on for months. Yet it appears Patridge is sticking firm to the New Year's Eve promise she made herself to remain as upbeat as possible. "Despite the bad," she wrote of her turbulent 2017, "I'll always hold on to the happy memories and strive for love, positive and forgiveness."
And hopefully make a few new ones. Five months into her original 2010 courtship with Cabrera, Patridge had doubts about whether they could handle the distance when the singer hit the road. "You're going to be on tour…that's one of my concerns…the girls and drinking and, you know, drinking too much and then taking advantage," she explained on The Hills. Cabrera insisted he would remain faithful, saying, "There's no point for me to party. I have a girl that I love," but Patridge couldn't be convinced. Concluding their relationship was over, she stated, "Maybe we rushed into this, and now it's just, like, at a dead end."
Nearly a decade later, they've found a new route. Patridge followed up their late April Stagecoach date by introducing him to Kirra (the trio enjoyed a recent outing to Disneyland) and attending his May 2 concert in L.A.
One of the last times she watched Cabrera perform was 2010's Wango Tango, just days after they split. Determined to keep up appearances for MTV's cameras, "I had to stand there and watch him sing," she noted during an appearance on Live with Regis & Kelly months later. "I started crying at the show." This concert was a little more lively. Noting Patridge "had a blast," a source tells E! News, "The fact that he's a musician is one of her favorite qualities. She is his No. 1 fan."
Of course she appreciates more than his romantic lyrics. "Audrina feels safe with Ryan and knows he will be around for a while," says the source. "They are doing really well and are getting pretty serious."
Which is why Patridge sees no reason to be coy about their reunion, which was first outed when her stylist Joey Tierney posted a photo of Patridge and Cabrera receiving IV drops in their arms Apr. 26. "They are very happy together and ready for the word to be out that they are a couple," the first insider tells E! News. "They want to be out and about and enjoying each other."
If they can catch a good show at the same time, all the better.