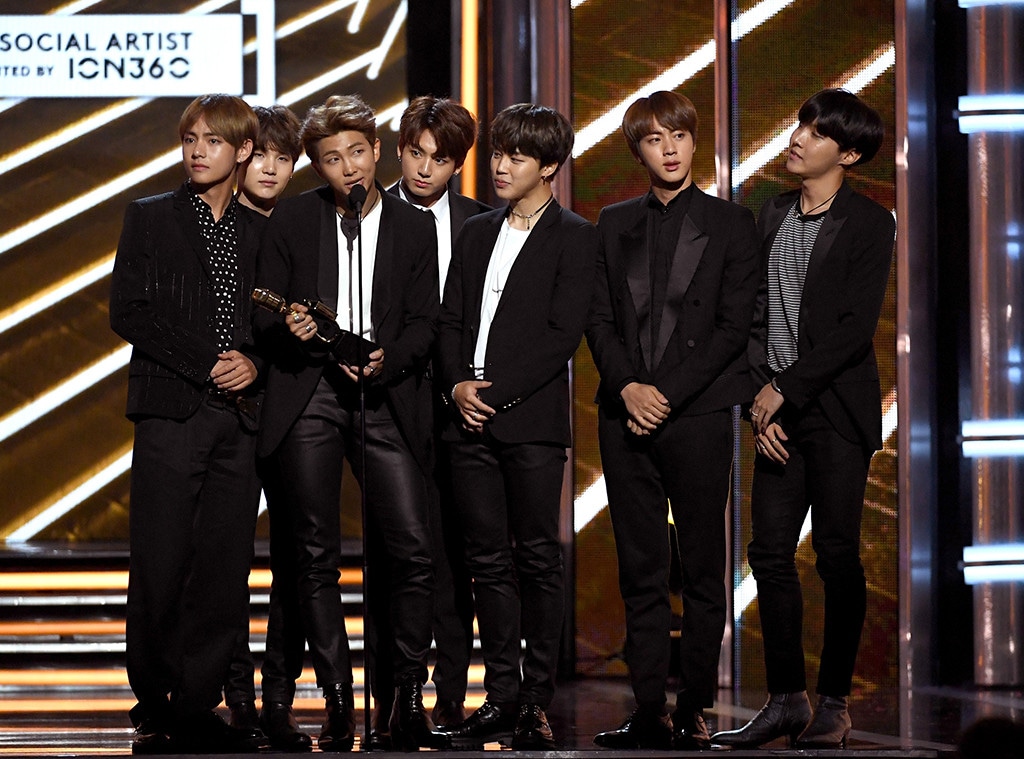 Ethan Miller/Getty Images
BTS is everywhere these days. Seriously, if you haven't heard of the Bangtan Boys then you're missing out. The South Korean pop group/hip-hop singers are taking over the music world and you should take notice.
The boy band is made up of seven members who have been winning over fans for years (beginning in 2013)—and now America is on board. In fact, the group is about to release a new album called Love Yourself: Tear next week and it got us thinking about all of the songs and fun music videos they've already blessed us with. 
In honor of their next album (out May 18)—not to be overshadowed by their teaser video for "Singularity," which was released over the weekend—we've rounded up the group's top 10 videos. We know they have way more than this to celebrate, but these official music videos are the best of the best.
Scroll through BTS' finest music videos below and vote for your favorite of all time. It'll be hard to choose, but we bet you can handle it.
1. "No More Dream"
Bad boys for life! This music video shows off the "bad boy" side of the K-Pop group and we can't get enough. From the epic bus scenes to the killer dance moves this video is entertaining from beginning to end.
2. "DNA"
As one of the latest official music videos from the group we can't help but love this video. In addition to the fun colors throughout the "DNA" video the song is very upbeat, which we are major fans of. PS: even the hair colors of the group are fun and bright in this video!
3. "Danger"
In "Danger" we see a semi-sporty side of the Korean pop group and we're not mad about it. In addition to their iconic dance sequences this video tells the story some of the members trying to find their strength through boxing and playing basketball while another takes a bat to a piano. It's so fierce.
4. "We Are Bulletproof Pt. 2"
Everything about this video is epic. The costumes are over the top, the dance moves are better than you ever thought possible and the chorus is so catchy. Side note: the simplicity of having the video be almost a dancing only video is what we love best.
5. "Boy In Luv"
Every music video from the boy band tells a story, but "Boy In Luv" takes storytelling to the next level. It starts off in school when you think each and every member falls for the same girl and ends in all of the guys helping one of their crew to win over her heart. It's brilliant.
6. "War of Hormone"
This hip-hop track is killer on its own but add in the cool color treatment and it is a clear stand out. The video is shot in what appears to be black and white or sepia and the only color you see is pops of red on some of the guy's clothes. It's so fun!
7. "Dope"
BTS as business men? Sign us up! In between snippets of each singer dressed in different costumes—like a military uniform and race car ensemble—the group dances in sleek shirts and trousers and it's very attractive. Oh, and their dance moves aren't too shabby either.
8. "Blood Sweat & Tears"
What happens when BTS goes to an art museum and tries to be fancy? One amazing music video that's what. "Blood, Sweat & Tears" is dramatic, full of amazing looks from each guy and features a lot of trippy locations that make it even more interesting.
9. "I Need U"
If you love the softer side of BTS then the music video for "I Need U" is the perfect one to watch. It's intricate, hooks you in from the beginning and the song is so catchy. Plus, it'll pull at your heartstrings seeing your favorite member down on his luck…trust us!
10. "Save Me"
In case you forgot each member of BTS is an amazing singer and dancer. This music video reminds us of both since each singer gets a dance solo to start things off. Then they unite to mesmerize their fans with quick, upbeat steps that can't be missed.
Which of BTS' music videos is your favorite so far? Cast your vote below!
Don't forget to mark your calendars because Love Yourself: Tear is set to drop May 18!