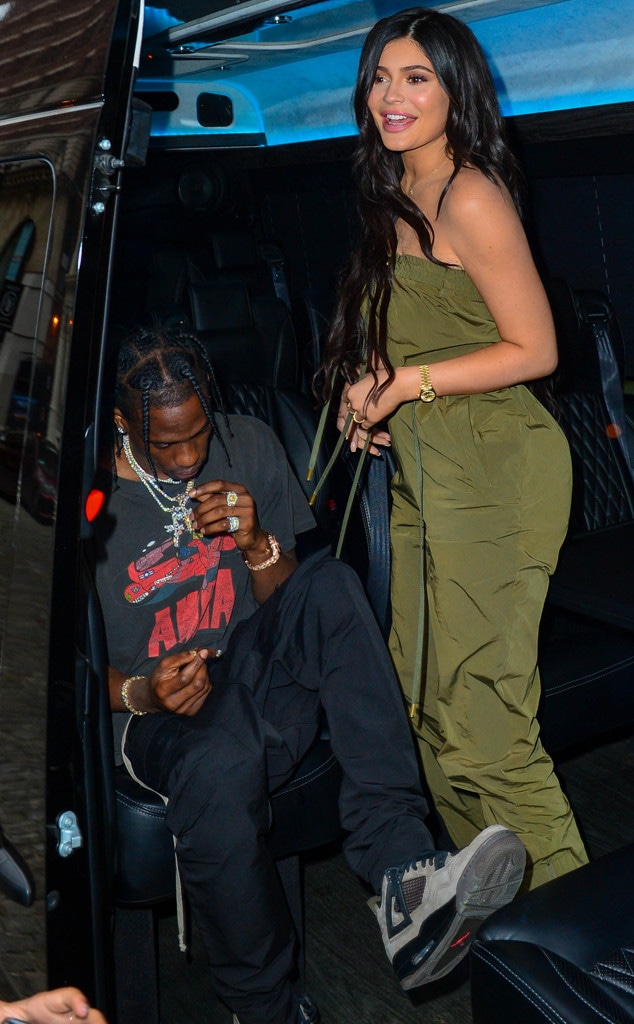 PapCulture / Splash News
Kylie Jenner and Travis Scott are on the move. 
The youngest Kardashian-Jenner sister turned the Big Apple into her own runway this weekend as she stepped out around town with her famous friends ahead of the highly anticipated 2018 Met Gala. Fresh off their beachside vacation as a family of three, the new mom and her beau Travis Scott put a fashionable foot forward in New York City on Sunday.  
The couple was spotted together after a visit to fellow fashion star Gigi Hadid's Manhattan apartment along with Jenner's BFF, Jordyn Woods. 
The 20-year-old mogul served up some casual cool in a strapless hunter green jumpsuit paired with strappy metallic purple heels while the rapper also looked laid-back in a T-shirt, jeans and sneakers. 
A day earlier, Jenner emerged in an ensemble featuring a cropped hoodie layered over a black top with leather look pants. 
Their stylish weekend will wrap up with the annual Met Gala Monday night, which Jenner is expected to attend in addition to other members of her famous family. The star had the soirée on the brain on Sunday when she shared a video of herself on the iconic red steps in the unforgettable Versace beaded creation she donned last year. 
"Last year #mood," Jenner captioned the clip on social media. 
In just a matter of hours, her 2018 "mood" will likely be revealed—and cameras will be everywhere to capture every angle of her latest fashion statement.  
Let the waiting game begin!