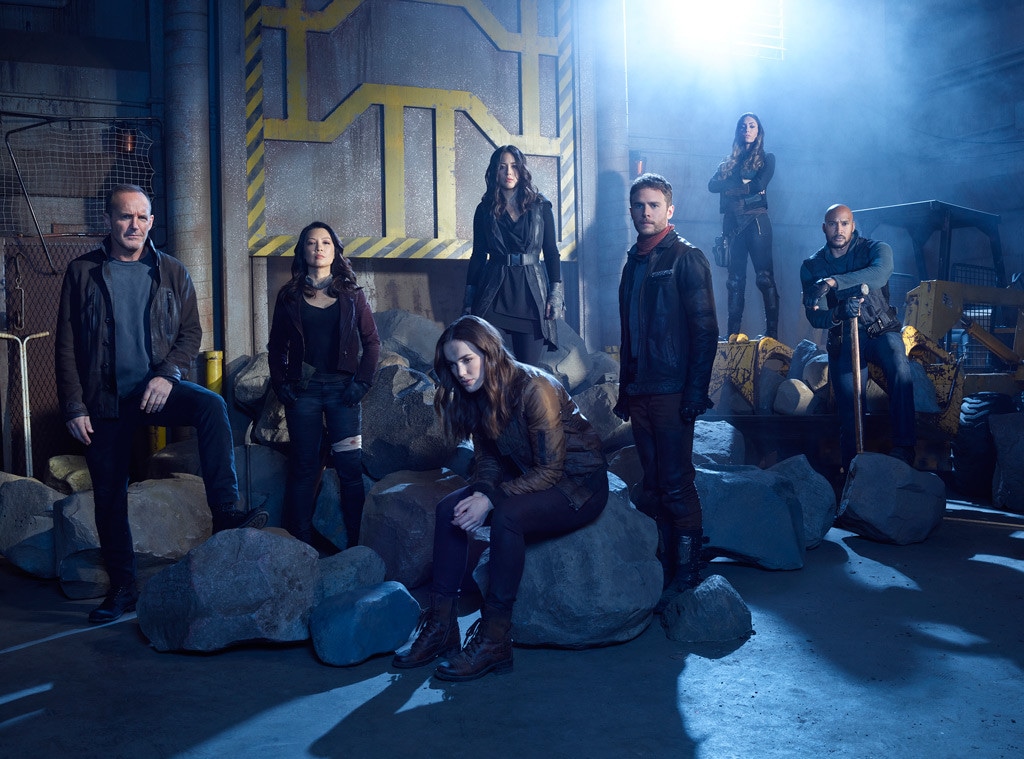 ABC
Warning: The following contains spoilers for both the most recent of Agents of S.H.I.E.L.D. and Avengers: Infinity War. If you haven't seen both and wish to remain unspoiled, you may want to bookmark this page. Proceed with caution!
It's been a week since Thanos arrived on Earth and wreaked his devastating havoc in Avengers: Infinity War, wiping half of the universe out of existence with the mere snap of his bejeweled fingers. And since then, we've been consumed with so many questions: How will Tony Stark and the remaining heroes reverse the unthinkable? Who won't make it back to the land of the living when all is said and done next summer? Who actually thought we'd be dumb enough to believe that T'Challa and Peter Parker are actually dead?
And last, but certainly not least for our TV-loving selves, how in the heck would Agents of S.H.I.E.L.D. incorporate half of existence just dissolving before their very eyes?
While we're going to have to wait a whopping 12 months for answers to the first few questions, tonight's new episode of ABC's Marvel series gave us some insight into how Phil Coulson (Clark Gregg) and his team's current adventure would cross over with the latest MCU offering. And the answer was: Not really. Or at least, not yet.
As Coulson et al were dealing with Talbot's (Adrian Pasdar) shocking decision to become Graviton—and Daisy (Chloe Bennet) was out tracking down her mom's bones and hearing about "all the weird stuff happening in New York"—they followed Talbot's lead and headed into space to strike up a deal with Qovas (Peter Mensah) and his Confederacy. And it was there, after it was revealed that the evil Kree clan who ruled Earth in the future was a part of the Confederacy, a Confederacy that never intended to protect Earth as Hale had been led to believe, that we got our first mention of ol' Thanos.
"Thanos and his forces have begun an assault on your world even as we speak," Taryan, the Kree from house Kasius, informed Talbot.
"Well then I've got to get down there with the Avengers and take on this Thanos," the Gravitonum-empowered former general responded.
"Thanos' strength is unrivaled. You will lose. Even with your powerful friends fighting alongside you," Taryan warned, before getting shifty. "Though perhaps there might still be a way."
The way? Oh, just Talbot extracting all the Gravitonium in the planet for himself. You know, real Destroyer of World stuff. Of course, the episode ended shortly thereafter, so we didn't get to witness Talbot attempt his foolish plan or see anyone dissolve out of existence. 
With only two weeks left in the season, expect more Infinity War Easter eggs to come. After all, there's no way they'd just completely ignore the biggest development to ever hit the MCU, right? Right.
Agents of S.H.I.E.L.D. airs Fridays at 9 p.m. on ABC.