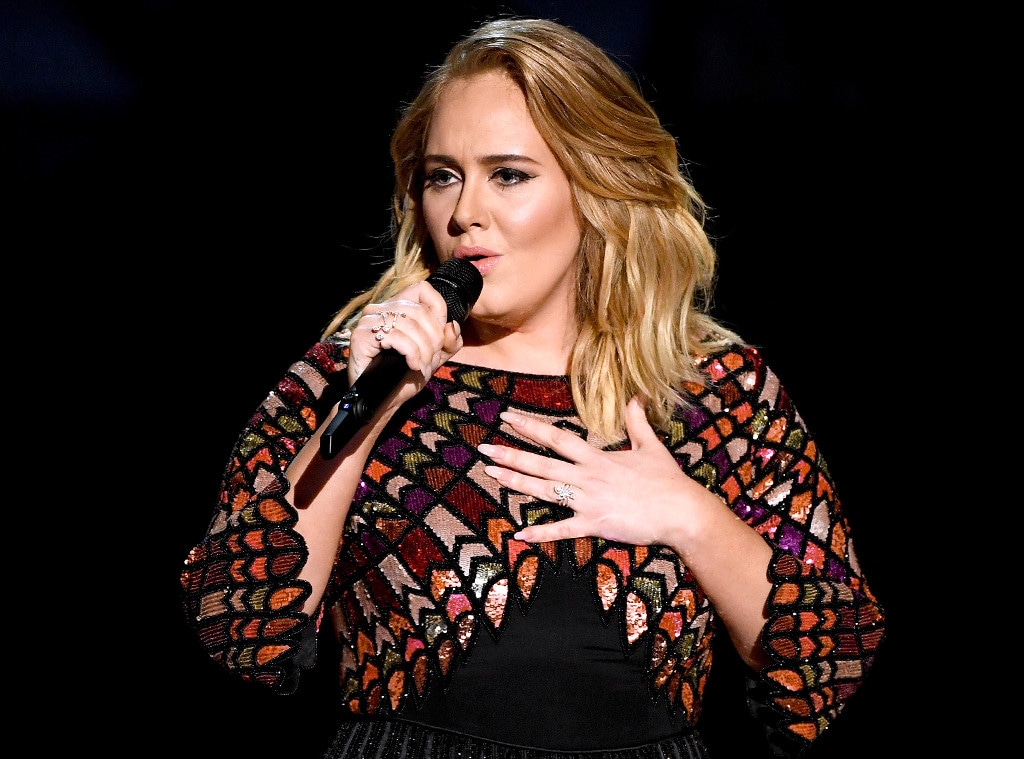 Kevin Winter/Getty Images for NARAS
For all of Adele's Grammy wins—and there are many—one stands out.
Even the most casual of music fans recalls the moment the Album of the Year winner accidentally snapped her trophy in half, proffering one piece to Beyoncé and proclaiming her masterful disc Lemonade the year's best.
Her move went viral. But if you think about it, her actions weren't out of character or all that surprising. Because to hear Adele tell it she never truly feels worthy of the honors she collects. "I swear to god I laugh at every big thing that happens in my career. I laugh out loud because I think it's f--kin' ridiculous," she told Vanity Fair in December 2016. "At some point, the director of The Truman Show is going to come and say this is a sequel."
Kevork Djansezian/Getty Images
Basically Adele has accomplished so much in her 30 years on this planet that even she has trouble fathoming her overwhelming success. Her tally includes all but three of the 18 Grammys she was nominated for, multiple diamond-certified albums, a Golden Globe, an Oscar, Britain's M.B.E. for Services to Music and so many broken records that one would assume at some point she'll have to topple herself.
And yet she wouldn't hesitate to leave all that acclaim behind. Her most treasured achievements—husband Simon Konecki, 44, and their 5-year-old son Angelo—best any of her 136 trophies. "To have a song, any song—let alone I've had four or five that have resonated with people that much—that's why I make music," she told Vanity Fair. However, she doesn't feel the need for unnecessary curtain calls. "If my relationship with Simon or my relationship with Angelo started to flounder a bit now, I would pull out of my tour," she noted. "My life is more important to me than anything I'm doing because how the f--k am I supposed to write a record if I don't have a life? If I don't have a real life, then it's game over anyway."
She packed plenty of living into her first two decades. Born to an 18-year-old art student in England's gritty Tottenham (she has scant memories of the father that bolted when she was a toddler) Adele Laurie Blue Adkins established a knack for singing (also guitar- saxophone- and flute-playing) before she escaped her adolescence. A raison d'être soon followed: to do what it took to really make something of herself. "That was my goal from the age of seven: it was 'I ain't living here,'" she told Vanity Fair. "I didn't care how I was getting out, I didn't care where I'd be living, but I knew I wasn't living there."
Cameron Spencer/Getty Images
She soon found her muse—well, muses—in the Spice Girls. When the British pop group fought there way onto the music scene with "Wannabe" in 1996, "It was a huge moment in my life," Adele recalled to BBC News Magazine in 2016. "It was girl power. It was five ordinary girls who did so well and just got out. I was like, I want to get out."
In the flat she shared with mom Penny—her best friend, to whom she told "anything" she told Rolling Stone—she honed her skills by belting out their hits (Etta James, Ella Fitzgerald and, of course, Beyoncé were also early influencers). And by age 18 she had a degree from the BRIT School for Performing Arts and Technology and, thanks to a MySpace demo, a deal with British alternative label XL.
She wrote much of her primarily acoustic debut album 19, which kicked off her trend of naming discs based on her age, in the apartment, situated above a discount store and across the street from a pub where she'd sip the more than occasional drink. And 10 months after the album's release, which saw her transform heartbreak into standout singles such as "Chasing Pavements", she nailed her biggest break. By a stroke of booking luck, she would be the musical guest on the Oct. 18, 2008 episode of Saturday Night Live that featured Sarah Palin mocking Tina Fey for mocking Sarah Palin.
The last minute cameo led to a surge of viewers. Roughly 17 million tuned in, the sketch show's largest audience since a fresh-from-the-Olympics Nancy Kerrigan played host in 1994. By the time Adele's plane touched down back in England she'd rocketed from the 40th spot on iTunes to the very top.
Kevin Winter/Getty Images
Soon she was making the talk show rounds, collecting Grammys—her first two for Best Female Pop Vocal Performance and Best New Artist—and proving aspiring musicians didn't need skin-baring costumes, fancy set pieces or highly stylized choreography to get noticed—just an unmatched, powerful voice laced with the most raw of emotions. 
If 19 was the breakthrough smash, follow-up 21—featuring hit singles "Rolling in the Deep" and "Someone Like You"—was the project that proved this Brit had staying power. For 24 straight weeks, it held tight to the highest spot on the Billboard charts and sold more copies in a two-year period than any artist since Michael Jackson's Thriller.
Christopher Polk/Getty Images for NARAS
Producer Rick Rubin has a theory for the musician's unprecedented success. "Besides her once-in-a-lifetime voice, Adele has a pure songwriting gift," he surmised to Vanity Fair. "All the songs always started with her; sometimes she liked having a collaborator to help get it over the finish line, but all of her best work comes directly from her."
After cancelling her 2011 tour to undergo surgery on a vocal cord hemorrhage (and coming back the next following spring to sweep all six of her categories at the Grammys), Adele disappeared to do the type of existing necessary to keep churning out relatable content. "If I didn't write my own songs, I'd be out next week with a new album," she explained to France's NRJ radio in 2012. "I have to take time and live a little bit. There were a good two years between my first and second albums, so it'll be the same this time."
Save for co-writing the title track to the 2012 James Bond film Skyfall, Adele remained largely absent from the music scene for the next four-plus years. She met a boy— investment banker turned philanthropist Konecki—had a son and languidly began putting together a new album. Her producer told Rolling Stone that after writing the verses for "Hello" it took another six months to solidify the chorus.
By the time she released 25 in late 2015, fans were desperate to hear her soulful voice (she's said she's more of a "wailer" than a singer). It took just one week for the album to become the year's bestseller—during a time when industry experts were asserting that no one was buying music anymore. (It would go on to sell upwards of 22 million copies worldwide.)
Richard Young/Rex/REX USA
The following year, Adele embarked on a 121-date tour. Her goal wasn't to rake in more cash. After all, she told Vanity Fair "I don't care about money. I'm British, and we don't have that…thing of having to earn more money all the time." And she revealed to Observer Music magazine in 2015 that she's turned down endorsement deals for "literally every f--king thing. Books, clothes, food ranges, drink ranges, fitness ranges…that's probably the funniest." Rather, she told Vanity Fair, she felt compelled to battle her intense stage fright, because she felt she owed it to fans: "I'm on tour simply to see everyone who's been so supportive."
Given the choice, she may opt for the more quiet life afforded in her relatively tiny petit mews flat in the center of London. Other reported properties include a $5 million mansion in West Sussex and a $9.5 million Beverly Hills estate, but a source told E! News in 2015 she prefers the smallest of her domiciles: "It's cute and down a cobbled private little street. She seems to love it there so much. It's much more in line with the size of homes she grew up in."
Off the clock and out of her signature cat eye, she's much similar to any regular Londoner, says the source, "She likes just hanging out with the other moms and being laid back and giving Angelo all the attention he needs." That could mean spending an afternoon at the Battersea Children's Zoo or nipping out to organic grocery shop Chelsea Farmers Market Battery.
Terma/SL/FAMEFLYNET PICTURES
As she told Rolling Stone, "I've been to ever f--king park, every shop, every supermarket you could ever imagine." And she feels far more at peace tooling around in her Mini Cooper than she does glad-handing other celebs at industry events. "I'm not sure if I'll ever not feel a bit overwhelmed when I go to places where there are loads of stars," she explained. "I always feel like I'm gonna get thrown out. Or it's going to turn out to be some, like, hidden-camera show. Like someone's gonna send me back to Tottenham."
That humble realness—her willingness to lace her speech with F-bombs or post videos of herself unabashedly dancing along to Beyoncé—endears her to fans just as much as her once-in-a-lifetime voice. But it could also be the reason she eventually drops out of the public consciousness. As she bluntly put it to Rolling Stone, "My career's not my life. It's my hobby."
It was a point she seemed to reinforce as she completed each leg of her sold out Adele Live tour. First in North America, then New Zealand and finally at home in England, she explained why she may not say "Hello" again. For starters, there's her son to consider. He's now in elementary school and she refuses to disrupt his life by pulling him out or miss out on his growth by spending weeks away at a time.
Then there's the fact, as she told Wembley concertgoers in a handwritten note she had tucked in their program, that touring doesn't really suit her. "I'm a real homebody," she explained, "and I get so much joy in the small things." While she appreciates it at times, "Touring isn't something I'm good at," she told the 40,000 gathered at a March 2017 Auckland, New Zealand date, adding, "applause makes me vulnerable."
With so many standing ovations behind her—and the likelihood of more ahead—it seems shocking to think that at this point she hasn't simply gotten used to it.