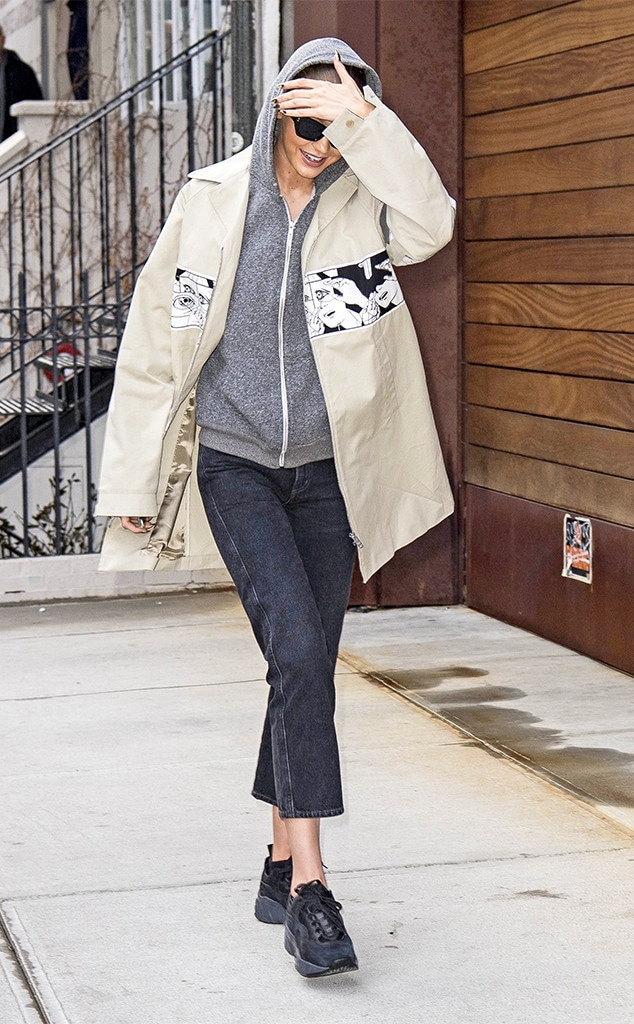 MMV / BACKGRID
After facing backlash for the newest cover of Vogue Italia, Gigi Hadid has spoken. 
The supermodel took to Twitter to address the emerging controversy involving the May issue of Vogue Italia, shot by Steven Klein and starring her and male model Justin Martin. 
"Excited, honored, and grateful to cover @VogueItalia's May Issue," Hadid captioned a photo of the cover on her own Instagram account. "Thank you so so much for an amazing shoot, I am forever inspired by you all !!! & can't wait to share the full story !!" The image has since been taken down from her page.
Soon after the cover was shared online on Wednesday, many fans took issue with Hadid's styling, specifically her heavily bronzed skin. Others claimed she didn't look like herself altogether and that her face had been altered by the likes of Photoshop.
By Thursday afternoon, the 23-year-old catwalk queen addressed the issue head on while sharing a snap of herself leaving the set back in April. 
"This is a photo of me returning home from shooting my Italian Vogue cover on April 3rd…you can see the level I had been bronzed to on set that day. Please understand that my control of a shoot 1. is non existent in terms of creative direction. 2. ends completely when I leave set, and anything done to a photo in post if out of my control fully," she explained in defense of herself. "The bronzing and photoshop is a style that S. Klein has done for many years and I believe was what was expected from the shoot (to show me in a different way creatively), BUT, although I understand what Vogue Italia's intentions were, it was not executed correctly, and the concerns that have been brought up are valid."
She continued, "I want to address this for those who were offended by the editing/retouching/coloring of the cover. Please know that things would have been different if my control of the situation was different. Regardless, I want to apologize because my intention is never to diminish those concerns or take opportunities away from anyone else, and I hope this can be an example to other magazines and teams in the future."
As Hadid concluded, "There are real issues regarding representation in fashion—it's our responsibility to acknowledge those issues and communicate through them to work towards a more diverse industry." 
In a statement to E! News, the magazine said, "Throughout its history, Vogue Italia has always respected and even encouraged the viewpoint of commissioned photographers. Needless to say, this is the case with the latest shoot by Steven Klein, a creative whose vision has had an impact in shaping the path of our publication. Fashion photography, and Vogue Italia's in particular, is an interpretation of reality, not a literal representation of it, and this creative approach applies to the cover of the May issue."