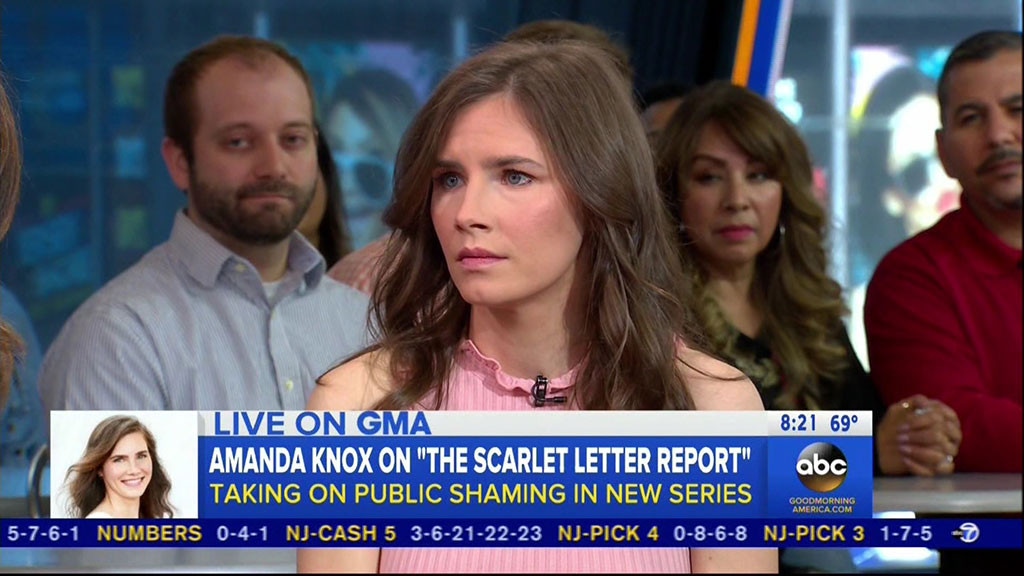 ABC/Good Morning America
"Foxy Knoxy" is still haunting Amanda Knox. 
More than a decade after the murder of her roommate Meredith Kercher, the 30-year-old Seattle native is still battling the public persona that was painted of her while on trial for the 2007 tragedy.
Amid all the media coverage of Knox after Kercher's death and during the trial, she was painted as a young, sex-crazed American she-devil as outlets picked at her life in college before Italy, her social behavior while studying abroad, her relationship with her then-Italian boyfriend, Raffaele Sollecito, and the prosecution's theories on her motives and argued participation in the murder. After her childhood nickname "Foxy Knoxy" was discovered (she was said to play soccer quick like a fox) the media often used it in association with the identity presented of her in the tabloids and in court. 
"I could have been the kinkiest person in the world, and it shouldn't [have] mattered because it has nothing to do with the evidence of the case," Knox told Newsweek. "The fact that I was accused of orchestrating a rape game—it was so absurd."
While Knox has since been exonerated once and for all in the case of Kercher's death, the perception of "Foxy Knoxy" still remains. 
"It's almost like living a double life where I'm in a limbo space where Amanda Knox, a real person exists, 'Foxy Knoxy,' an idea of a person exists, and I'm constantly having to juggle how someone is interacting with me based upon that two-dimensional version of me that has been in the public's imagination for so long," she explained in an interview on Good Morning America Wednesday. "And I'm not alone in that."
"As soon as you've been given that catchy, salacious nickname, the real you is gone and you're absorbed into this template character," she continued. 
As a result of the bias she faced publicly at that time in her life, Knox is now on a quest to help right the same wrongs toward other women who have bore similar treatment. "In my case, my vilification came through the lens of our society's impulse to vilify women and female sexuality and coming home from that, I've seen how that same vilification process happens towards other women and that's what this show is all about," she said, referencing her new series with Vice Media on Facebook, The Scarlet Letter Reports. 
Through interviews with famous women like Amber Rose and Mischa Barton, Knox aims to help who have endured public shaming in the media to reclaim their reputations. 
Simultaneously, Knox hopes to—as she put it— bring "back compassion and context to journalism without somehow losing objectivity or the integrity of journalism."