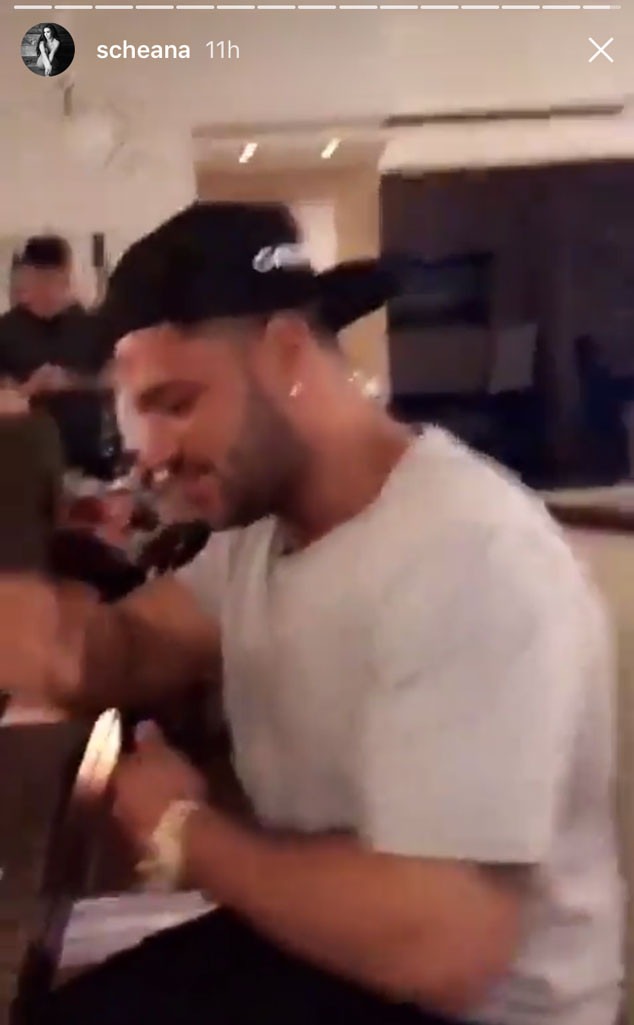 Instagram
Shortly after Ronnie Magro-Ortiz split with the mother of his child, Jen Harley, he was spotted watching the Vanderpump Rules season finale with friends.
In videos posted to Bravo star Scheana Marie's Instagram Story on Monday, Ronnie can be seen hanging with fellow MTV stars Chester Lockhart and Kailah Casillas, as well as Kailah's boyfriend, Mikey P.
"I mean, while watching the Vanderpump Rules finale, like we have our own reality show in my condo," Scheana says in one Instagram video.
But before the relationship rumors start, a source tells E! News that there's nothing romantic going on between Ronnie and Scheana.
"They are all friends and all hang out," the insider tells us.
Hours before the group got together, Ronnie was filmed on Instagram Live getting into an explosive argument with his ex, Jen.
Ronnie later apologized on his social media, writing, "I want to apologize to my family, friends and fans. This is a private matter that should have never been made public. I remain focused on my daughter and she is my number one priority."
A source told E! News on Monday that Ronnie and Jen are broken up. "They're done," the insider revealed.
Another source shared with us after Monday's social media fight, "Jen is just at the point where she's fed up. She got into [a relationship with Ron] knowing there have been several incidents in the past. She really thought at first that she could change him."
The insider also added that it's a "roller coaster" with the couple, sharing, "He messes up and then he's so apologetic and they get back together, then there's the baby so it's hard."
Over the weekend, fans of the Jersey Shore star watched as he and his girlfriend got into a vicious social media fight, during which Ronnie wrote on Instagram Story, "Note to self, can't turn a natural born HOE, into a HOUSEWIFE, if you find them in the gutter then leave them in the gutter."
Ronnie later apologized, writing, "I want to apologize for earlier to my fans and especially to @tater_tot_kitty I acted out of my gut and not rationally. I should've never acted in such a manor [sic]. My deepest apologizes [sic]."