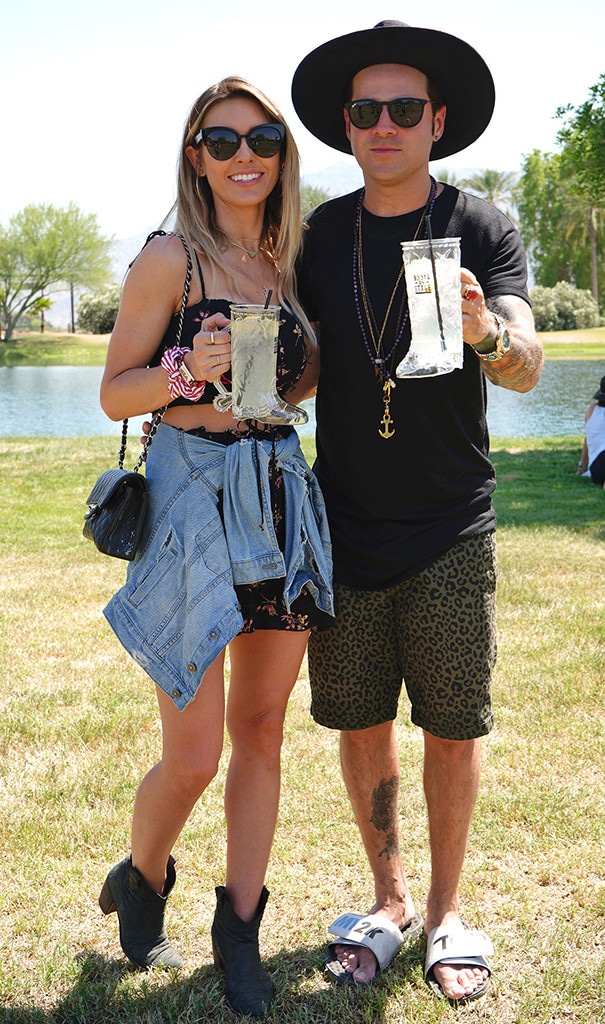 Chevrolet
Audrina Patridge and Ryan Cabrera certainly got the hills alive and talking this weekend about a rumored romantic rekindling...
Last week, a report stated that the former Hills stars had reignited their past romance and then over the weekend the pair partied down together at the Stagecoach Music Festival, which, of course, is keeping the dating speculation going.
While Patridge, who is currently going through a messy divorce, and Cabrera have not commented, the pair seem to be getting quite cozy once again.
Fans may remember that Ryan and Audrina were first linked in January of 2010 and had part of their romance documented on the final season of The Hills before calling it quits five months later.
As MTV viewers may also recall, Audrina was worried that they rushed into things too quickly. It also didn't help that the rocker was about to hit the road to go on tour.
After going their separate ways, Ryan continued focusing on his music career. As for Audrina, she welcomed a daughter named Kirra Max, married (and is now divorcing) Corey Bohan, and became creative director for a bathing suit line called P R E Y S W I M.
But what about what the future holds for the stars?
Let's go through everything (well at least nine things!) we know about the duo so far: 
1. It's On: "They're dating," a source shared with People last week. "They've been spending a lot of time together recently and are having a good time."
2. Drip Drops: According to fashion stylist Joey Tierney's Instagram Story, the pair spent last Thursday night getting IV drops in their arms.
Ryan Cabrera/Instagram; Audrina Patridge/Instagram
3. Friday I'm in Love: Both Ryan and Audrina posted pictures near an Orange County beach on Friday evening leaving some fans thinking they were about to kick off the weekend together.
4. Jazz It Up: An eyewitness told E! News the two were at a W Hollywood jazz night event earlier this month. 
"She sat with him and they were very close and had their arms around each other," the source said. "They were holding hands at one point too."
5. 'Coach Cuties: Cabrera posted on his Instagram Stories feed on Saturday videos of the two sitting close together on lawn chairs and hanging out with a couple at the event, which was held this weekend in Indio, California.
6. Shindig Time: E! News reported that a source said that Cabrera and Patridge attended Boots on Stage's Chevrolet's Shindig, In the Desert for a couple hours and left together. "They looked like a couple and really happy. Nobody was bothering them and they seemed like any other couple just enjoying the festivities."
Another insider tells E! News, "They are so together. At first they were acting super low-key, not really showing any PDA. But as the party went on they got comfortable and affectionate. He grabbed her butt a couple of times while they were walking."
7. Not Too Shy: Another source added E! News that at the Shindig, In the Desert the pair got more comfortable over time.
"At first they were shy. They were with a group of friends but then they got more comfortable," said the source at the bash. "They held hands and they snuck a quick kiss. They look like they are definitely dating and were very coupley. They arrived together and stayed for a while. They spent about two hours playing games and Audrina caught up with friends. They had a really good time."
8. Game On: Another insider says that they're all about finally making it public.
A source says, "They are very happy together and ready for the word to be out that they are a couple. They want to be out and about and enjoying each other."
9. Lucky in Love: The insider added, "Audrina feels very lucky to be dating Ryan again. He is extremely kind and supportive of everything she does. He treats her very well and it's a nice feeling for her. They have always been friends and know each other well. It was all very familiar and comfortable right from the beginning."