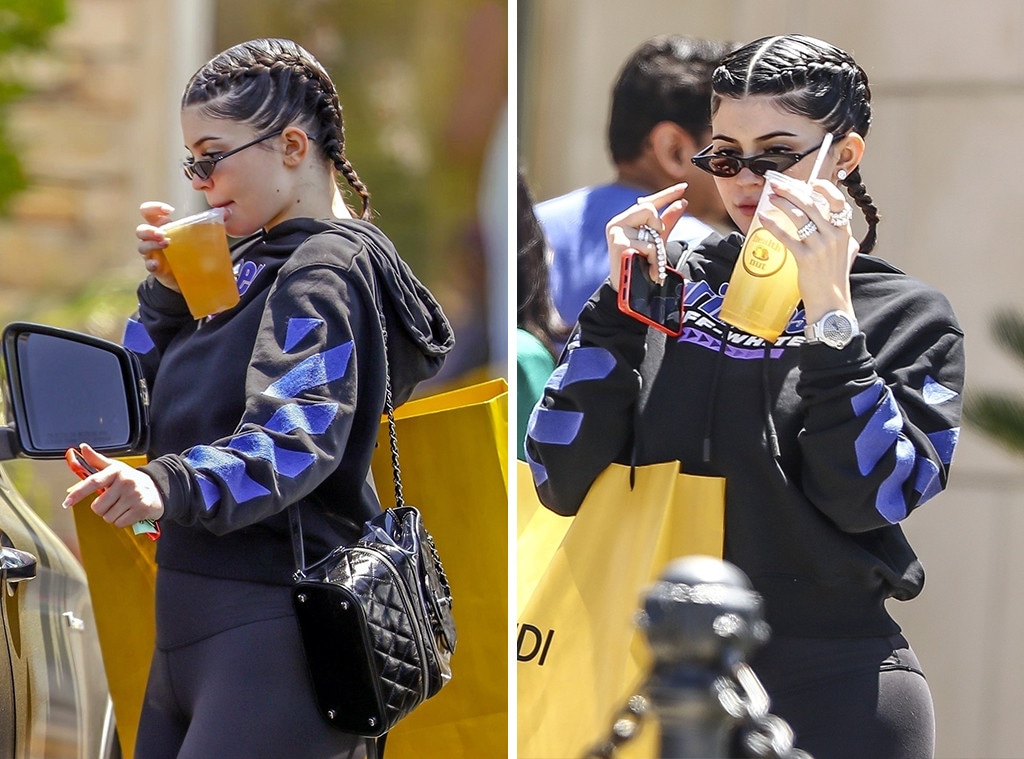 IXOLA / BACKGRID
Kylie Jenner just frosted herself!
On Saturday, the reality star made quite the accessory upgrade in almost no time flat. At first, Stormi's mama was spotted heading into Polacheck's Jewelers in Calabasas with no jewelry on her hands—but later, when she she exited the store, she had fists full of diamonds on her fingers and was wearing a new Rolex. 
The LipKit queen wore double diamond rings on her pointer finger and her ring finger.
For the outing, Ky donned Lululemon leggings and a $710 dollar Off White "Princess" hoodie, which was in fact black.
Some are speculating about engagement rumors since the 20-year-old is wearing rings on that finger, but that's not new for makeup mogul—plus there aren't a lot of gals who are picking up their own engagement rings from the store!
It was quite a busy day for the Keeping Up With the Kardashians star. After her jewelry stop, the star rented out an entire Six Flags amusement park for her, Travis Scott, family and friends to celebrate his birthday. Travis, father of the couple's almost 3-month-old daughter, turns 26 on Monday.
The reality star posted on her Instagram Stories feed photos from their visit, which appeared to take place at Six Flags Magic Mountain in Valencia, California. Guests included her sisters Kendall Jenner, Kim Kardashian and Kourtney Kardashian and bestie Jordyn Woods.
"Rented out Six Flags for baby's birthday," Kylie wrote. "They've never been."
Travis was presented with a birthday cake resembling a ride from Six Flags Astroworld, a Houston-based theme park that closed in 2005, which was topped off with roller coaster riders made in his, Kylie and Stormi's images.