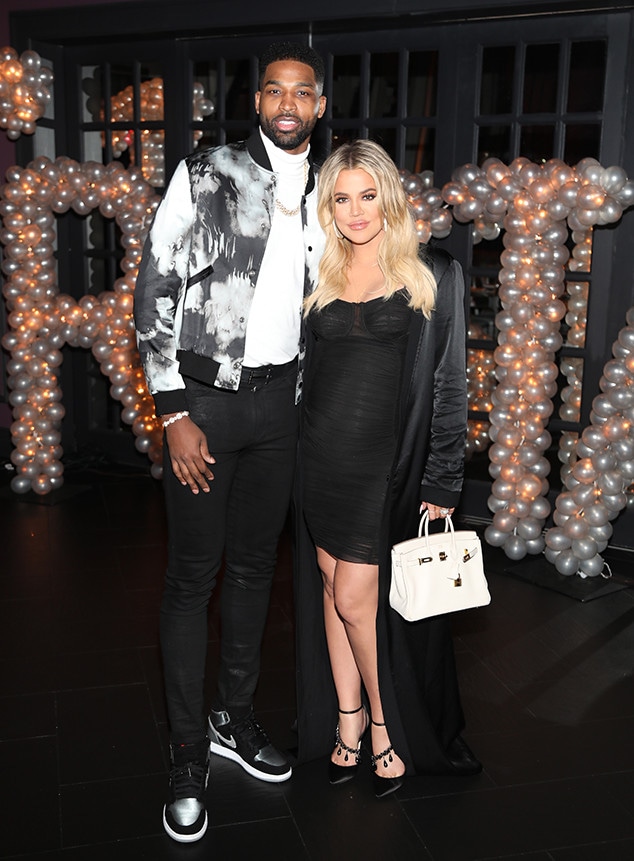 Jerritt Clark
Someone's in a good mood!
After weeks of getting his name dragged through the mud, NBA player Tristan Thompson, has broken his social media silence following cheating allegations that erupted just days before girlfriend Khloe Kardashian gave birth to the couple's daughter on April 12.
Is he talking about all those cheating rumors? That video? Those photos? Or his baby girl True Thompson? Nope! He's talking about basketball.
"WHAT AN ATMOSPHERE IN THE Q!! GREAT WIN #OnToTheNextOne," wrote the Cleveland Cavaliers player on Sunday, following his team's win 105-101 win over the Indiana Pacers.
And while one might think basketball is a safe topic for the sports star, it's not. Many of commenters were less than thrilled at his post and quick to defend the beloved Kardashian, whose ex-husband Lamar Odom was famously unfaithful during their marriage. 
Commenter lanessuicoafable wrote, "Try winning at home"
"Team Khloe," wrote ig._brentonholland.
Elresezyl just posted a series of poop emojis and middle finger emojis.
Cindeelouwhoo commented, "Playin more than just the game."
Meanwhile, some of the Kardashians are speaking out (well as much as they can) on the messy situation. Last week, Kim hit up The Ellen DeGeneres Show and admitted she wasn't happy with what was going down.
"Like I don't even know how to describe it besides it's just so f--ked up," Kim told Ellen DeGeneres. "We really were rooting for Khloe, and we still are...you know, she's so strong and she's doing the best that she can. It's a really sad situation all over."
Kim then explained to Ellen that she made this rule with brother Rob Kardashian that if there's a baby involved she's going to keep it "cute" and "classy" and not talk "too bad" about the situation.
"Because one day True's gonna see this and you know...it's so messed up," Kim shared.
Meanwhile, a source tells E! News that Khloe "hasn't given up" on Tristan just yet.
"She has one foot out the door but is also holding on to the fact that her and Tristan can make it work," the insider told us. "She hasn't given up on him yet, but also hasn't really been focusing on their relationship. When they see each other, it is all about the baby and parenting together. Khloe has fallen in love with him all over again, watching him be a dad to True, but [she also] knows she needs to really take a step back and make the right decision."