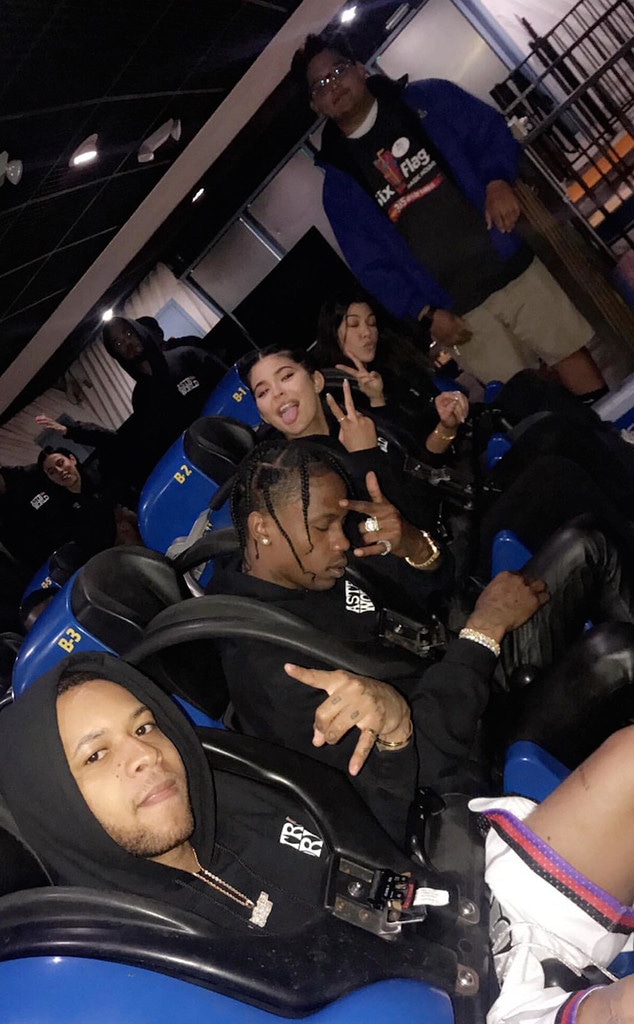 Instagram
Kylie Jenner and Travis Scott's relationship is moving fast—like, roller coaster fast!
On Saturday, the 20-year-old Keeping Up With the Kardashians star rented out an entire Six Flags amusement park for her, the rapper and family and friends to celebrate his birthday. Travis, father of the couple's almost 3-month-old daughter Stormi, turns 26 on Monday.
Kylie, 20, posted on her Instagram Stories feed photos from their visit, which appeared to take place at Six Flags Magic Mountain in Valencia, California. Guests included her sisters Kendall Jenner, Kim Kardashian and Kourtney Kardashian and BFF Jordyn Woods.
"Rented out Six Flags for baby's birthday," Kylie wrote. "They've never been."
Watch:
Kris Jenner Gives Update on Kylie Post Baby!
Travis was presented with a birthday cake resembling a ride from Six Flags Astroworld, a Houston-based theme park that closed in 2005, complete with roller coaster riders made in his, Kylie and Stormi's likenesses. The rapper was born in Houston.
"I told them, I said, 'Make sure Stormi has a seatbelt,'" Kylie said.
Kylie shared a video of guests preparing to go on Tatsu, one of the park's most popular and twisted coasters. Kim posted a video of people embarking on Riddler's Revenge, which has guests stand up during the ride.
"I just didn't have the heart to do this one," she said.