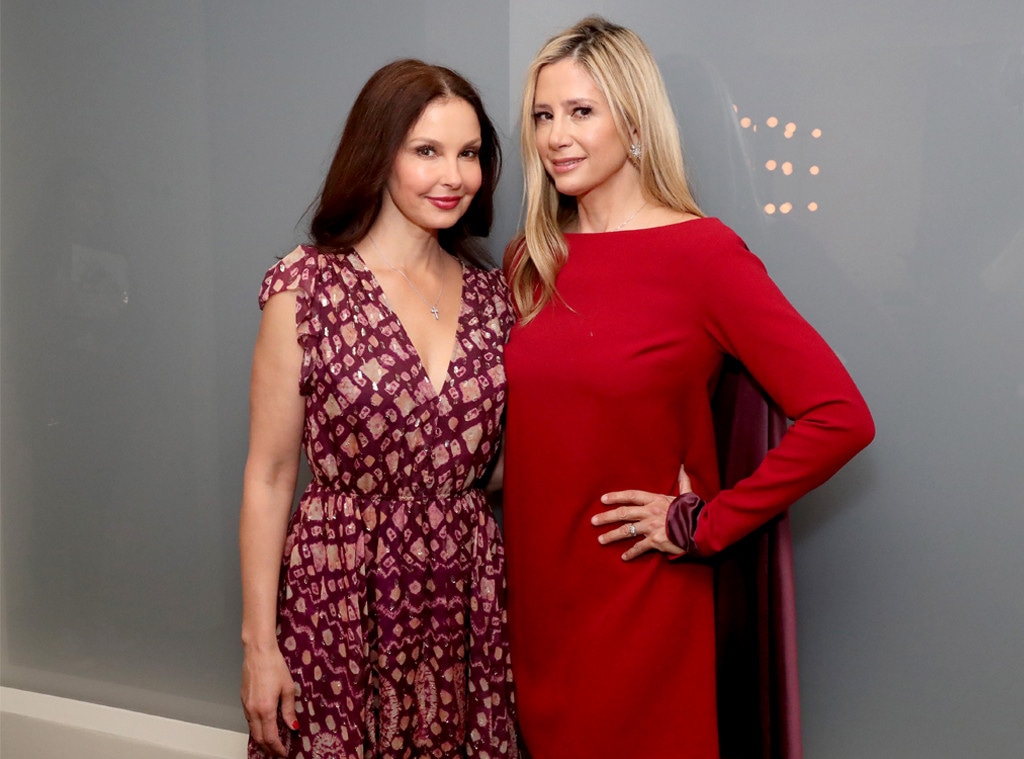 Astrid Stawiarz/Getty Images for Tribeca Film Festival
Better together...
Ashley Judd, who was was one of the first actresses to go public in accusing Harvey Weinstein of sexual assault in a New York Times story in October 2017, used her voice to help others once again when she spoke at the "Time's Up" panel during the 2018 Tribeca Film Festival at Spring Studios on April 28, 2018 in New York City.
The Double Jeopardy actress, who was one of one of the "Silence Breakers" awarded with Time's Person of the Year, was there to read a letter to survivors of sexual assault. 
Before the event, which was moderated by Tarana Burke, Judd tweeted, "On my way to share my national letter to survivors of sexual assault @TIMESUPNOW event at #tribecafilmfestival with a dialogue after reading it with the great and dear @TaranaBurke #wecanheal."
While at the panel, Judd posed with her longtime friend Mira Sorvino, who also came forward with sexual assault allegations against the now-disgraced movie maker in Dylan Farrow's piece for the New Yorker.
Previously, the pair took to the red carpet together at the 2018 Academy Awards on March 4. But their relationship goes back decades. The duo starred in Norma Jean & Marilyn, a 1996 movie about Marliyn Monroe's rise and fall. In the film, they both played the ill-fated star: Judd played the long-forgotten Norma Jean Dougherty, while Sorvino played the iconic Marilyn.
In December 2017, Lord of the Rings director Peter Jackson came forward to reveal the two women were blacklisted by Weinstein and his brother Bob Weinstein. The director claimed that the pair said not to hire either actress.
"I recall Miramax telling us they were a nightmare to work with and we should avoid them at all costs," Jackson said. "This was probably in 1998."
After Jackson's article, both Sorvino and Judd, who presented together at the Oscars, tweeted responses of gratitude. 
"I remember this well," Judd tweeted, while Sorvino thanked the director. "Just seeing this after I awoke, I burst out crying," she wrote. "There it is, confirmation that Harvey Weinstein derailed my career, something I suspected but was unsure. Thank you Peter Jackson for being honest. I'm just heartsick."
At the time, a spokesperson for Weinstein denied Jackson's claims. Weinstein has also denied all claims of non-consensual sex.
While at the event, Sorvino also tweeted, posting an image of Judd and Burke.
Along with the image, The Oscar winner wrote the caption, "The #powerofempathy" front & center of @TaranaBurke #healing journey and @MeTooMVMT she remembers that each #MeToo (millions) is an individual & stresses importance of sharing healing stories-share & swap coping mechanisms @TaranaBurke & @AshleyJudd @TIMESUPNOW @tribecafilmfest."
According to Slate, Judd began the letter: "We can heal. That has been my experience. We may not, admittedly, know how to, or even from what we need to heal. It may be the event itself, or vivid or dull memories of it, and it is entirely plausible that we don't even remember the event. There is a police record of a time I was sexually assaulted in high school. I was wearing a green and gold cheerleader uniform, my mother tells me. It was in a local store, and I have no memory of that crime. We may not even think we need to heal, that maybe we've just had some crappy relationships. Whatever trauma looks like in our lives, feelings can be healed."
The activist continued, "Healing is our birthright. It was not our birthright to be sexually harassed or assaulted or raped based on social constructs of gender, biology, sex, identity, orientation, ethnicity, race, ability, or any intersection thereof. It is our birthright to know in our bones that it wasn't our fault. We humans hurt each other, and sometimes we hurt ourselves, but we can make decisions and take actions that free us."
Additionally Judd made it clear to the audience and other survivors that what happened to them wasn't their fault.
"You are not alone, I believe you, and it wasn't your fault, by now are our internal paradigm. We learn how to trust people who are trustworthy and have discernment about those who are not. We can artfully set and maintain healthy boundaries," read the star. "We use our voices, we weather retaliation and act up anyway. We cease taking people, places, and things so personally, and what was that rage Tarana [Burke] spoke about becomes our strength, our energy, and our motivation. What was depression becomes expression, and self-pity and helplessness are transformed into dignity, integrity, and courage. We celebrate and enjoy our sexuality. We prosecute and forgive at the same time."
She ended the letter with this: "There will still be the hard days. The facts do remain the facts, but we know our preciousness and our fierceness. Healing, damn it, is our birthright."