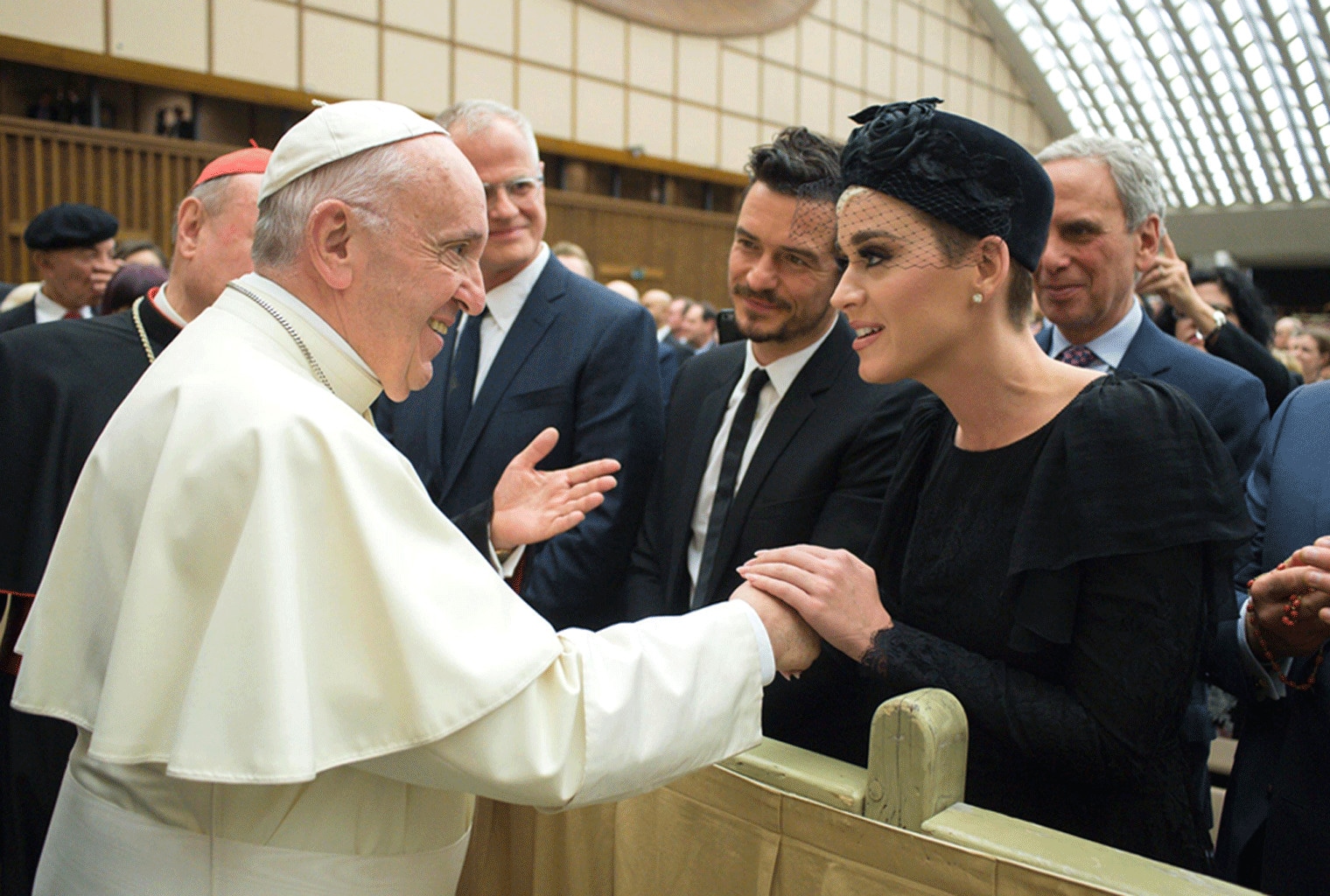 VATICAN MEDIA FOTO/HANDOUT/EPA-EFE/REX/Shutterstock
How's this for a holy date?
Katy Perry and Orlando Bloom met Pope Francis on Saturday at the Vatican at the United to Cure event, an international conference on the cure for cancer. Perry was one of the speakers. She wore a black outfit, complete with a black hat and bandeau veil. Bloom wore a black and white suit.
Perry, 33, and Bloom, 41, have dated on-and-off again in the past and are rumored to have rekindled their romance a few months ago. They have been spotted together many times since they announced in February 2017 they were "taking space" after 10 months of dating. They have not commented on the status of their current relationship but in an Instagram Stories video posted earlier on Saturday, Perry called Bloom her "darling." 
AP Photo/Alessandra Tarantino
The two also attended the conference with her manager, teacher Bob Roth, the CEO of the a meditation non-profit David Lynch Foundation, and her mother, Mary Perry. The singer's parents are both Evangelical pastors.
The pop star spoke at the event about how she uses transcendental meditation instead of prescription drugs to treat her anxiety and stress. She had said in 2014 that she anti-anxiety medication to treat pre-stage nerves.
"It has helped a lot with my anxiety. Instead of having to turn to prescription [drugs] I've been able to turn to this," she said at the conference, according to Newsweek.
"It helps incredibly with jet lag, and we did it this morning at 7 o'clock," she said, joking, "And for the Italians, it helps with the hangovers."