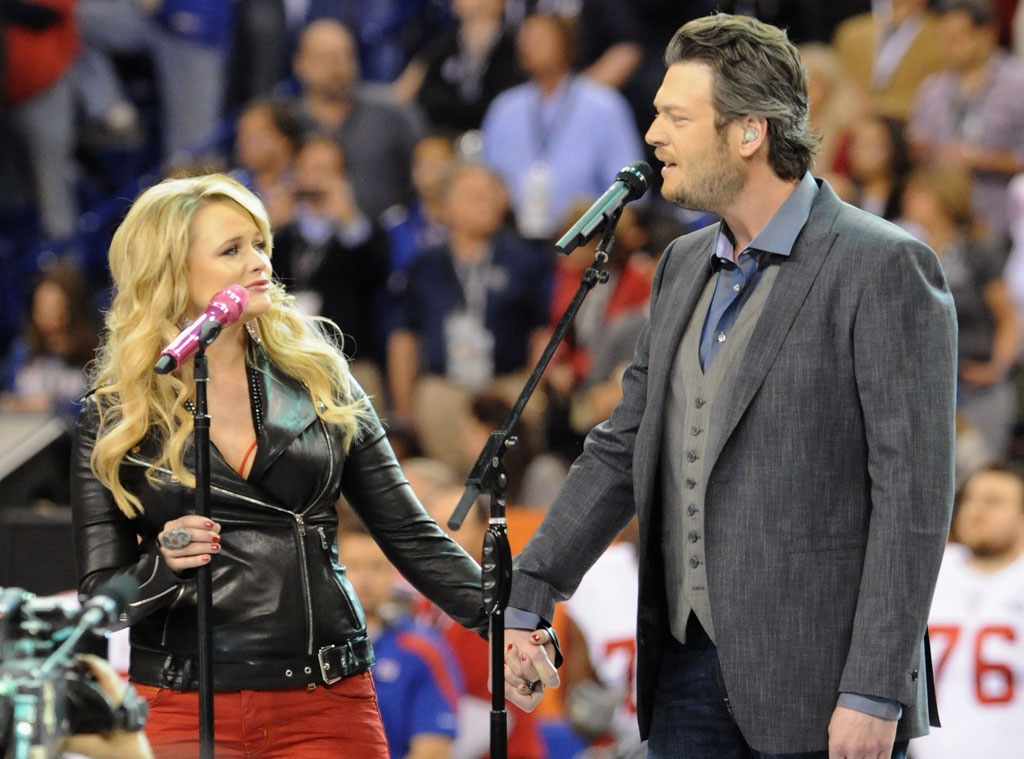 Jeff Kravitz/FilmMagic
Once upon a time, Blake Shelton and Miranda Lambert were the toast of Tishomingo.
The duo were a couple of country music stars, but together they had burst through the confines of genre to become one of the most talked-about celebrity duos anywhere. And while they couldn't help but enjoy the boost that their headline-making romance gave to their respective careers, they really did seem like kindred spirits.
Whether they were built to last like the Chevy trucks Shelton favors was another question, asked early on despite their lovey-dovey beginning.
With reports swirling that Lambert embarked on a new relationship with musician Evan Felker while she was still with her boyfriend of two years, Anderson East, Shelton raised a little hell yesterday when he tweeted, "Been taking the high road for a long time.. I almost gave up. But I can finally see something on the horizon up there!! Wait!! Could it be?! Yep!! It's karma!!"
Now, if the news and the tweet are related, was he talking about the end of his relationship with Lambert? Or the beginning?
Because for all the Lambert-Shelton cuteness that ensued, Blake was married when he first met the Kerosene artist.
"I knew he was married," Lambert said on Dateline in 2011. "I had seen their wedding pictures in Country Weekly. I knew better, like, 'this is off-limits.' My parents are private investigators, for God's sake. I've seen this my whole life—affairs, and of all people to know better, I know better than this."
The heart wants what it wants, though. She and Shelton had been paired up to perform at the CMT 100 Greatest Duets Concert in 2005, and the clip of the two of them singing "You're the Reason God Made Oklahoma" would go on to cause much swooning in hindsight.
"I've never had that kind of experience with anybody," Shelton later said on VH1's Behind the Music. "I was a married guy, you know? Looking back on that, I was falling in love with her, right there on stage."
The details of what ensued next are fuzzy. Lambert facetiously referred to "three long years already" in an October 2008 interview, but she could've been counting back to when she and Shelton first met, which would have set the clock ticking on their interest in each other. Officially, they've insisted they didn't start a relationship until 2006, after Shelton filed for divorce from Kaynette Williams after three years of marriage that February. He also moved from Nashville, where he'd been living with Williams, back to his native Oklahoma. 
He and Lambert spent most of 2006 apart, however, Shelton working on his next album and she touring.
And it's not as though the end of his relationship with Williams wasn't painful. Much of his 2007 album Pure BS was inspired by the breakup, including the highest-charting song from the album, "Don't Make Me," as well as the saucy stories that tend to accompany such momentous life changes.
"I was making this record completely right through the divorce," Shelton acknowledged in an interview with the Associated Press in May 2007. "I went through days where I knew I wanted to get a divorce, and then the next day I'd wake up and wouldn't want to get a divorce. And I'd wonder, 'What the hell am I doing? Why am I doing this?' I was dumping all those emotions I was going through and all that pain into this album."
Shelton's interview served as a reminder that not all split songs come straight from the singer's heart—but this collection certainly did.
"I know what I'm singing about now when I sing about breaking up, and about the pain that comes with a relationship like that," For once I don't feel like I'm just a guy singing these songs. I'm a guy who's lived these songs, and that makes a big difference I think when you listen to the other albums and compare them."
Ultimately, "I definitely think it's the best album that I can make, but I dang sure don't want to go through that again to make a good album."
Meanwhile, he and Lambert had made their red carpet debut as a couple at the 2007 CMT Music Awards that April, but he still played coy when asked if they were still dating.
"It depends on what day you ask," he Shelton replied. "Miranda and I have a very interesting relationship. She can get so mad at me that she just wants to punch me in the face, and we'll say that's it. Then, 30 minutes later we're calling each other and acting like it never happened. I think it's that we're both artists, and if I want to see her or she wants to see me, sometimes it just doesn't work out and it's frustrating.
"But I think she's somebody that I'm going to have in my life a long time. She's one of those few people you meet and have a connection with and you don't really fully understand it, but you know it's a pretty big deal."
Later that year, Shelton prophetically got his feet wet in the reality-competition department, serving as a judge on Nashville Star—the show that helped launch Lambert's career in its first season. (His way with a snappy, sometimes salty observation served him well when The Voice was looking to fill its four revolving chairs a few years later.)
Jim Smeal/BEI/REX/Shutterstock
But the turmoil caused by their primarily long-distance first year together left its impression, though, and the volatile (or passionate, when you're living through it) nature they spoke of from the earliest days of their relationship becoming a recurring theme for them. At the same time, they shared the same playful, ribald sense of humor and seemed to relish dishing it out in equal measure.
"We really are what you see here," Lambert told CMT News as she and Shelton were gearing up to hit the road together for a hotly anticipated joint tour. "We do this in our own private time. We just pick on each other all the time. But I think we have one of the strongest relationships that I've ever seen. We've been through a lot of crap together—a lot of crap—and I think that in the beginning, being apart all the time and going through some really hard times just kind of..." She paused.
"I'm glad we got over that hump because we really just get along great," she concluded. "We can make it, being away for weeks at a time. We have arguments on the phone, but five minutes later, we're saying, 'I love you, see you in a week,' whatever it is. We really just are best friends."
"There were times early on there that—I know that she did and I know that I did," Shelton added, "we were just ready to give up on it and walk away from it because there's nothing easy about having a relationship doing what we do. But we just decided that as miserable as we are together, it's way more miserable when we're apart."
"Well, that's a sweet way of putting it. Thank you, honey," Lambert said. By then the proud Texan had resettled in Oklahoma to be with Shelton, agreeing that they should strive for less miserable together.
Asked about what he saw for them in the future, Shelton countered with, "You know what? She loves to do what you're doing to me right now, which is put me on the spot. I don't see any… I don't see me without her. Ever. I'll tell you that."
He cracked, "I mean, I may only be alive a couple more years. So I'm not going to say 30 years from now, we're gonna be together." To which Lambert added, "But we've tried apart and that didn't work at all. So, it's too far into it now to get out."
When their tour kicked off that October, early reviews commented on how the two sounded great together during the time they actually shared the stage, but otherwise put on two distinctly different shows, with Lambert showing distinct rock 'n' roll tendencies in her set as opposed to Shelton's more down-home vibe.
In fact, Shelton credited Lambert with opening his eyes to a whole array of music that he hadn't paid attention to before, including Michael Bublé, whose "Home" he covered for the Pure BS re-release, featuring his girlfriend on backing vocals.
"Miranda got me an iPod a couple years ago as a gift," Shelton told The Boot in 2008. "I can't put music on it unless it's through her computer, so I have to tell her what I want on it. About a year ago, I asked her to put John Conlee and the Bellamy Brothers' greatest hits on there. When I got to the bus, I had Michael Bublé on it. I had no idea who that was."
"She thinks because she likes it, I should like it," he continued. "If you look at my iPod now, there's other things on it, like Coldplay, the Gorillaz and other crap that I've never heard of. That shows you the power of 'Home,' because most of that stuff, I won't even give it a chance." 
Lambert went on to duet with Shelton again on "Bear Skin Rug," off of his 2008 album Startin' Fires, and then he returned the favor with Lambert's 2009 album Revolution, co-writing a few tunes and singing on "Maintain the Pain." Revolution would go on to win Album of the Year at the 2010 ACM and CMA Awards, while "The House That Built Me"—a song originally written for Shelton but which they decided she was too emotionally connected to to pass up—won Lambert her first Grammy in 2011, for Best Female Country Vocal Performance.
Before she became "Grammy winner Miranda Lambert," however, she said yes to the prospect of becoming "Mrs. Blake Shelton." Shelton picked out a big diamond ring and called up her dad to ask for his blessing before he popped the question during a walk through the Tishomingo woods on May 10.
"That was so Southern and old-school and perfect," Lambert gushed to People afterward. "I was so proud of him," she continued, referring to the ring. "We've been together five years, so he knew exactly what I wanted but it's so much more perfect than I could have picked out myself."
"It's funny how you rehearse those things and go over what you want to say, but I probably screwed it up," Shelton recalled the moment humbly to Us Weekly, which his fiancée reassured that "he did a really good job. He's always nervous around me, though—and that's how I like it!"
Either way, they toasted their impending nuptials (and calmed those nerves) with Bacardi and Diet Sprite.
2011 proved to be a banner year for the couple as well. Lambert won that Grammy, as well as four ACM Awards and Female Vocalist of the Year, and Shelton was again named Male Vocalist of the Year en route to winning the title for five straight years at the CMA Awards, making them king and queen of the prom.
And they got married!
The couple tied the knot at Don Strange Ranch in the bride's home state of Texas in front of more than 500 of their nearest and dearest, including Reba McEntire, Dierks Bentley, David and Homer Bellamy, CeeLo Green, Martina McBride and Charles Kelley.
"I wanted to be married to Miranda the day I proposed. Finally, it's official!" Shelton told Us Weekly after the wedding, before setting off on their honeymoon in Mexico, where they stayed at McEntire's vacation home near Cancún.
"I surprised her and flew her down there with a couple friends of ours for three days of absolute crazy fun," Shelton told E! News upon their return. "We got to experience everything: We got drunk, we ate too much, we got seasick one day, we got sunburned, I did a couple shots of salt water that I didn't mean to because the waves were hitting me too hard."
And then, bless him, he added, "We did everything you're supposed to do in Mexico, including... I drank the water and had diarrhea."
Which at least made for a natural transition to a question about how much attention he and Lambert received as a couple and how they balanced their private and public lives.
"I just think it's harder for Miranda and I to pull back," Shelton said. "Country music is different in that we're very in touch with our fans and there's a closer relationship. I think because of that, naturally, because we're both country artists and we did just get married, it would've been close to impossible to keep that under wraps and keep that part of what we do hidden. People want to know and, you know what, I'm proud."
Frazer Harrison/ACMA2013/Getty Images for ACM
The pride continued to be on full display, whether they were at home building a life together in Tishomingo, Okla., or in the studio, or onstage together at the Super Bowl Pregame Show in 2012, or on The Voice, where Shelton constantly invoked his wife's name for that extra cachet when trying to lure promising country talent to his team. They also had a musical triumph with "Over You," dedicated to Blake's late brother who was killed in a car crash, which they wrote together for Lambert to record. It won them both Song of the Year honors at the 2013 ACMAs and CMAs.
The Voice was a smash, their trophy cases continued to get more crowded, Lambert opened a boutique, a bed-and-breakfast and an animal shelter in Tishomingo. Life seemed pretty sweet.
But in the meantime, no sooner had their honeymoon tans fade than the rumors started that not all was quite right with the couple, who despite having been together for at least five years before getting married apparently seemed more fragile to inquiring minds after saying "I do." Either someone was jealous or cheating or drinking too much—or pregnant.
"I just read in a tabloid that our marriage is falling apart!!!" Shelton tweeted in March 2013 after one of the above. Lambert added, "Oh no! Can't wait to read if we make it or not." 
"[I tell Miranda], 'I have nothing to hide from you,'" Shelton told People later that year. He would even let Lambert go through his phone if she wanted (though he didn't clarify if she asked to do that or what led them to that point if she did, or if she took him up on it). 
"That's really the kind of trust we have," he said. "There are no secrets. [I'll say,] 'Go dig through my drawers or my computer if you feel like you need to.' And that's been a really good thing, because I don't want her to ever have any doubts."
And certain things hadn't changed a bit.
"I'm always pestering her," Shelton divulged. "I just cannot get enough because she gets irritated so quickly."
Jason Merritt/Getty Images
Toward the end of 2014, however, it was Shelton who was getting irritated.
Earlier in the year, shortly after he and Lambert hosted the ACM Awards, they were still greeting the more salacious reports in tandem, with Blake tweeting, "Me and @mirandalambert are reading about our separation..."S--t! I hope I get all the liquor in the divorce!!!" Miranda replied, "AND the imaginary baby?!"
"I think I've had like five sets of twins in the last two years, and we've been divorced four times, and one of us had a $100 million divorce," Lambert said in a Billboard cover story that May.
But in October, in response to an InTouch Weekly report that he and Lambert were leading separate lives, Shelton tweeted, "Maybe because the divorce rate is so high the tabloids have just decided to play the odds with me and Miranda. Morons.. #eatadick."
Evan Agostini/Invision/AP
Something just wasn't quite as funny anymore.
"We try so hard to keep people's focus on what we do and not our marriage," Shelton said on 60 Minutes in an interview that aired in November 2014. 
"It's almost impossible to do that, and why open that door any further than it already is open by sitting down and doing interviews together rand giving every freakin' magazine out there a two-sentence quote that's turned into alien babies... There's no reason for us to do that," he continued, explaining why they no longer did joint interviews, the ones that used to produce all that cute repartee once upon a time. "We do interviews, I love talking about her, I'll talk about her all day if you want to. But for her and I to sit here together, it's just going to turn into something about our marriage and it's all we got left that's private, is she and I and our home. And we just want to keep it that way."
For the same 60 Minutes piece, Lambert said, "We feel like we're very honest with who we are and our relationship. We've kinda told the good, the bad, the ugly as our relationship has progressed from the beginning till now. And people dig anyway and they make up lies, so I feel like, we don't really hold back, because if you hold back they're going to dig anyway so might as well just tell it.
"The only private thing we have is our home and, if we don't protect that, then we have nothing. We have to have something that's just for us. At some point you just have to go 'all right, this is it, this is our line, you know.' We have our one little area of the world that no one can come into."
The following January Lambert wasn't in New York when Shelton made his Saturday Night Live debut as host and musical guest, but he told E! News he knew she was worried for him.
"Miranda's always the one when we're at parties or something and I'm being funny and I start taking it too far into gross land or whatever, she's the one that's always like, 'Blake! Blake, stop it.' She won't be here when we do this and there won't be anybody. She's like a stage mom and she won't be here to go, 'Oh, I really don't think you should do that.'"
There's actually really nothing particularly romantic about that sentiment, but the duo attended the Grammys together and then further quieted the doubters that March when Shelton surprised a Lambert concert audience in Wichita by popping in to duet with her on "God Gave Me You," bringing the headliner to tears. At the end of the month Lambert posted a picture of them wearing matching hats and sharing a big kiss.
But it turned out to be more of a goodbye kiss.
"It's definitely a different way to live and to be in a relationship, but I feel like our relationship started on going separate ways and we just made it work and we make sure that our time together really matters—so when we're apart, it's not really a big deal because we know when we're together, we're really together," Lambert told E! News at the 2015 ACM Awards in April, where she and Shelton hung out inside but were not photographed together on the red carpet, quietly marking the end of an era.
Rick Diamond/ACM2015/Getty Images for dcp
On July 20, 2015, they announced that they were divorcing after four years of marriage—and their split had already been finalized. Too much time apart, too many hassles, somehow not the right fit.
"Like, Miranda and I didn't have any kids, and we had a prenuptial agreement, or whatever we had," Shelton explained later on The Bobby Bones Show. "So, it was like once we filed for divorce...it was like a nine- or 10-day waiting period until it's over. Even if we knew of rumblings and rumors started coming out, they would just be that. By the time anybody knew anything, it was over. It was done."
But the second anybody got word, so came the Monday morning quarterbacking. Chris Young, another singer who got his start on Nashville Star, immediately sought to quash a rumor that he had somehow gotten in the way of Shelton and Lambert's happiness.
"I don't normally address gossip but in this case I will," Young wrote. "My name has been mentioned as a contributing factor in Blake and Miranda's divorce. That is totally FALSE. They are both my friends and I would not betray that friendship. Just wanted to clear that up. Love you guys. -CY"
And once again, a decade after expressing hope that he'd never have to go through it again, Blake Shelton poured his post-split soul into an album. With a twist.
"I've written more than I've written in 15 years, for obvious reasons—all the awful things that have happened in my personal life—but the way the year ended is also the greatest of my life," Shelton told Country Countdown USA in December 2015, referring to his divorce and the surprising new relationship he had with Gwen Stefani, whose 13-year marriage had collapsed that August.
"Some has been bad, and some that's been pretty good. I'm doing what I'm supposed to do, and that's put all I've gone through and put it into music, and I never felt more connected to a record before," he said. "When people hear this record, they may not know what happened to me, but they're gonna know how I felt about it. And that's exciting for me, to just lay it out there for people."
In the summer of 2016, after the bluntly titled If I'm Honest had dropped, Shelton told Billboard, "You can learn some facts of my divorce [from the music]. Maybe not specifics, but you can get a general idea about it. It is my divorce record, but maybe even more than that, it's my happy, falling-in-love record too."
Not necessarily karma, but that's what we call coming full circle.