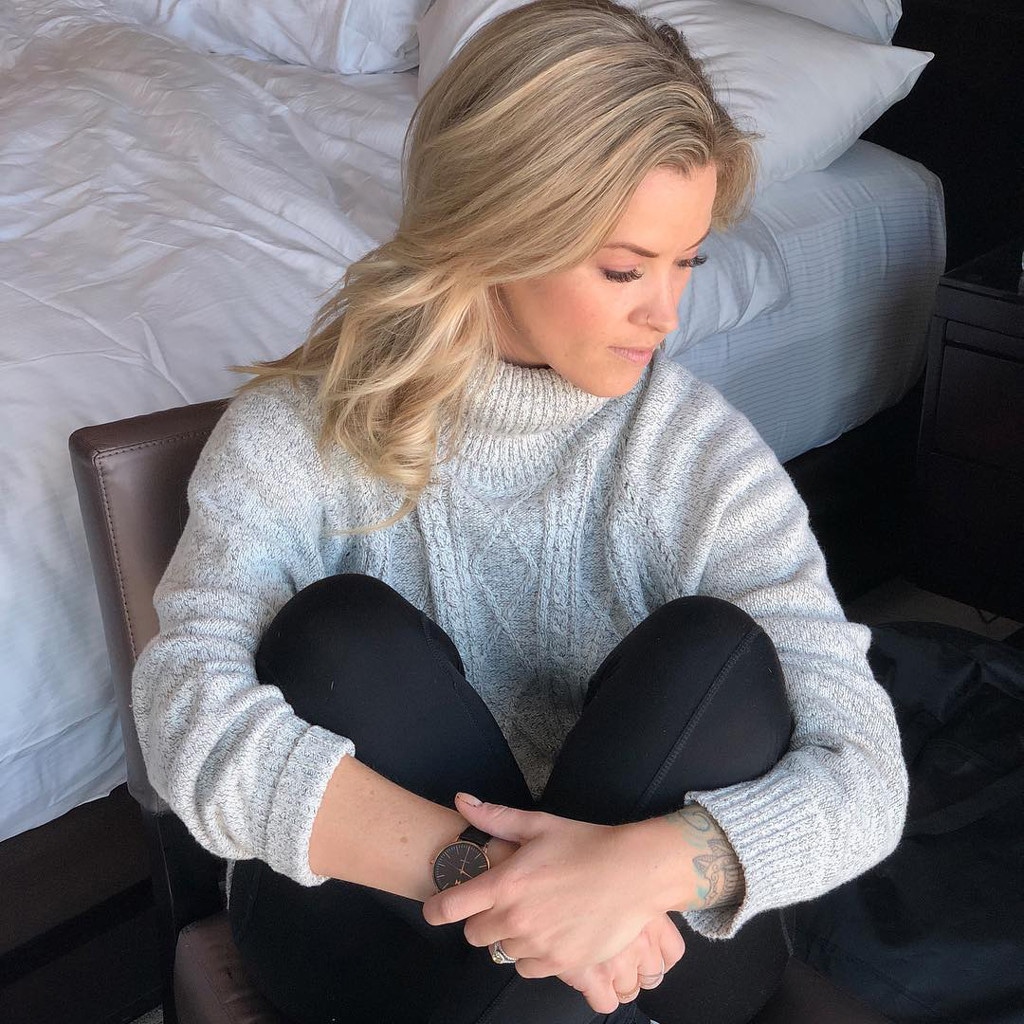 Instagram
The Challenge's Sarah Rice unexpectedly faced one of her greatest personal challenges yet. 
In an interview on her podcast with Susie Meister, The Brain Candy, Rice revealed to listeners that she had been pregnant and was planning to reveal the news to their followers. 
"The surprise was gonna be that I am pregnant. It was so exciting, it was great. It was so hard to keep my mouth shut," the reality star began. "But, then I got another surprise when I went in for my first ultrasound at 12 weeks and the baby didn't have a heartbeat, so no more baby and I had a miscarriage, so that was really hard."
The personal hardship conjured up something she had never felt before. "I think for the first time in my entire life, I felt sorrow," she told her co-host. 
The circumstances of the miscarriage left her feeling devastatingly empty. "What was really traumatizing for me was that the baby stopped growing at about nine weeks and I didn't find out 'til 12 weeks and so, I felt like a coffin and then that I was, like, loving and romanticizing something that had been dead inside me."
The experience was all the more confusing because she had rarely talked about a miscarriage before. 
"Nobody ever talked to me about this. I have like two friends who ever mentioned this to me and the doctor was like, 'Oh it's so common. It happens all the time. Almost every woman goes through this,'" she said.
The circumstances divided her mind and body. "They said my mind wasn't convinced that I wasn't pregnant, but my body was."
Because the miscarriage had happened further into her pregnancy, she had to undergo a D&C, a procedure in which the contents of the uterus is medically removed. "I had never, ever, ever heard of that. Not once," she explained, noting that she considers herself educated in sexual reproduction. "This really is the last taboo of what we're not able to just talk about."
While the star rationally understood the miscarriage was not her fault, she emotionally could not understand why it had happened and was critical of her own behavior. After a period of not feeling like herself, she steadily got back into the rhythm of her life. 
"There is a light at the end of the tunnel...I feel better. I feel like what really helped was moving my body, was like being around friends, too," Rice said, noting she initially wanted alone time and didn't want to have any more predictable conversations with people about the miscarriage. "I didn't want anybody to tell me 'I'm sorry' again."
"It feels like I applied to Harvard and then told everybody that I was going to Harvard and then bought the Harvard sweatshirt and then got an apartment next to Harvard and was so excited and then got a letter saying I didn't get in," Rice explained. "And I have to go back and be like...'Remember that sweatshirt I bought?'"
"I'm sure everybody's journey through this is totally different," she added. "I think that there are just so many ways that people can heal and you kind of have to find your own."