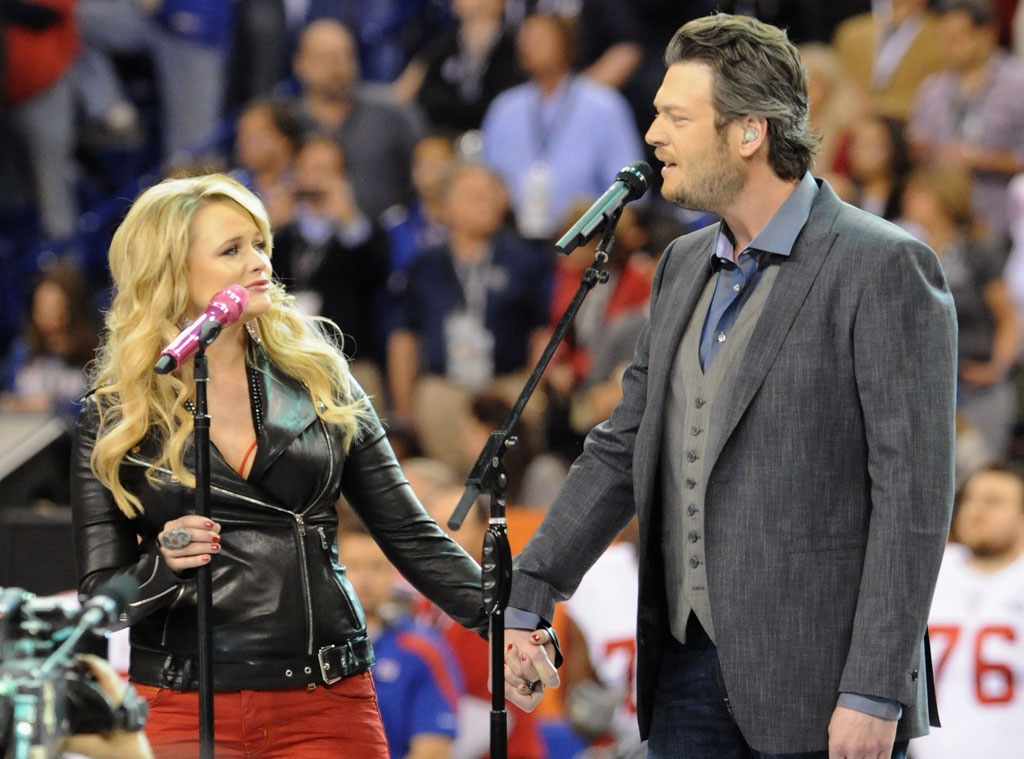 Jeff Kravitz/FilmMagic
It's been almost three years since Blake Shelton and Miranda Lambert broke country music lovers' hearts by announcing their divorce. While fans wanted to know what caused the "it" couple to split, the two remained fairly tight-lipped up about the breakup and haven't talked too much about it since.
Of course, both singers have since moved on with their lives. Shelton has been dating Gwen Stefani for over two years and Lambert reportedly ended her two-year romance with Anderson East this year.
Still, it's hard not to wonder: What really caused Shelton and Lambert to call it quits after four years of marriage? In an attempt to gain further insight, here's a breakdown of the comments they've publicly made about the divorce.
Announcing the divorce 
After deciding to end their relationship, Shelton and Lambert announced their breakup via a joint statement in July 2015.
"This is not the future we envisioned and it is with heavy hearts that we move forward separately," Shelton and Lambert said in a statement. "We are real people, with real lives, with real families, friends and colleagues. Therefore, we kindly ask for privacy and compassion concerning this very personal matter."
Staying "buddies"
Shortly after announcing the split, Shelton appeared on The Bobby Bones Show, where he seemed to suggest the exes were still on good terms. 
"Our whole thing was, you know, we're just going to be cool about this," Shelton told the host in September 2015 (per CNN). "It is what it is. We're buddies."
He also revealed the divorce was a quick process. 
"Miranda and I didn't have any kids, and we had our prenuptial agreement," he explained, per the newsoulet. "Once we filed for divorce, it was over in a nine- or 10-day waiting period."
Getting to a good place 
Shelton also opened up about life after the split in an October 2015 interview with CMT's Hot 20 Countdown.
"I'm good, I'm good," Shelton said at the time (per People). "I'm not in rehab. I have to pick up a magazine every now and then to see what my alter ego, I guess, [is doing]."
The "Honey Bee" singer also said he was "in a good place." 
"I wasn't, but I am now," he added. "It's amazing how quickly life can turn around for you. I've had some pretty cool things in recent times that have happened, and I'm loving it."
Dealing with awkward run-ins
No matter how amicable the couple may have been, Shelton knew there would still be uncomfortable moments. In September 2015, Shelton told Seth Meyers he expected that year's Country Music Awards to be "awkard."
"This year's gonna be awkward at the CMAs, speaking of jokes," he said during a guest appearance on Late Night. "Because we are...it's such a family. Everybody there is friends. There's gotta be one about me and Miranda. [Host] Brad Paisley is not doing his job if he doesn't look down there and go 'Ha ha!' You have to address the elephant in the room."
Admitting they gave it their "best college try"
One of the most telling interviews about the divorce was Lambert's chat with Cosmopolitan for its January 2016 issue. 
During the interview, the "Tin Man" singer said she wasn't going to "live in fear" about possibly missing her shot at a happily ever after. However, she suggested she still had some healing to do.
"I think I'm still gonna go through all those bunch," she replied when asked if she'd done through the various grieving stages. "I'm sure I have a hundred more heartbreaks ahead of me. We all do. But I'm a songwriter, so I'm okay with it. My favorite records are not because people lived fully happy lives. There are pockets of sadness."
She also said she was "not going to be one of those artists who wallows in my misery so I can be artistic."
"I just want to live a
 life full of everything," she told the magazine. "Some of that might mean nights on my porch crying, drinking whiskey, and going, 'Man, this sucks right now.' I don't necessarily want to know that
 I have really bad, long, lonely nights ahead
of me, but I have had some, and I still have
a bunch ahead of me. But it's about living in the moment and feeling every tinge of pain, then waking up the next day and going, 'All right, I'm going to ride my ponies. I'm going to have a girls' night.' That's where I am. That's where I'm gonna live. I know I have great girlfriends and family and that there are awesome times and adventures ahead. I'm excited about those."
In addition, she spoke highly about her ex, who had now started dating Stefani.
" I had a great relationship and an amazing man. So I know what good is," she told Cosmoplitan at one point. "I have a great launching pad for the future. I will never take that for granted." 
And even though she told the magazine she gave the marriage "everything" she had, she also admitted that marriage is a "tough business."
"We were together for 10 years, married for four, were very quickly divorced, and are friends. I'm still processing everything and figuring out where to go and what happened," she told Cosmopolitan. "[Marriage is] a tough business, and we gave it our best college try. I met him at 21—I am now almost 32. You change as people. If I'm not a different person than I was at 21, then something's wrong with me. I do have a completely different outlook on marriage and what it should be about. If I ever were to get married again—which is completely not on my radar at all right now— I feel like it's not about it being a step in life. It's not about a piece of paper or a diamond. It's the way you feel about somebody and the commitment in your heart."
Putting pain into music
2016 was also the year Shelton released his album If I'm Honest—a title the singer suggested reflected the past year of his life. 
"It's not like there's all these juicy details [in the record]," the "God Gave Me You" singer said during a 2016 interview with CMT After MidNite, "but [country music] lends itself to emotions and things that you go through when you go through a divorce and, more so, the getting over that and moving on and finding someone else." 
"The last year and a half of my life has literally blown up in my face," he added. "That's okay because I'm a country singer, and I at least get to take all that and put it into music... [I] couldn't be happier with the way 'Came Here to Forget' has [taken] off."  
Shelton also opened up about the album and split in an interview with Pandora. 
"When my fans hear this new album for the first time, they're gonna realize that it's been a crazy, crazy past 12 or 13 months for me," he told the internet radio brand (per Rolling Stone). "If you had told me a year ago the changes that would have happened in my life, I would have called you a liar. And the surprise element, the ups and the downs, they're all in this record. That's why I'm calling it If I'm Honest, because I'm just telling it how I see it."
When Rolling Stone asked Shelton what it was like to channel the pain from his divorce into music, Shelton was frank: "Well it's damn sure a sh-tty way to end up making what I feel like is the best I can do," he said.
In fact, Shelton told the magazine making a record was the "last thing" on his mind.
"I was trying to figure out how I was going to piece my life back together," he added. "And I figured out making this record helped me get that out of my system."
He suggested the record reflected the ups and downs of his recent life, starting with a traditional country tune "Straight Outta Cold Beer" and then moving into this "dark place for a long time on the record." However, as he enters his relationship with Stefani, ends up getting "happier and happier."
Mending a broken heart
Shelton reiterated this idea in an interview with Billboard, admitting fans "can learn some facts" about his divorce through the album.
"Maybe not specifics, but you can get a general idea about it. It is my divorce record, but maybe even more than that, it's my happy, falling-in-love record too," he said, referencing his relationship with Stefani. 
As songs on the album progress, Shelton said it "became painfully obvious that it wasn't going to work out in my marriage."
"When we recorded the vocals for some of these songs, I was only six months removed from when all the crap went down," Shelton told the media outlet. "When you have a broken heart—at least, when I do—you got to get it out of your system. You want people to sympathize with you. I was at rock bottom, in the middle of hell."
The artist also revealed a few details about his life after the split, like how he stayed with his fellow judge on The Voice Adam Levine for a while and how he believed Stefani saved him.
"Gwen saved my life," he told Billboard. "Who else on earth could understand going through a high-profile divorce from another musician? You can't even imagine the similarities in our divorces."
Remembering there's two sides to every story
However, Shelton wasn't the only one healing through music. Lambert was, too. The artist released her album The Weight of the Wings that same year.
"If you want to hear my side of the story or my opinion of what happened, it's all on there," she told Billboard in 2017. "There's no mystery anymore—take from it what you will." 
Lambert told the magazine she didn't want the album to just be a "breakup record." So, she decided to create music where she could "feel it all." While Lambert admitted she's known for her "fiery personality and confidence," the star admitted "that's not me all the time." 
"I won't look at things ever again in the same light, because different things in your life bring you to a deeper level with yourself," she told Billboard. "I won't take pain for granted anymore." 
She also shared a story of living in a smalltown in Oklahoma, where she used to live with Shelton. 
 "I lived in a small town in Oklahoma. I remember I had to write a song for a Dodge RAM commercial. It was hard. I barely got it out, and I was like, 'Man, I need some fuel. I have to go fall in love with it again,'" she told the magazine.
Frazer Harrison/ACMA2013/Getty Images for ACM
Possibly throwing shade
While both artists have seemingly moved on, fans wondered if Lambert threw a bit of shade at Shelton earlier this year when she changed the lyrics in "Little Red Wagon" from "I live in Oklahoma," to "I got the hell out of Oklahoma" during a concert in Greenville, South Carolina.
Acknowledging the heart break 
At the 2018 Academy of Country Music Awards, Lambert took home the Song of the Year trophy for her 2016 hit "Tin Man." Upon accepting the award, Lambert said, "Thank you guys so much for sharing my broken heart with me"—a possible reference to her relationship with Shelton.
Referencing "karma"
After rumors started spreading that Lambert and East had called it quits, Shelton took to Twitter and shared a message many interpreted as a jab at his ex-wife. Some outlets had reported that Lambert started a romance with musician Evan Felker while she was still dating East. When Lambert and Shelton broke up, there were rumors the country music starlet had cheated on her now-ex-husband with East. 
"Been taking the high road for a long time.. I almost gave up," Shelton tweeted. "But I can finally see something on the horizon up there!! Wait!! Could it be?! Yep!! It's karma!!"