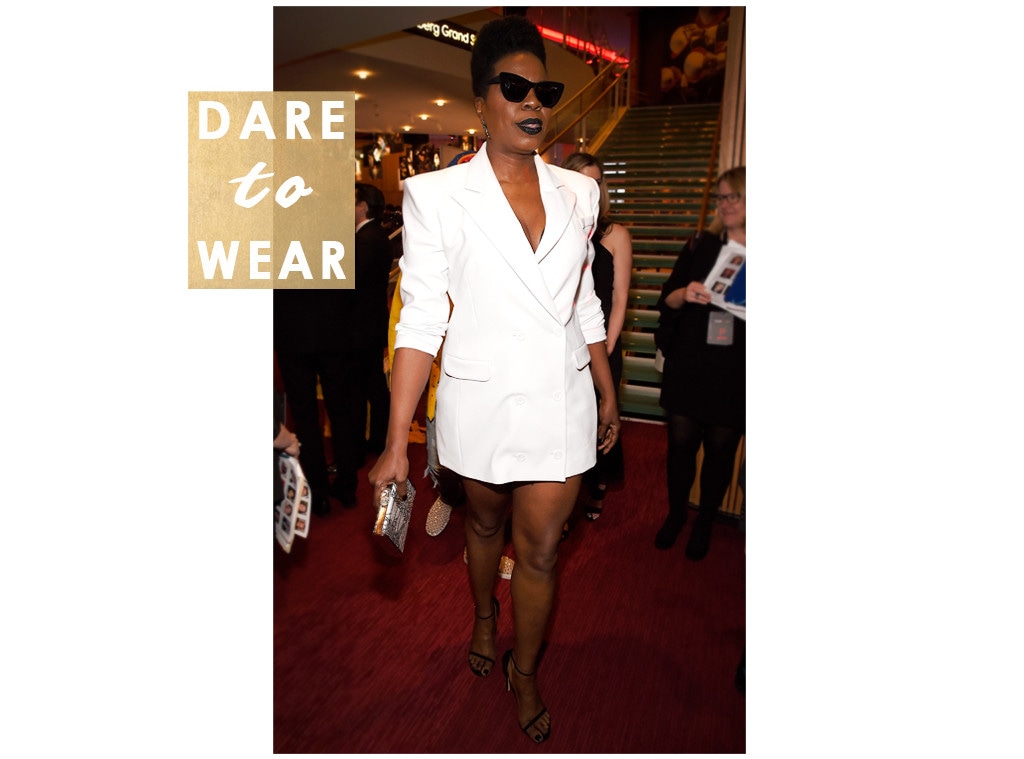 Kevin Mazur/Getty Images for Time
Leslie Jones' outfit looks very familiar.
In honor of the Time 100 Gala, the Saturday Night Live comedian appeared wearing a white tux jacket, designed by honoree Christian Siriano, a box-shaped clutch, black heeled sandals and cat-eye sunglasses. Then, she paired the seemingly simple ensemble with a flattop haircut and dark blue lipstick. 
The look pays homage to the fashion icon, Grace Jones, who appeared with a similar outfit on the cover of Nightclubbing in 1981. In the original photograph, the Jamaican model-turned-singer wears a black tux jacket with broad, pointed shoulders, her signature flattop hair and a cigarette in her mouth. Beyond that, the singer is known to challenging then-fashion trends, gender stereotypes and sexuality norms. 
For Leslie, who has been vocal on the lack of red carpet gowns for her statuesque figure, aligning herself to the norm-shattering icon makes a statement. 
She told Time after Christian Siriano made her gown for the Ghostbusters premiere, "He made me feel beautiful. I couldn't believe no designers were reaching out to me to make a dress for one of the biggest premieres. He kept saying, 'You have such a beautiful figure.' He made me feel like I was supposed to have that dress on."
This red carpet was no different. Not only does that white tux jacket look amazing on the Emmy-nominated star, it's a simplistic, universally-flattering ensemble that anyone can recreate. You can either wear it alone like the star or layer it over shorts and a T-shirt.
Love the look? Shop Leslie's style below, no matter your budget!