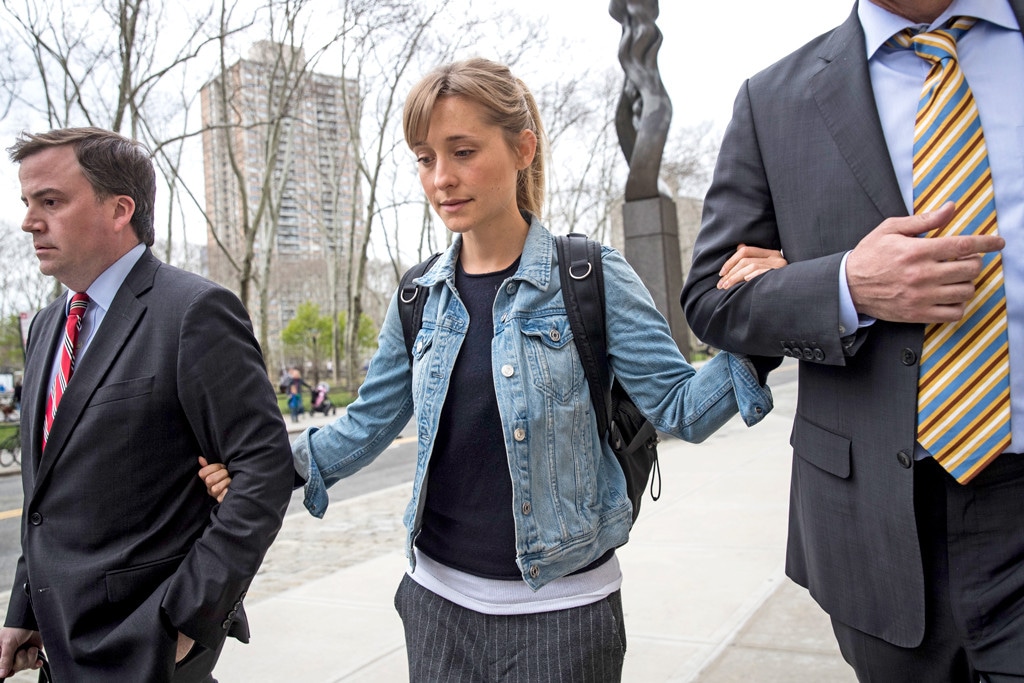 Drew Angerer/Getty Images
Five years ago, Samia Shoaib crossed paths with Allison Mack at an audition. Looking back, the actress realizes their brief friendship may have ended very differently. 
Mack has been in the headlines as of late after she was arrested and charged last week in connection with the purported self-help organization, NXIVM, which, according to  the U.S. Attorney's Office, allegedly contains a secret society made up of female "slaves" and "masters" called DOS. Mack has been accused of having a high position within the society and, along with other "masters," recruiting "slaves" by telling them they were joining a women-only organization that would empower them. She's been further accused of "directly" or "implicitly" requiring the "slaves" to engage in sexual activity with NXIVM's founder, Keith Raniere, in exchange for financial or other benefits, according to the U.S. Attorney's Office. She pleaded not guilty. 
Days after Mack was released on a $5 million bond and placed on house arrest following federal charges of sex trafficking, sex trafficking conspiracy and forced labor conspiracy, Shoaib recalled an encounter she had with the Smallville star years ago during an interview on Megyn Kelly Today.  
As Megyn Kelly reported, Shoaib, who has appeared in Sex and the City and Pi, met Mack at an audition for a pilot in New York City back at 2013. After some friendly banter, they exchanged emails. 
"We got close very quicky and looking back it was a very contrived effort, but at the time it seemed so sincere," Shoaib told Kelly, explaining how she thought Mack was "mirroring" her in their conversations. For example, if she said she liked sushi or was interested in feminism, Mack would agree. 
As for the purported self-help group tied to Mack's legal trouble, Nxivm, Shoaib said the actress didn't really discuss it. "She said she lived upstate in a communal situation. She didn't really say anything else about it," the actress recalled. 
They did discuss Shoaib's problem with alcohol. "I was in a fairly vulnerable time. I had had a traumatic experience and I was drinking too much and I was looking for help with that," she told Kelly. "We discussed how AA was full of—for me it was a lot of male energy and I didn't really respond to group situations, so she said, 'Ah, I have an alternative.'"
"She put me on the phone with a guy called Edgar who spouted some very generic self help stuff," the actress recalled. "And I wasn't really impressed."
Ultimately, the two met for dinner with a third woman that Shoaib said "may well be" India Oxenberg, the 26-year-old daughter of Catherine Oxenberg, who has previously claimed to Kelly that her daughter was "sucked" into Nxivm's "coaching path" and believes that India has since joined an alleged sexual secret society within the organization called DOS. 
"She was very quiet and she seemed to be in awe of Allison and somewhat under her control," Shoaib described of the mystery woman. "She didn't speak at all but visually, when I saw a picture of India, it may well be her." India previously responded to reports on her Facebook page, writing, "I'm absolutely fine, great actually. I would never put myself or the people I love into any danger."
Meanwhile, Shoaib remembered Mack acting "moody," "pulled down" and "serious" during the dinner. "It was strange to see her go from a smiling, chirpy, extremely friendly girl into someone quite stern."
Ultimately, reflecting on the series of events, Shoaib believes Mack was trying to recruit her. 
"To be honest, I have no doubt—looking back at the emails, it's very clear that she was really pumping up her feminist interests to lure me in and, you know, I'm very supportive of young feminists. I was very heartened that this woman was looking to do something positive, so it was exactly the right button to push with me and I'm sort of angry that she used feminism for such nefarious ends."
Mack's representative told Megyn Kelly Today, "I have no comment regarding these matters. Additionally there is no statement being issued at this time." Raniere has also been arrested on the same charges. NXIVM's website includes the following statement: 
"In response to the allegations against our founder, Keith Raniere, we are currently working with the authorities to demonstrate his innocence and true character. We strongly believe the justice system will prevail in bringing the truth to light. We are saddened by the reports perpetuated by the media and their apparent disregard for "innocent until proven guilty," yet we will continue to honor the same principles on which our company was founded. It is during the times of greatest adversity that integrity, humanity and compassion are hardest, and needed most."
(E! and NBC are both part of the NBCUniversal family.)