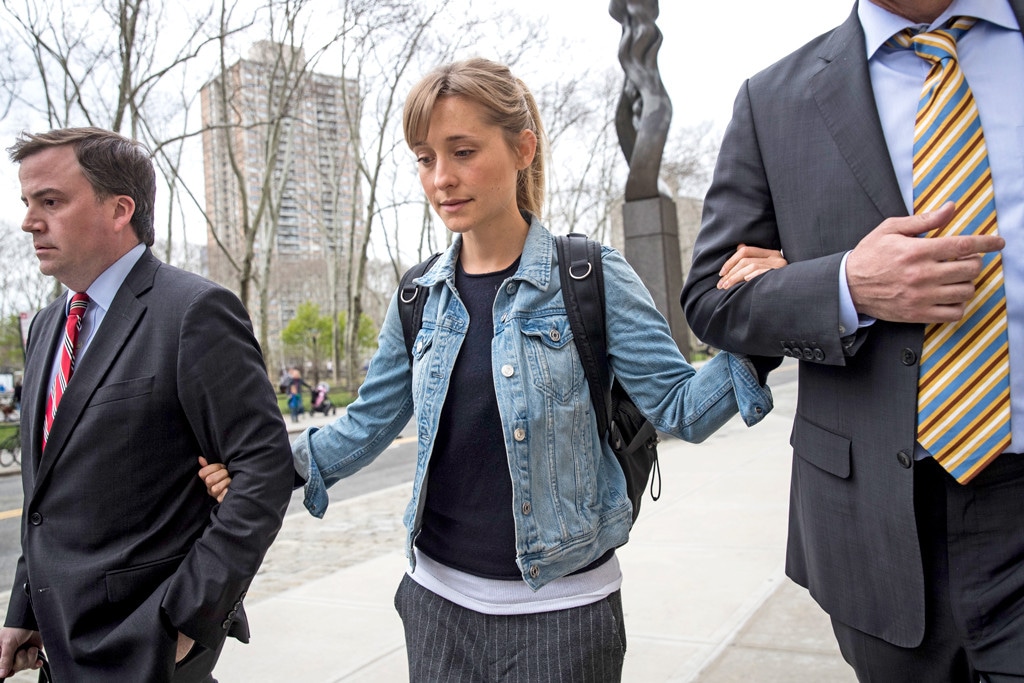 Drew Angerer/Getty Images
To the uneducated consumer, Allison Mack could be mistaken for your average, well-enlightened actress.
Leaning heavily on words from the likes of Maya Angelou, Toni Morrison and the Dalai Lama, the star tends to use her Instagram account to share deep, provocative thoughts with her 101,000 followers. On Dec. 24 it was Catholic Benedictine monk David Steindl-Rast's words, "I always say joy is the happiness that doesn't depend on what happens."
And on Oct. 27 it was this message: "Integrity is choosing courage over comfort; choosing what is right over what is fun, fast or easy; and choosing to practice our values rather than simply professing them."
Ultimately, her goal, she revealed in a recently unearthed 2013 YouTube video is to spread happiness: "I want to be remembered for my joy. I want to be remembered for the way I impacted people. I want to be remembered as a woman who was honest and true and joyful."
Her legacy was dramatically altered Apr. 20. That's when the 35-year-old Smallville alum was arrested on federal sex trafficking charges nearly a month after Keith Raniere, founder of the purported self-help organization NXIVM (pronounced nexium) was nabbed near Puerto Vallarta, Mexico. According to the federal criminal complaint filed against him, Raniere, known as "The Vanguard" to his acolytes in the Albany, N.Y.-based group, had "a rotating group of 15 to 20 women with whom he maintains sexual relationships."
The women, continued the complaint, weren't permitted to sleep with anyone but Raniere, nor could they discuss their relationship with him. Other statutes forced them to run errands and complete seemingly arbitrary tasks such as holding a plank position, severely cut calories to maintain Raniere's preferred slim body shape and undergo a branding ceremony that left a 2-inch by 2-inch mark of Raniere's initials seared into the skin near their pubic region.
Mack was the alleged brainchild and overseer of such rituals. In a statement about the star's arrest (she pled not guilty and was released on $5 million bond Apr. 24), United States Attorney Richard Donoghue asserted, "Allison Mack recruited women to join what was purported to be a female mentorship group that was, in fact, created and led by Keith Raniere. The victims were then exploited, both sexually and for their labor, to the defendants' benefit." (A  statement posted to NXIVM's website says they are "currently working with the authorities" to demonstrate Raniere's "innocence and true character," adding, "we strongly believe the justice system will prevail in bringing the truth to light.") 
Todd Williamson/Getty Images for Amazon Studios
Parsing through Mack's various online biographies provides little indication of the life she'd one day lead. Born in Preez, Germany to American parents—mom Mindy and opera singer dad Jonathan—she settled in Long Beach, Calif. when she was two years old, the L.A.-adjacent city being a natural spot for a budding child star.
Starting with her first commercial for German Chocolate at age 4, Mack "continued to be a busy working actress with an impressive roster of television roles," according to a blurb that lived on the Smallville website. Credits included an arc as a self-harming teenager on 7th Heaven, starring roles in Disney's Honey, We Shrunk Ourselves and Camp Nowhere and bit parts on The Nightmare Room and The Opposite Sex, along with productions of Rent and Chicago that earned her what the write-up called "rave reviews" from the likes of LA Weekly, Backstage West and The Burbank Times.
But the first line on her resume always belonged to Smallville. For 10 straight seasons—the first nine as a regular—on the DC Comics-based hit, she played wholesome school newspaper editor Chloe Sullivan, who harbored a secret crush on her best friend Clark Kent.
Bryan Bedder/Getty Images
And though she would go on to score a recurring role on FX's Wilfred in 2012, she admitted to feeling a little lost as the decade-long series wound down in 2011.
"It was overwhelming and intimidating," the actress, whose Twitter bio touts her as a "story-teller, question-asker, music-lover, theatre-goer, movie-obsessor, Shakespeare-studier, globe-trotter, food-inhaler," admitted to Fine Magazine in March 2017.
While filming Smallville in Vancouver, she said, she didn't really notice her success "because we were in the middle of work all the time," but as the series wrapped up, she continued, "I realized that I kind of grew up on a TV show and didn't really know where to go afterwards. I was 28 and I felt not quite sure where I was going or who I was. I think that was probably the most bumpy transition."  
It was around that time costar Kristin Kreuk invited her to attend a women's empowerment seminar run by supposed self-help guru Raniere.
As Frank Parlato, who worked as the group's publicist for two years starting in 2007, recalled to The New York Post, "Kreuk had come first, sometimes around late 2005, early 2006," and "brought in Allison" soon after.
By her account, Mack was instantly hooked. Long intrigued by women's issues, she wrote in a since-deleted post on her website uncovered by Fox News, she nonetheless "felt threatened by women. The internal confusion and frustration I felt manifested itself in the way I related with all women. I saw them as I felt inside myself: complicated, quixotic, and unpredictable. I felt I couldn't trust women. This was a secret I kept—and tried my best to resolve this by joining every women's campaign I could as an attempt to prove I didn't feel this way."
With each organization she attached herself to or cause she took up, she experienced more confusion. "I felt like an imposter," she noted. "I wanted to be able to sink into the women I surrounded myself with without feeling any sense of rejection or self-protection. But for some reason I just couldn't."
But her introduction to Jness, a woman's empowerment-based subset of NXIVM, was markedly different. "A collective inspiring a community of strong, authentically empowered women to own themselves in a way that has never been seen or understood before?" she wrote. "It sounded like the perfect blend of what I was looking for! So I took the leap and enrolled in a weekend workshop and within the first few hours I knew I had found my people."
By 2013 Kreuk had severed ties with the group. Following Raniere's arrest, she came clean about the extent of her involvement, tweeting she took "what I understood to be a self-help/personal growth course that helped me handle my previous shyness." The success of the so-called intensive, she said, inspired her to continue with the program. But since her departure, she's had "minimal contact" with those still connected to NXIVM and she never experienced what she called "illegal or nefarious activity." In fact she was just as stunned by the reports as everyone else: "I am deeply disturbed and embarrassed to have been associated with NXIVM."
But as Kreuk fazed herself out, Mack doubled down on her involvement. She reportedly rose up to become the top slave in Raniere's hierarchy (allegedly referred to as Pimp Mack by defectors) and, per Parlato, helped dream up the idea of affixing initiates with a brand on their skin of both Raniere and her initials. Prosecutors claimed during such ceremonies, Mack "placed her hands on the slaves' chests and told them to 'feel the pain' and to 'think of [their] master.'" 
And in 2013, with Raniere by her side, she helped develop another offshoot. The Source, per materials on their site, "is a curriculum designed for the actor, artist, speaker, singer, human being, who is ready to delve into the deepest parts of themselves to live and express with rich, genuine authenticity."
Mack became president, a top trainer and the best advertisement for the group, presumably designed to attract other high-profile artists.
Thanks to what she dubbed the "profoundly life-changing" curriculum, she wrote, "I've been able to overcome the fear of being authentic no matter where I am, auditioning and just bringing forward my own ideas in a matter of weeks."
Keith Ranere Conversations/Youtube
In spite of her resume, she claimed, "I used to walk into a room hoping I got it right. Hoping the director would approve, or the casting agent would think I was ok. Now I walk into the room with a full sense of what I want with the material I'm working on, and how I feel. My work has truly become mine! I feel like a kid in a candy store, and my career has turned from one of insecure self-doubt to playful creativity."
She shilled just as strongly for Jness. After cycling through a series of relationships, including a five-year engagement to a man she identified on her blog only as Peter and a two-year romance with Smallville guest star Chad Krowchuck, "I was feeling very scared and lost and confused and like, oh my gosh, am I going to be single forever? Am I ever going to be able to have a relationship? What's wrong with me?" she recalled in a promotional video.
But Jness, she said, quieted those doubts: "Very shortly into the program I started to recognize and experience that what I was looking for wasn't about a relationship, what I was looking for was about an experience of myself and my life. And once I understand how to have that experience of myself and my life for me, I can then have the relationship I want or not. But I'm okay in either circumstance."
Her testimonials were just one tactic she employed to recruit others. Along with pursuing Emma Watson with a series of tweets—"I'm a fellow actress like yourself & involved in an amazing women's movement I think you'd dig. I'd love to chat if you're open," she wrote in one missive—she also set her sights on The Sixth Sense veteran Samia Shoaib.
After connecting with Pakistani-born Shoaib at a 2013 audition for an NBC pilot, Mack fired off an email saying she'd "love to get into" her brain.
"I wish I could tell you alarm bells went off, but they really didn't," the actress told The New York Post. Over the course of two meetings on New York City's Upper West Side—in which Mack gave vague descriptions of Jness and added her to the list serve for events such as Broadway shows—Shoaib noticed that Mack appeared increasingly gaunt with dark under eye circles, a likely result of the enforced calorie cutting and sleep deprivation.
But while Shoaib recognized the star "was definitely physically suffering," she said she didn't get any sexual vibes from Mack, adding, "It's so hard to see her as a sinister character."
And yet there are signs that perhaps Mack felt differently. A since-deleted entry on her website, could be seen as an indications that Mack carried doubts about her work.
In the June 13, 2017 entry titled "She Feels Cramped In A Closet…" she penned a poem that discussed her anxieties over the possibility of what she called being caught.
"Someday I will be discovered. I will be found out!" she opined. "How long will I stay inside? It seems like it has been a lifetime in here already. And in truth, it has…Why am I so nervous? Because I am a fugitive on the run from intimacy and the fear of showing those pit stains and blood. I anticipate rejection and so I reject sentencing myself to a life squished in a closet filled with all the things I feel most ashamed of."
Now the darkest parts of her past have, indeed, caught up to her. While currently out on bond, she's confined to her parents California home with an ankle monitor, no access to the Internet, severely limited phone use and strict orders not to associate with anyone affiliated with NXIVM. Facing a minimum of 15 years in prison, like Raniere, she seems to be cotemplating a plea deal.
Per a court application obtained by E! News, both Mack and federal prosecutors requested to push the start of a potential trail until after May 3 because "they are engaged in plea negotiations, which they believe are likely to result in the disposition of this case without trial."
But if her most recent (perhaps final?) Instagram post is to be believed she's at peace with whatever lies ahead. In a Mar. 22 video she called "wisdom…pure wisdom!" a small boy shares his take on optimism.
"What do you practice? Do you practice joy in your life? Do you practice peace in your life? Do you practice happiness in your life? Or do you practice a lot of complaining?" he asks. "Because if you complain, you will get very good at it. And you will get so good at it that you will find fault with everything, even when there's no fault that a layman cannot see, you, being an expert, will see it. What do you practice?"