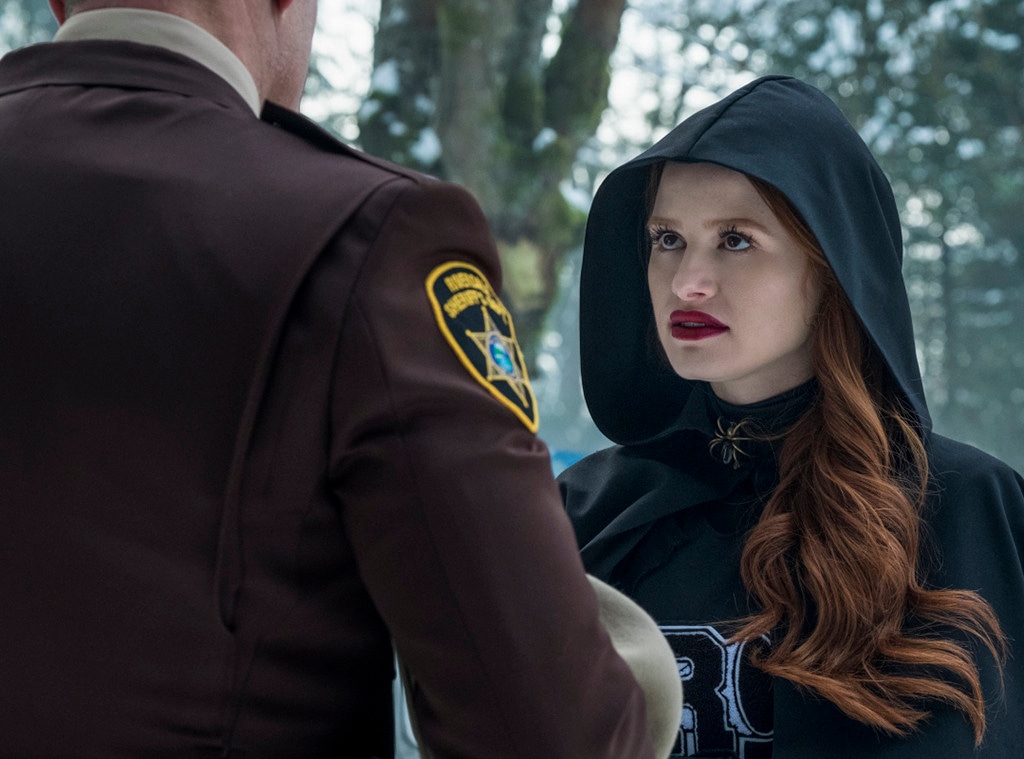 The CW
You know any episode of Riverdale that opens with Cheryl leading a funeral with a song from Carousel is going to be wild, and that is just one way to describe tonight's episode. 
Approximately one million things happened in the wake of Midge's murder at the end of last week's fairly stellar musical hour, the first of which was Ethel being outed as the letter writer who got Cheryl recast...which eventually led to Midge's murder. But unless we're real off here, Ethel is just a jealous letter-writer. She's no murderer...probably.
At the funeral, Sheriff Keller found himself the center of the anger, since he didn't properly catch the Black Hood the first time around, and the ire did not cease. Cheryl wrote an op-ed!
Meanwhile, the core four were working on their own investigation. Archie doesn't think the dearly departed Svendsen's eyes were the eyes he saw under the hood, and Jughead thinks perhaps Chic is a copycat killer. 
Chic could be involved, but for now all that we've learned is the fact that he's not Betty's brother at all. Betty's real brother, Charles Smith, apparently died when he and Chic got in a fight. Chic then didn't have to try very hard to pretend to be anyone at all. 
We're going to guess, just because we know this show, that Charles is not actually dead, because what fun would that be when we just learned that his real dad is FP Jones?! Twist! (That we all saw coming, but still!) 
After FP found out about this from a very distraught Alice, he pulled Jughead away from the whole situation to let the Cooper ladies figure things out for themselves. Figuring things out for themselves apparently meant involving Hal, who was furious, and while Alice yelled with him, Betty took Chic on a little field trip to a cemetery. 
She'd been getting calls from the Black Hood again, and now she's feeding him victims apparently. She told Chic to run as fast as he could, with the Black Hood chasing right behind him. Bye Chic!
And elsewhere, Archie found himself kidnapped and tied up and punched in the face, but not by the Black Hood. It was the return of that damn rapist Nick St. Clair, who first demanded a ransom for Archiekins. But when Hiram wouldn't pay another mobster for a non-family member, Nick asked for something else: a night with Veronica. Because he's gross. 
Veronica showed up to the "date," but used his own medicine against him. Archie, who had been forced to watch teh beginning of the date on a little screen, escaped and arrived at the hotel room just in time to find Nick on the floor, roofied. 
Later, Veronica called Nick's dad to ask for a ransom, which he kindly paid, and she and Archie used that cool million as leverage to get Archie back in with Hiram. 
The night ended back at the Cooper house, with a disheveled Alice waiting on the stairs. Betty came home and claimed she took Chic to the bus station. 
"Mom, where's dad?" she asked. 
"He went looking for you," Alice said. "Why do you ask?" 
Dun. Dun. Dunnnnn. 
Is Hal about to get murdered, or is Betty's dad actually the Black Hood after all? It's the reveal we've weirdly been hoping for since the season started since it makes the most sense, but this is Riverdale, and they do love a red herring. So we're not holding our breaths, but we will be sitting on the edge of our seats until next Wednesday. 
Riverdale airs Wednesdays at 8 p.m. on the CW.