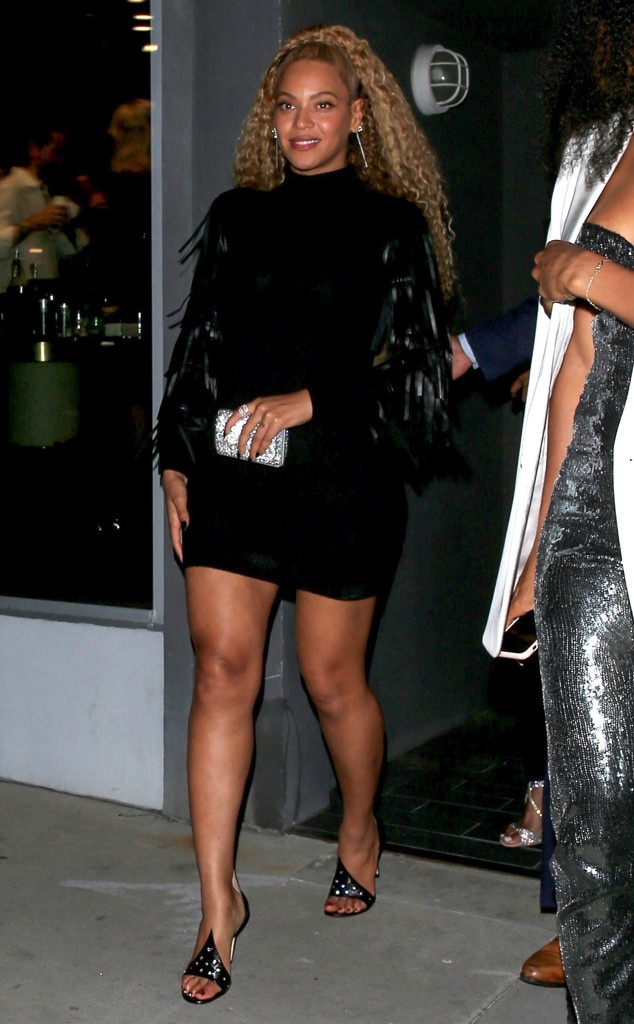 GAMR / BACKGRID
Can't stop, won't stop! 
Fresh off two weekends of showstopping reunions at the 2018 Coachella Music and Arts Festival, the ladies of Destiny's Child gathered on Tuesday evening for a chic night out. Beyoncé, Kelly Rowland and Michelle Williams made a rare joint appearance in honor of designer Peter Dundas' store opening in West Hollywood, making for one star-studded affair with plenty of excitement surrounding the surprise get-together.
Bey kept it simple in a LBD with feathered sleeves and black pumps, while Kelly coordinated in a shimmery jumpsuit and white blazer and Michelle wore all black. 
An eyewitness tells E! News that the superstar was "dropped off around the corner" in an Escalade and "barely got spotted" as she made her way into the soiree. 
Likewise, our source adds, Kelly and Michelle arrived together. We're told the trio mixed and mingled with party guests for a brief 10 minutes before heading out. 
"The girls all left together," the source shares. "Michelle was towards the back and headed out quickly so as not to be seen. She was smiling and looked great in a little black dress. She was really happy. When Kelly got in the car it was a bit chaotic and Beyonce said, 'I'm just going to go around the car.' When the other side was crazy as well she laughed and joked, 'OK, never mind.' No one knew she was going to be there."
Michelle stopped by E!'s Daily Pop on Wednesday to discuss their Coachella performance and latest outing, sharing, "We did have a ladies' night! That was so much fun. We have a great relationship off the stage, so it's just simple texts like, 'Hey, I'm going to this event tonight. Let's go hang out.'" 
She continued, "We haven't lived in the same city since the year 2000 when we were all living in Houston." 
Keep the Destiny's Child reunions coming, you three! 
For more top-secret details on their Coachella preparation, press play on the video above!