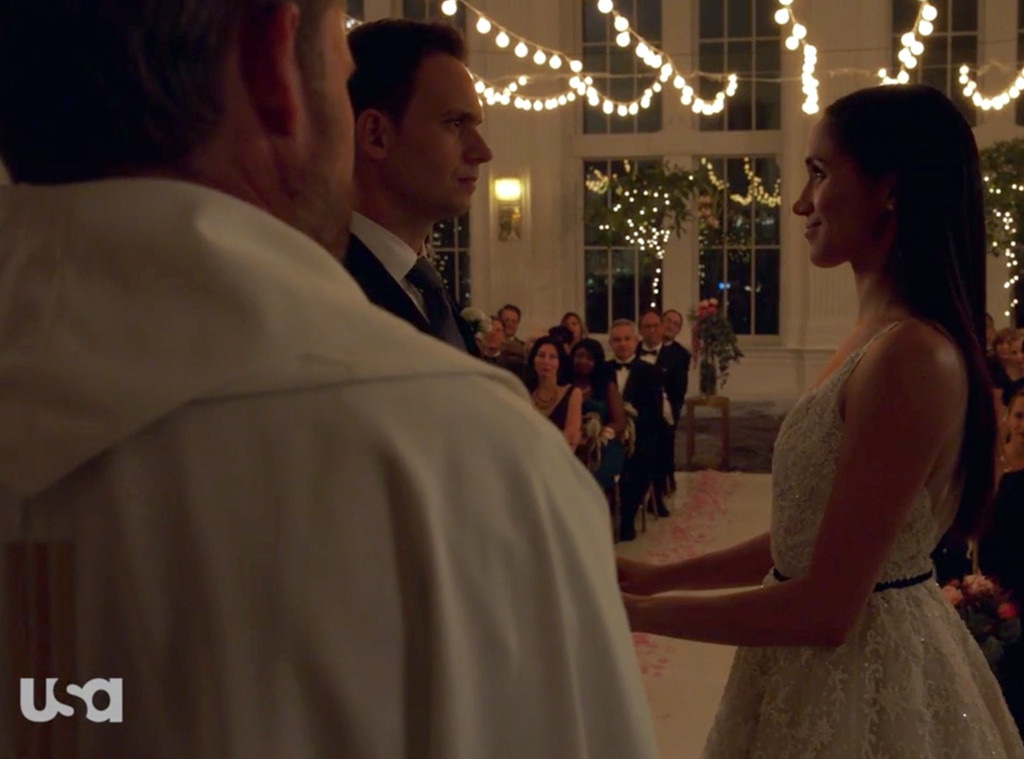 USA
Meghan Markle is finally a married woman.
Well, her character Rachel Zane is, at least. We've still got a few weeks to go until she can officially add Princess to her name!
In the Suits season seven finale, the long-running USA legal drama finally say goodbye to Markle and her co-star Patrick J. Adams after revealing that they were both taking their leave from the series that made them household names, and the departure was pretty subdued, all things considered.
The two-hour episode saw Mike (Adams) approached by someone named Adam Forsyth who offered the legal do-gooder an opportunity to run a law firm in Seattle that would allow him to only pursue class action cases against Fortune 500 companies—AKA the exact sort of thing Specter Litt didn't do—just as it seemed SL might either go under or have to merge with Rachel's fathers's firm.
While the job seemed too good to be true for a minute, Rachel decided to take a meeting with Adam herself, where she learned that it wasn't a ruse and the gig was still on the table. And while Mike wasn't too sure if he could walk away from Specter Litt and his unbreakable bromance with Harvey (Gabriel Macht), Rachel argued that there was no better time than the present to take such a leap.
"But Mike, we're young and we don't have any kids yet," she told her fiance. "And if we're ever going to do something like this in our lives, now is the time."
For some reason, if they wanted the job, they had to leave within a matter of days, which meant either moving up their wedding date or postponing it. "I don't know if I want to take this job or not, but what I do know is I have wanted to marry you from the second I met you and I am tired of waiting," Mike told her. So it was settled. A wedding was happening.
"I know that I fought it at first, but now, Mike, I can't imagine living alongside anyone else for the rest of my life," Rachel told Mike during her vows. "You are the strongest man I have ever met. And you make me stronger. You are the husband I've always wanted. And I can't wait to begin our adventure together."
"If I've learned one thing, it's that we never know what the future holds," Mike replied. "And that can be a scary thing. But I know that there is nothing that I can't handle when I have you by my side."
After the ceremony, Mike and Harvey got their final moment, where Mike broke the news to his pal, who was in the process of promising him partner at the new firm once he and Rachel were back from their honeymoon. "We're not coming back, Harvey. Rachel and I were offered a chance to run a firm in Seattle," he said. "We decided to go for it."
As Harvey protested, Mike made it clear: "It's time, Harvey. It's time."
After a hug, they both made their way to the dance floor with their respective ladies (Harvey was with Donna, duh) and the last image we ever saw of Mike and Rachel on Suits was them dancing at their wedding. How appropriate.
Were you satisfied with Mike and Rachel's Suits send-off? Sound off in the comments below!
Suits returns for season eight with new series regular Katherine Heigl later this year on USA.
(E! and USA are both part of the NBCUniversal family.)