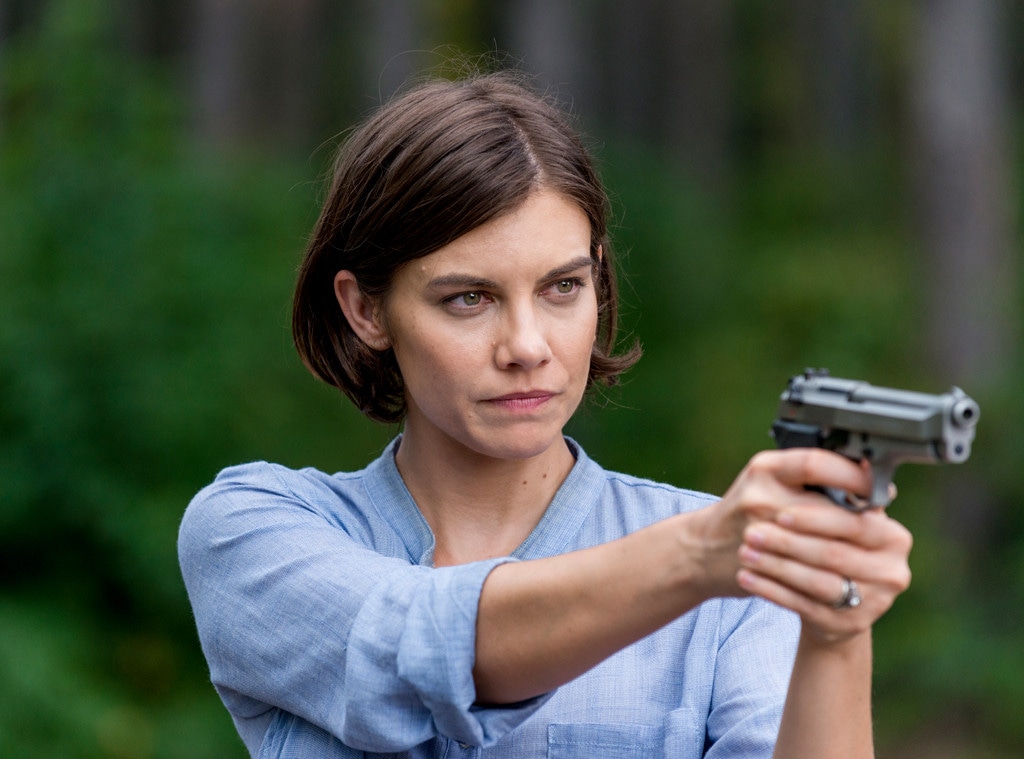 AMC
What would The Walking Dead look like without Maggie? You don't have to wonder that any longer. E! News has confirmed Lauren Cohan is returning to The Walking Dead as Maggie Greene for season nine. AMC confirmed the news, but did not specify if her role had changed.
"I'm going back," Cohan told EW. "There's a lot more Maggie story to tell."
The season ended with Rick Grimes (Andrew Lincoln) showing Negan (Jeffrey Dean Morgan) mercy, not ending his life, but instead throwing him in a cell. Maggie, back at the Hilltop, was furious with the decision and vowed Rick and his team will be shown the error of their ways. Will season nine be Maggie vs. Rick?
"You know we're not allowed to tell you anything, but it's good," Cohan told EW.
Cohan made headlines when news of her contract negotiation went public. She eventually signed on for an ABC pilot, currently titled Whiskey Cavalier, opposite Scandal's Scott Foley.  The potential new show hails from Cougar Town's Bill Lawrence and follows an FBI agent, played by Foley, who is going through an emotional breakup and get assigned to work with a new CIA operative, played by Cohan.
The Walking Dead was renewed for season nine in early 2018. The AMC series' ratings have slipped this season, but are still strong in today's television landscape, especially for cable.
The Walking Dead executive producer Scott M. Gimple will now serve as chief content officer and oversee the entire Walking Dead TV universe, including TWD, Fear The Walking Dead and possible future brand extensions. Angela King will be the new executive producer and showrunner for season nine.
"This is an enormously important day for the entire The Walking Dead television universe. We are proud to acknowledge Angela's significant contribution to the series and to set a clear path forward for a ninth season under her direction. Further, with gratitude and admiration, we also recognize Scott's broad impact on, and leadership of, the content that fuels our TWD universe. Together, we will dream bigger and more broadly than ever before," Charlie Collier, president of AMC, SundanceTV and AMC Studios, said in a statement. "I know I speak for Angela, Scott and everyone at AMC when I say thanks most of all to the fans and the many talented people who have helped AMC play Dead."