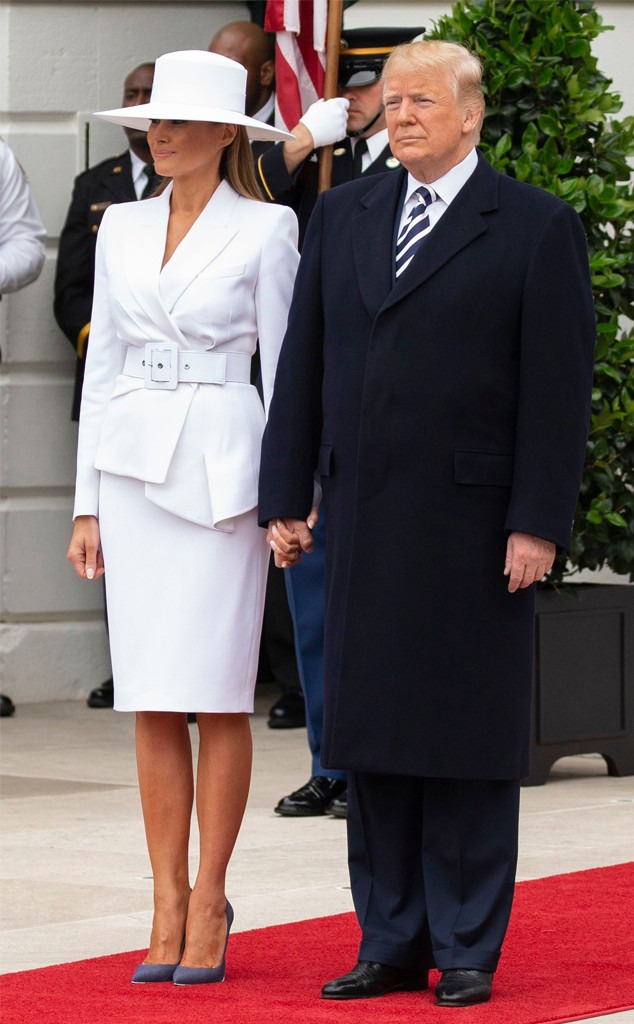 REX/Shutterstock
Hats off to the first lady!
On Tuesday, First Lady Melania Trump wowed at the White House when she donned an all-white ensemble, complete with oversized hat, to host the Trump administration's first official state visit with France. The event was held on the South Lawn of the White House.
To welcome French President Emmanuel Macron and First Lady of France Brigitte Macron, Melania opted for a $2,195 Michael Kors Collection crepe blazer and skirt suit, paired with navy blue heels. Of course, all eyes were on the oversized Hervé Pierre hat that the 47-year-old donned for the occasion.
In the past, Pierre has been instrumental as Trump's personal stylist. The French-American fashion designer also designed Trump's inaugural gown.
Of course, the all-white ensemble isn't the only thing making headlines from this morning's event. Many onlookers, like @AynRandPaulRyan, surmised that Melania may not have been so keen on holding the hand of her husband—yet again. 
Many commenters pointed out that it appears to have taken the first lady a few tries to take the 45th president's hand.
Recently, Trump had been involved in multiple sex scandals. Adult film star Stormy Daniels has come forward about an affair and the subsequent alleged cover-up. Ex-Playboy model Karen McDougal has alleged to having a 10-month affair with the commander-in-chief in 2005.
The Trumps married on January 22, 2005.
Last May, Melania made headlines when she and the president arrived in Tel Aviv, Israel. When the two disembarked off Air Force One, Melania, who was once again wearing all white, appeared to swat away her husband's hand when he attempted to hold hers. The swift swatting move went viral after it was caught by Haaretz.com and then caught attention of the world, seemingly confirming public suspicions that there may be trouble in the president and first lady's marriage. 
Melania's sleight of hand has been ongoing since then.
What do you think of today's hand-holding moment? Sound off in the comments!