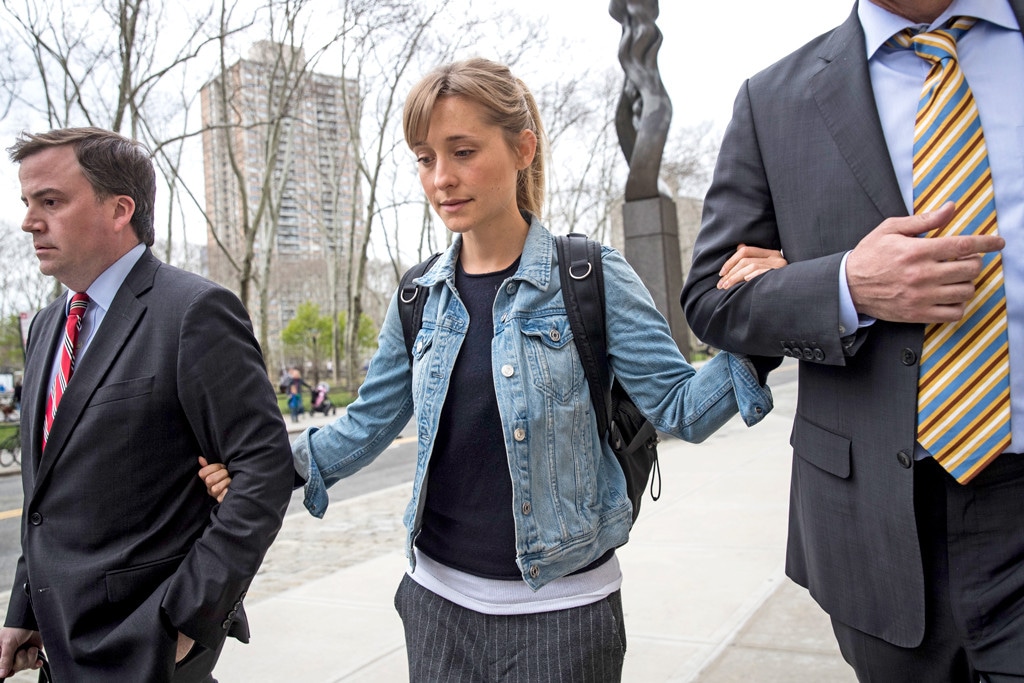 Drew Angerer/Getty Images
UPDATE: Allison Mack was officially released on a $5 million bond and placed under house arrest. She was photographed leaving the courthouse on Tuesday. 
______
Allison Mack will be released on a $5 million bond for her recent arrest and sex trafficking charges in connection with Nxivm, a purported self-help organization.
Both the government and the defense agreed upon the bail during Mack's bail hearing on Tuesday. Mack posted the bail, which is being guaranteed by her parents via their house and their retirement account. Mack's mother was there to sign the bond; however her father was not. He has until May 11 to sign it.
"Allison Mack appeared this afternoon in Brooklyn Federal Court before United States Magistrate Judge Viktor Pohorelsky," a spokesperson for the U.S. Attorney's Office for the Eastern District of New York told E! News. "She will be released on a $5 million bond and will reside in the Central District of California – home detention with electronic monitoring."
While Mack will be allowed to travel to California to live with her parents under home detention, she can otherwise only travel for court appearances and attorney visits (aside from pre-approved visits). She will also undergo cyber monitoring.
Mack is expected to be fitted with an ankle bracelet today and intends to travel to California as soon as possible. 
As part of her bond, Mack must avoid anyone associated with Nxivm.
She appeared in court in a green jail suit and kept her hands held behind her back.
Drew Angerer/Getty Images
The hearing came days after the Smallville star filed a notice stating that she was in plea discussions with the United States District Court for the Eastern District of New York. According to a court application obtained by E! News, both Mack and federal prosecutors requested to have the days between April 20 and May 3 be excluded from the time frame in which her trial must begin because "they are engaged in plea negotiations, which they believe are likely to result in the disposition of this case without trial." The document claimed the parties "require" this exclusion of time to focus their efforts on the plea discussion without risk of not having reasonable time to effectively prepare for trial.
Mack was accused of three charges: sex trafficking, sex trafficking conspiracy and forced labor conspiracy. The acts allegedly took place between February 2016 and June 2017.
During her initial appearance and arraignment, Mack pleaded not guilty to all three counts.
Mack was arrested on Friday after an indictment was opened in federal court. The indictment accused both her and Nxivm founder Keith Raniere of the aforementioned charges.
"As alleged in the indictment, Allison Mack recruited women to join what was purported to be a female mentorship group that was, in fact, created and led by Keith Raniere," United States Attorney Richard Donoghue said in a statement. "The victims were then exploited, both sexually and for their labor, to the defendants' benefit. This Office and our law enforcement partners are committed to prosecuting predators who victimize others through sex trafficking and forced labor."
According to the United States Attorney's Office, Raniere was previously arrested on a complaint and ordered detained.
"Today we announce an additional arrest, and an indictment, in a case that brought to light an inconceivable crime," stated FBI Assistant Director-in-Charge William F. Sweeney, Jr. "As this pyramid scheme continues to unravel, we ask anyone who might have been a victim to reach out to us with information that may further our investigation."
According to a press release issued by the U.S. Department of Justice, court filings alleged Raniere established a series of purported self-programs under Nxivm. The release claimed Nxivm "maintains features of a pyramid scheme" and that its programs cost "thousands of dollars" for participants (or Nxians) to join. The release also stated participants were "encouraged to pay for additional classes and to recruit others to take classes in order to rise within the ranks of Nxivm." According to the document, Mack is credited with co-creating a Nxivm program called The Source, which focused on recruiting actors.
Tweets from the star's account show she reached out to Emma Watson and Kelly Clarkson.
The press release also alleged, per court filings, that Raniere created a secret society within Nxivm called DOS. Per the release, DOS ran on levels of "slaves" headed by "masters."
"Slaves were expected to recruit slaves of their own (thus becoming masters themselves), who in turn owed service not only to their own masters but also to the masters above them in the DOS pyramid," the release stated.
Both Mack and Raniere have been accused of to attempting to recruit "slaves" by telling them they were partaking in a women's-only organization that promoted empowerment through the Nxivm curriculum.
In addition, the release stated women were required to provide "collateral" to join DOS. This allegedly came in the form of "highly damaging information about friends and family members, nude photographs and/or rights to the recruit's assets." Per the release, DOS members were allegedly told their collateral could be released for certain reasons, including telling people about DOS or attempting to leave it.
The release also claimed many DOS slaves were branded. In addition, it stated that Mack "directly or implicitly required her slaves…to engage in sexual activity with Raniere." The released alleged Mack received benefits, including financial gain, from Raniere in return.
The Nxivm website featured the following statement in response to the allegations against Raniere. "We are currently working with the authorities to demonstrate his innocence and true character. We strongly believe the justice system will prevail in bringing the truth to light. We are saddened by the reports perpetuated by the media and their apparent disregard for 'innocent until proven guilty,' yet we will continue to honor the same principles on which our company was founded. It is during the times of greatest adversity that integrity, humanity and compassion are hardest, and needed most."
(This story was originally published Tuesday, April 24, 2018 at 12:56 p.m.)