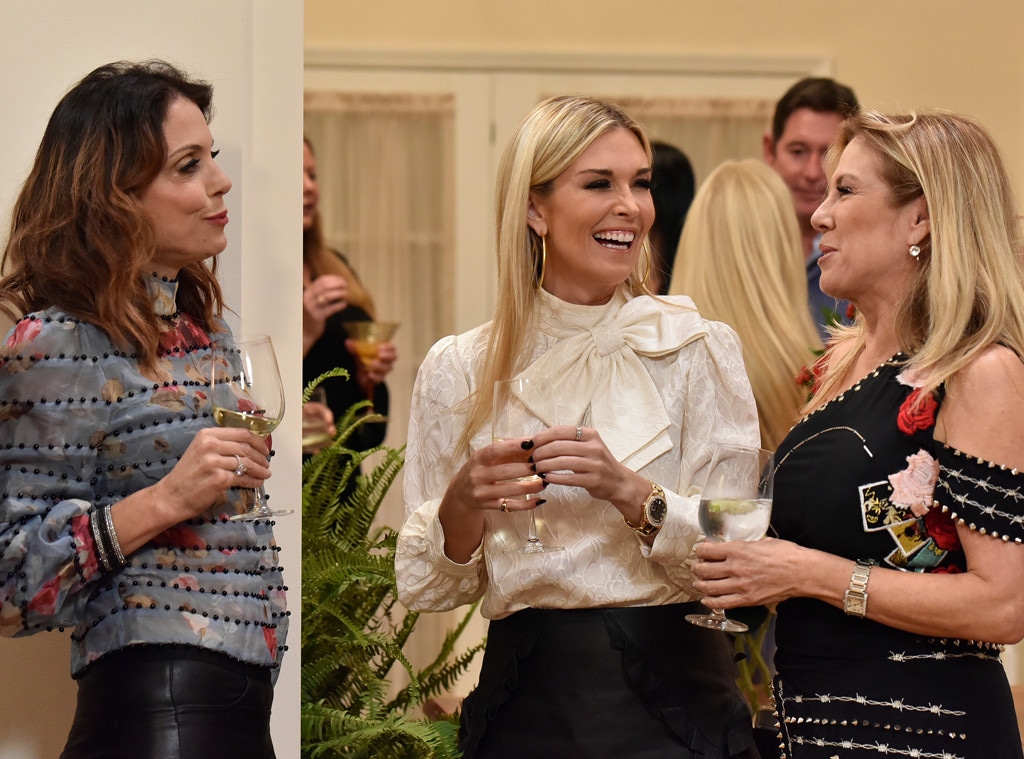 Bravo
Dorinda Medley, catchphrase queen, cannot be tamed. In the below exclusive sneak peek of The Real Housewives of New York City, Dorinda drops another instantly classic line: "Liar, liar, ho on fire." She's talking to Sonja Morgan as Sonja and Tinsley Mortimer go at it at Ramona Singer's dinner table.
Viewers will recall Sonja was dishing to Dorinda about her belief that Tinsley's boyfriend was bank rolling her luxury hotel room in the sky and even paid for the thank you present Tinsley presented to Sonja at the end of season nine. Dorinda took this info back to Tinsley and continued stirring the pot at Ramona's dinner party.
"It is so disgusting to me. First of all, it's a present. You take a present and you don't really need to ask where it came from," Tinsley said in a confessional. "But besides that, to imply that I can't afford? She's ungrateful!"
The two get into a screaming match about money, with Tinsley offering to write Sonja a check for…back rent? It ends with Tinsley delivering another instantly classic line, "Shut your mouth and shut your and shut your f—king legs!"
"I said to speak up, I didn't say to lose your s—t," Dorinda laughs in a confessional.
The best part? Sonja seems to inadvertently smack down her own argument when talking about the money Tinsley donated to Bethenny Frankel's Puerto Rico hurricane relief effort.
The Real Housewives of New York City airs Wednesdays at 9 p.m. on Bravo.
(E! and Bravo are both part of the NBCUniversal family.)