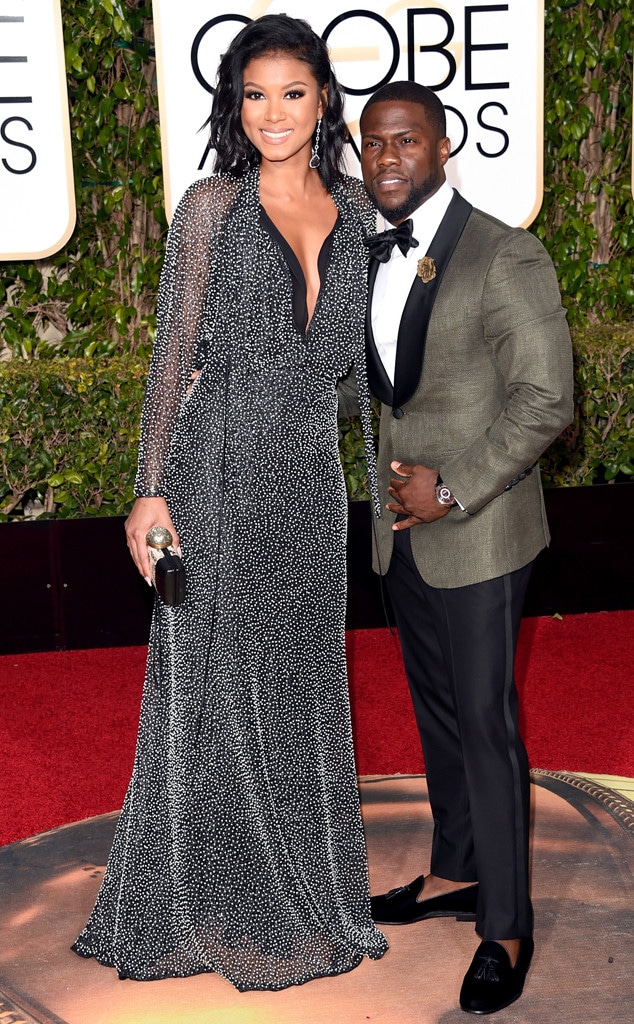 Jason Merritt/Getty Images
Life has imitated art for Kevin Hart. 
In honor of J. Cole's newly released track, "Kevin's Heart," the performer cast his famous friend in the visual for the song, which is creatively named after the comedian. In the music video, which spans more than five minutes, Hart plays himself as he goes through a day in the life. 
Weaving through supermarket aisles, he notices people staring at him with both intrigue and judgment. Later on in the car, he hears radio hosts talking about his "situation" before he switches the channel. After rebuffing a woman's flirtatious advances in the car next to him, an older woman looks on in disgust as Hart gets frustrated. 
Next, the star stops at a baby store where he agrees to pose with a fan for a photo, but the woman gets uncomfortably handsy. 
Cut to a dinner meeting, where Hart is sitting minding his own business when he gets a note from his waitress to look at the bar, where a woman is waiting to get his attention. Hart flees to the bathroom, where a man follows him to share a token of wisdom: "Nobody's perfect and you're only human. Learn from it, man. Learn from it."
As he returns home, "Choose Wisely" is written in the sky and Hart laughs and walks inside. 
The entire sequence of events seems to be a reference to Hart's September 2017 cheating scandal. At the time, Hart's rep told E! News someone had tried to set the comedian up in a failed extortion attempt. A woman named Montia Sabbag later came forward in a press conference and said she was the woman in recordings of Hart shot a month earlier in Las Vegas, but said she had "nothing to do" with the recordings. Her attorney Lisa Bloom alleged someone snuck cameras into Hart's private hotel suite in Las Vegas and recorded bedroom images of the two of them. Bloom further stated that the two had had an "intimate relationship."
Hart publicly apologized to his then-pregnant wife Eniko Parrish and kids Heaven Hart and Hendrix Hart for a "bad error in judgment."
"I'm at a place in my life where I feel like I have a target on my back and I should make smart decisions and recently I didn't...I made a bad error in judgement and put myself in an environment where only bad things can happen and they did," he confessed in a video shared on social media. "And doing that I know that I am going to hurt the people closest to, who I've talked to and apologized to—that would be my wife and my kids. It's a sh--ty moment. It's a sh--ty moment when you know youre wrong and there' no excuses for your wrong behavior."
"I'm a better man because of [the scandal]," he said in an interview on The Breakfast Club months later. "The light bulb that's off, that just went off right now, was the one that was supposed to go off because this line, this straight line that I'm walking on now, there are no moments to be off-balance. There are no more shots, there are no more chances. I'm done. I'm done! I don't want that level of fun no more, I don't need it. I'm on some grown man different s—t where if it doesn't involve my family, I'm not interested."