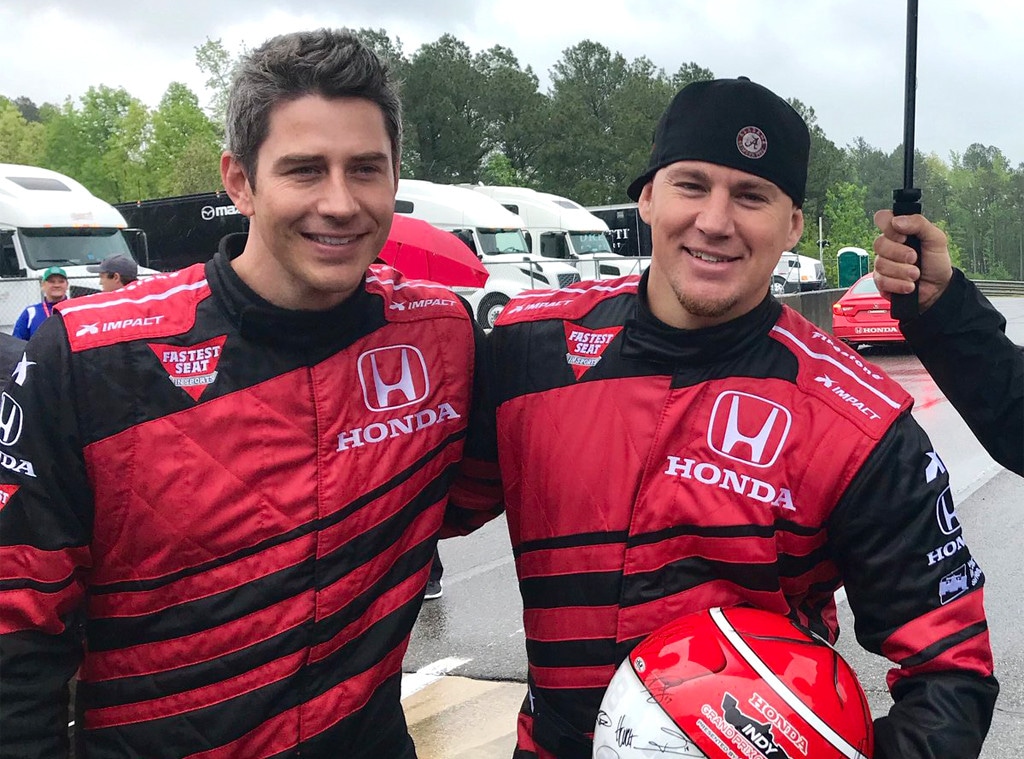 Arie Luyendyk Jr./Twitter
Timid is a word that just might not exist in Channing Tatum's vocabulary.
"I get one shot at life, and I can say that I've lived a crazy one, and I've pushed the limit almost at every turn," he bragged in a 2014 GQ profile, "and I'm super proud of that."
Granted, he was pontificating on his decision to play Danny McBride's pimp in Seth Rogen and Jonah Hill's 2013 gross out comedy This Is the End, in which he wears both a leash and a Mexican wrestling mask and, in one deleted scene, drinks the blood squirting from James Franco's severed left limb. But he could have just as easily been discussing his first official post-break up activity.
Three weeks after announcing his shocking split from wife Jenna Dewan, the actor turned up on none other than Bachelor bro Arie Luyendyk Jr.'s Instagram feed. Popping up at the Honda Indy Grand Prix of Alabama at Barber Motorsports Park in Birmingham—less than an hour from his hometown of Cullman—Tatum raced a few loops of the track with the professional driver turned reality star. But before attempting the feat in the rainy weather, he filmed a video message for Luyendyk's new fiancée Lauren Burnham, proclaiming, "I am about to do something stupid."
Arie Luyendyk Jr./Twitter
Better to feel scared than sad. Because since announcing the end of his nearly nine-year marriage, the man known for being so carefree he once admitted to People, "Sometimes I don't even shower; I just jump off our balcony into our pool," has been uncharacteristically subdued. Though the breakup was in the works for a while, revealing they had decided to end their union has "been hard for Channing," a source recently told People of the Magic Mike alum, who marks his 38th birthday today. "He always had Jenna and their family to go home to, so having their separation be 'official' now has been a big adjustment for him."
For all the rumors about his excess partying and improper flirtations, the true struggle of their split, a source told the mag of the parents to 4-year-old Everly, is that there isn't a bad guy or one big blowup that led to the end: "That almost made it harder for them to decide to separate because there weren't any huge issues, and there's not one person to point a finger at as the one who screwed up."
When the duo who've launched a thousand wistful #couplegoals tweets met on the set of 2006's Step Up, Tatum wasn't exactly ready to be a stand-up committed mate. Fresh out of a lengthy romance, he "was in no way, shape or form looking to get into another relationship," he revealed on The Howard Stern Show in 2015. "I was like, 'OK, now it's time to play…' I was gonna go and just live the life that you'd think you would probably live if you're an actor in Hollywood."
Or if you're, say, a Southern boy who boasts about subjecting pals like Marlon Wayans to what he calls a "Spontaneous Home Invasion", once invited a reporter to spend a tequila-fueled night camping out in camouflage Snuggies in the California dessert and decided, on a whim, to slip on a G-string and perform in an all-male revue.
"I don't regret one thing," the actor formerly known as Chanimal told GQ in 2011 of his antics. "I'm not a person who hides shit."
But his Bacchanalia based plans were cut short when he locked eyes with his costar, a Texas born beauty who got her start as a backup dancer for Janet Jackson. As he summed up to Stern, "I ran smack into Jenna."   
A former prom queen and varsity cheerleader, the even-keeled University of Southern California grad provided the perfect balance to the ex-footballer's wild side. "She really is my counterweight in life," he's said. Or as pal Wayans explains it, the 37-year-old, "has a way to calm him like nobody. She's like the music they played for King Kong."
Her affect on Tatum was immediate, starting with her initial ultimatum. "He did this whole thing where he didn't want to be in a relationship, so I was like, 'Look, if you want to date other people and be free that's totally fine,'" she recalled on The Ellen DeGeneres Show last year. "'But we're not gonna hang out and watch movies. You've got to figure out what you want because I know I want to be in a relationship with you.'"
A few days later, a tequila-fueled night out, helped solidify what he really wanted. Showing up at her hotel room door, he wore underwear, Ugg boots, a sombrero and his heart on his non-existent sleeve. Recalled Dewan, "He's like, 'Let's do this.'"
James Gourley/REX/Shutterstock
Flash-forward several years and he was a dedicated husband, crisscrossing the globe to follow through on his vow to never be away from his bride more than two weeks. "Buildup, man. I'm not good with buildup," admitted Tatum, "I've taken really long flights, like for nine hours on the ground."
And by the time they welcomed daughter Everly in June 2013, the man who gamely shot four films—White House Down, Foxcatcher, Moneyball and Jupiter Ascending—back to back starting in 2013 was reexamining his priorities.
Snapchat / Jenna Dewan-Tatum
Recently, a source told People, "He was actually turning down jobs to spend more time with family." The last time he was on location for a film was in 2016 for his heist comedy Logan Lucky and in 2017, the only movie on his docket was voice work for animated flick Smallfoot.
"Having a daughter has helped me," he told Stern. "You look at time. I only have so much time on this earth and I have to be able to look at her at some point and go 'this was worth me taking time away out of our lives together,' and other than that, just do really great stuff that almost doesn't matter about the box office and stuff like that."
Alberto E. Rodriguez/Getty Images
None of it was easy, he conceded to People in 2015, "but at the same time it's everything I would have ever wanted."
Until it wasn't. After more than a decade together, the couple's issues were of the hard to quantify variety. But they knew they added up to a need to separate.
As one insider explained to E! News, "They realized that they were going in different directions. The things that fulfilled them didn't line up."
Despite the rift, Dewan and Tatum, who once told E! News "there's no magic recipe" to a successful marriage, tested different formulas in an effort to fix their union. "They had been trying for a long time to see if they could make it work," a source told E! News. "It became clear over the last year that they wanted different things and were no longer on the same path."
Now they're no longer in the same place. Tatum has moved out of the $6 million Beverly Hills spread they once shared, says the source, "and Jenna has stayed in the family home with Everly. They have been separated and have had a few months to get used to this privately."
The slow rollout of their split news made it easier for both of them to slip back into their regular lives post-announcement. On Apr. 4, Tatum was seen toting their 4-year-old on his shoulders for a trip to Target. Two weeks later he was spotted at London's Heathrow airport wearing a Harvard Business School sweatshirt, but not his wedding band.
Tatum's slipped off her three-ring set as well. Though she wore the diamonds for a SoulCycle outing just hours before the Apr. 2 announcement, it was missing five days later when she shopped with pals in L.A.'s Chinatown area.
"Jenna is doing OK and has continued spending time with Everly and doing her every day routine," the source told E! News. "It's been sad but she's holding her head high and marching on."
Along with spending time with family in Santa Barbara, Calif., that includes picking up Humanitarian Of The Year honors at the Apr. 20 St. Jude Children's Research Hospital's Hope & Heritage Gala, posting to her YouTube, Instagram and Twitter channels—all scrubbed of her extraneous, married moniker—and reporting for acting duty. Set to resume her hosting duties on NBC's World of Dance this May, the Danskin brand ambassador also booked the lead in Fox's musical drama pilot Mixtape and arrived to set Apr. 6.
Jason Merritt/Getty Images
And she's not the only one getting back to work. Tatum has plans to promote Smallfoot ahead of its September release and has a series of projects lined up, including voicing Superman in Lego Batman 2, starring in 2019's X-Men spinoff Gambit and producing and acting in a musical comedy with Joseph Gordon-Levitt.
Plus, he and his estranged wife intend to continue collaborating as executive producers on the YouTube series Step Up: High Water, which documents the lives of students at a competitive performing arts school.
As a source told People, "All existing projects and those in development will continue as planned."
And then, of course, there is their most important joint venture: raising their spirited, music-loving daughter Everly.
While the pair haven't quite worked out the details as to when to file for divorce or how they'll handle co-parenting, "There is a lot of love between them and they want to do things peacefully," a insider tells E! News. "They are focused on Everly and being great parents to her and helping her with this transition."
And should they manage to find ways to pick themselves up as they go, even better.