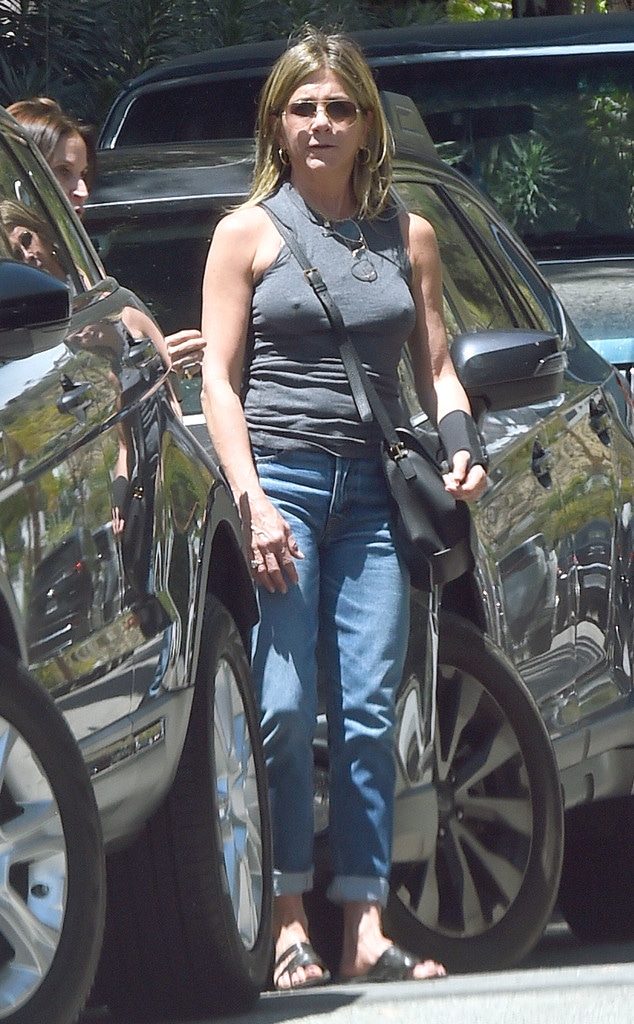 TheImageDirect.com
Live and let birthday party!
Jennifer Aniston ran into estranged husband Justin Theroux at Jimmy Kimmel and Molly McNeary's Hollywood Hills home on Saturday. The former flames were spotted both attending the low-key birthday party of Jimmy and Molly's son Billy Kimmel, who turned one on Saturday. The bash helped family and friends celebrate Kimmel's son, who has undergone two heart surgeries in his first year of life.
An eyewitness tells E! News that Aniston arrived to the party around 12:15 p.m. and left around 2 p.m.
For the event, the former Friends star opted for a grey thank top, cuffed jeans and slides. Her famous locks were blown straight and she kept her eyes covered with a pair of aviator sunglasses.
Justin was also at Saturday's birthday party and took some photos with the birthday boy while there. After the celeb-studded bash, Justin hopped on Instagram, posted some snuggly photos with Billy and wrote a sweet post.
Justin wrote, "Happy ONE year birthday Billy! A boy who in 365 days has done more for American national health care than we could all wish to do in our lifetimes. He doesn't even know yet how courageous he is. An honor to know him and his incredible and equally courageous parents. Thank you @CedarsSinai & @ChildrensLA #registertovote."
Dad Jimmy also posted a similar message to his fans on Saturday, sharing an image of the wee one in a bday hat, along with the caption, "A yr ago today, God gave us this tough little boy. Today, we thank the nurses & doctors at @CedarsSinai & @ChildrensLA who saved his life & those who shared thoughts & prayers. We cannot stay quiet. Please wish Billy happy birthday by REGISTERING TO VOTE! https://vote.gov."
On Valentine's Day, the couple, who was married less than three years, announced their separation.
"In an effort to reduce any further speculation, we have decided to announce our separation. This decision was mutual and lovingly made at the end of last year. We are two best friends who have decided to part ways as a couple, but look forward to continuing our cherished friendship," the couple said at the time in a joint statement to E! News. "Normally we would do this privately, but given that the gossip industry cannot resist an opportunity to speculate and invent, we wanted to convey the truth directly. Whatever else is printed about us that is not directly from us, is someone else's fictional narrative. Above all, we are determined to maintain the deep respect and love that we have for one another."
The duo got engaged in August of 2012 and surprised fans when they got married in a top-secret wedding on August 5, 2015.