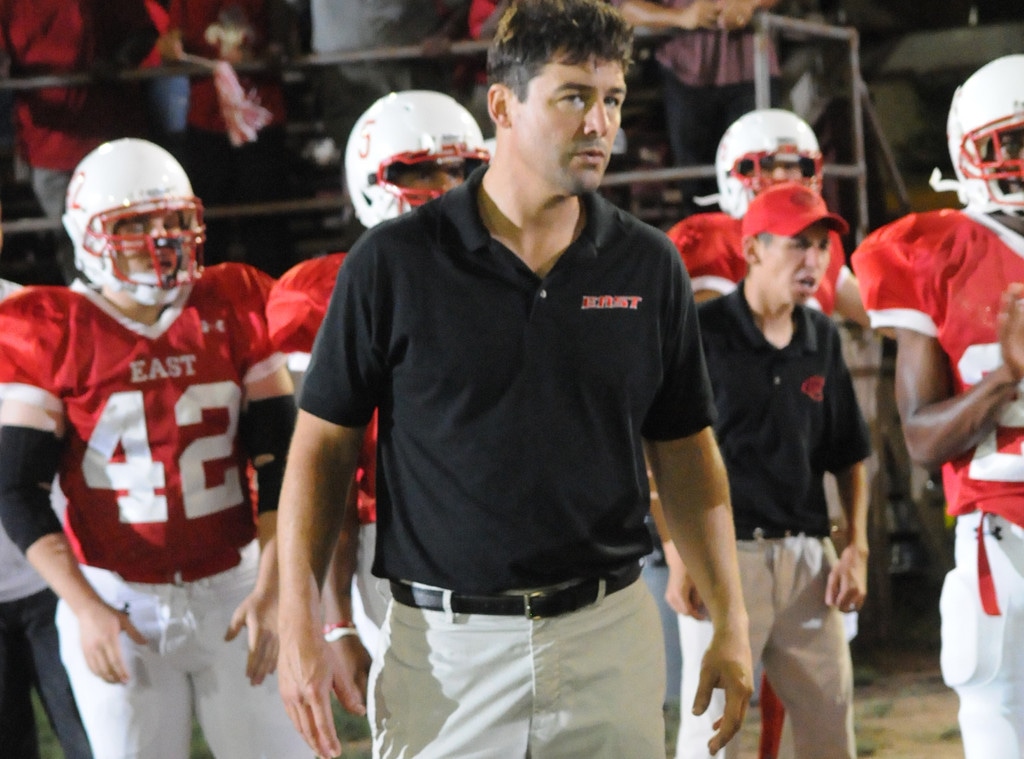 NBC
Get ready Friday Night Lights fans because the football-centered TV series is coming to Hulu, which means it can literally be Texas forever on your TV and computer at any time.
After already getting picked to stream on Amazon Prime in early April, Hulu now has a deal to stream the Texas-based series on its site, Variety reported, and our Tim Riggins-loving heart can't handle all of this news.
It's been seven years since the NBC series, which let viewers live under the Friday night lights every week in Dillon, TX for five seasons, came to an end, and we're so thrilled that FNL, Coach Taylor (Kyle Chandler) and his players are getting some more love in the streaming world.
TBH, we've never stopped loving the characters from FNL, whether it's Coach Taylor and his wife Tami Taylor (AKA acting goddess Connie Britton) and daughter Julie Taylor (Aimee Teegarden) or Tim Riggins (Taylor Kitsch) and his BFF Jason Street (Scott Porter), the characters are so darn lovable.
In honor of FNL's Hulu pickup, we thought we'd get nostalgic by celebrating our favorite characters from the hit show. Vote for your favorite Friday Night Lights character of all time below. Yes, it's a difficult decision, but just remember: clear eyes, full hearts, can't lose!
Eric Taylor AKA Coach Taylor:
The man, the myth, the legend. Coach Taylor was the man in Dillon, TX, and managed not only to win football games as the head coach of two teams, but he actually changed the lives of his players. Oh, and he was an adorable husband.
Tami Taylor:
Even though her husband was the "winner" in town, Tami was the heart and soul behind Coach Taylor, and let's be honest she kept everyone on track for success. Plus, her style was top notch. 
Tim Riggins:
His face, his biceps, his talent on the field…need we say more? Tim Riggins was a total dreamboat, and he loved Texas and his family so much it hurt us anytime his life fell apart.
Matt Saracen:
Matt Saracen had big shoes to fill when he took over as quarterback, but it was his big heart—remember how much he loved his grandmother?—that made him number one to us.
Landry Clarke:
Who would've thought that Landry Clarke would've had such a big impression on the "popular" circle by the end of this show? He was loyal, witty and man oh man did he get into some seriously complicated issues over the course of five seasons.
Tyra Collette:
Tyra Collette is what you'd describe as a "hot mess" when we first meet her, but throughout the show you just can't help but root for her. She's strong, determined and never backs down…a real Texas woman.
Vince Howard:
If you're not a fan of East Dillon, you can still appreciate how great Vince Howard was. He was talented and complicated, and yet lovable almost all of the time.
Brian "Smash" Williams:
In the first few seasons it was all about Smash and we still miss him. He tore up the field and had the cutest relationship with his mother, even though he was known as a tough guy.
Jason Street:
Jason Street had a rough story for a long time—aka from episode two forward—and even though you wanted to root for him, he made it hard. In the end, he pushed through everything life had to throw at him and his friendship with Tim Riggins made all the troubles worth it.
Lyla Garrity:
Lyla Garrity was too cute. Sure, she caused some turmoil with her two flames on the show, but she was so darn chipper and sweet, and really loved both of her love interests on the show, and we can't blame her for wanting to have her cake and eat it too.
Luke Cafferty:
Aw, Luke Cafferty, how we love you. Even though he wasn't as big of a star as Vince, he proved himself both on and off the field, especially when he found himself in some girl trouble.
Julie Taylor:
Julie Taylor is probably the least lovable of the Taylor family—sorry it's true—but that doesn't mean we don't appreciate her. She was one half of the cutest high school sweethearts—Matt and Julie forever—and did show that she was complex in college, so we will give her a little love too.
Becky Sproles:
OK, so Becky Sproles caused a little too much drama most of the time, but at her core she was a good girl. Plus, Tim thought she was worth fighting for, so that has to count for something.
Friday Night Lights Characters