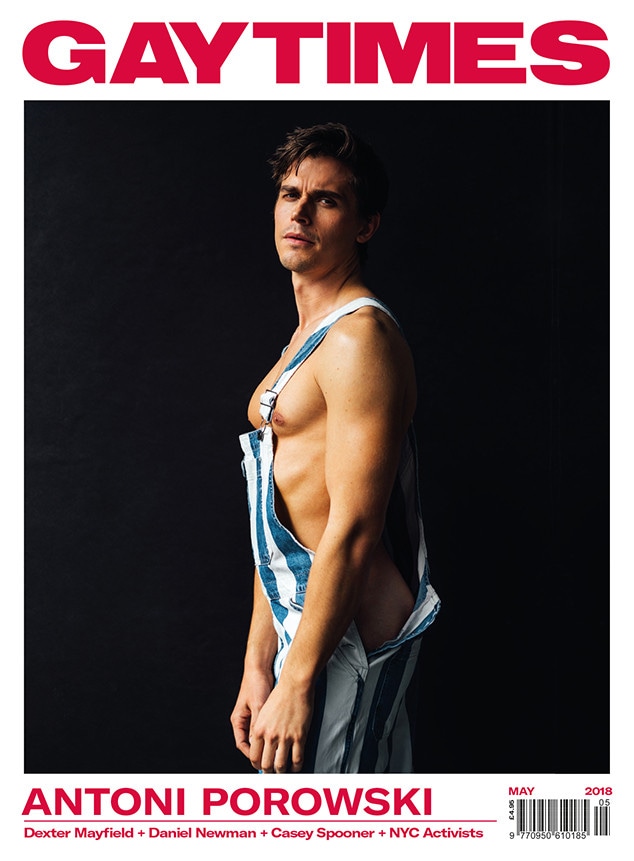 Taylor Miller for <i>Gay Times</i>
Queer Eye's food and wine expert Antoni Porowski is turning up the heat as Gay Times' new cover star.
The Fab Five member stripped down to his skivvies and posed shirtless for the publication's May 2018 issue. In addition to modeling his briefs, the Netflix star posed alongside one of his favorite animals—a corgi.
However, Porowski didn't just bare his abs. He also bared his soul when it came to talking about the show, its impact and his sexuality.
When Netflix premiered Queer Eye back in February, Porowski never imagined it would gain such a following.
"I really thought people would be like, 'Oh that's nice—they've just rebooted that thing that they did way back when,'" he told Gay Times. "I'm very surprised at how big and strong the reaction has been. It's really been like an explosion of sorts." 
Taylor Miller for <i>Gay Times</i>
Still, the 34-year-old star believes the rebooted series is "refreshing for everybody"—especially during a politically divided time.
"While there's a lot of good going on in the world, it's also a pretty scary time—politically, human rights, and LGBTQ rights more specifically," he said. "To have a show that really puts our humanity at the forefront and just showing kindness, showing five liberal gay guys helping out more conservative, often Republican-leaning heroes, I think it was just something that was really refreshing for everybody."
Taylor Miller for <i>Gay Times</i>
However, the show hasn't just benefitted its fans and makeover subjects. It's also benefitted Porowski in terms of helping him celebrate his own sexuality.
"When I first started telling people about the show, I would embarrassingly catch myself whispering 'Queer' as though… I don't know if I was embarrassed or I had some kind of shame, but it still felt taboo from childhood," he told the magazine. "It's kind of nice because now I say it really confidently. The more you immerse yourself in something, the less precious it gets."
Taylor Miller for <i>Gay Times</i>
In terms of defining his sexuality, Porowski prefers not to use labels.
"I've always considered myself a little more fluid along the spectrum," he said. "So even being called bisexual... I remember in my early twenties I was like, 'But bisexual means I can only like girls and guys, what if I like something else?'. Maybe it's just my rebellious nature. I'm me, I'm Antoni, and I'm all these things. Some people want to define themselves, and they should as it's part of their identity. For me personally, I've never really had a label for myself. Today I'm gay, I'm in a gay relationship, and that's where I am. That's good enough for me."
Taylor Miller for <i>Gay Times</i>
Fans can watch Porowski star on the show with home design honcho Bobby Berk, culture expert Karamo Brown, grooming guru Jonathan Van Ness and style specialist Tan France. In fact, the program has already been renewed for a second season.